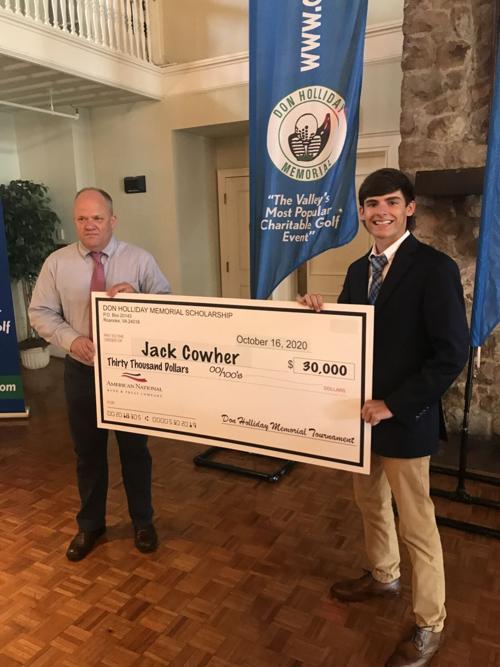 Five days before the presentation of the Don Holliday Memorial Scholarship, Jack Cowher learned that he might be recognized at the annual awards ceremony.
"They said I was going to win something," said Cowher, a recent graduate of Cave Spring High School. "They didn't tell me what. Then, I come in today and they're like, 'Yeah, you won the big prize.'"
That was a four-year, $30,000 scholarship.
"I was really shocked but really excited at the same time," said Cowher, who will get a quarter of the award per school year. "Going in, I knew I would be a good candidate. I was hoping just to get something, but I went into the interview confident."
Clearly, it never hurts to enter. Cowher had played a variety of sports at the youth and scholastic levels but was relatively late in taking up golf.
"In 11th grade, I joined the golf team," he said. "Mr. [Andy] Henritze finally convinced me to play."
Cowher was a classmate of Henritze's twin sons.
"My first week, [on] my first shot, I may have missed the ball," he said. "It was a struggle and a lot harder than I expected. I'd played a little — but not much — before. I really fell in love with the sport and try and play as much as I can now."
Whether he's playing or not, he's rarely far from a golf course, as evidenced by his summer job at Ballyhack Golf Club.
Cowher, whose sister competed for the Marshall swim team, swam for the Knights for four years and also participated in outdoor track for two years. He had a 3.59 grade-point average.
He hopes to walk onto the golf team at Christopher Newport, where his older brother also goes to school.
Cowher is the 34th winner of the Holliday Scholarship, named for the former Piedmont Airlines executive and passionate golfer who died in the 1980s.
HOF juniors, seniors set to tee off Thursday and Friday
The Roanoke Valley Golf Hall of Fame junior, senior and super senior championships will be contested Thursday and Friday.
The 36-hole tournament begins play Thursday at Westlake Golf Club and concludes Friday at Hanging Rock Golf Club.
Slade Aliff captured the individual title and paced his Roanoke Country Club team to the junior team crown last year, as RCC players finished first through sixth in the two-day event.
Last year's senior division winner — Hidden Valley's Jack Allara — will be shooting for a second straight senior crown and third overall. Ballyhack's Keith Decker, who won the 2016, 2017 and 2018 titles, is not competing this year.
Blue Hills' Bill Nunnenkamp will be aiming to take the super senior title for a second straight year. A victory would give the New York native five HOF crowns overall. He won the senior title in 2008 at now-defunct Countryside Golf Club.
Other former winners in the super senior field include RCC's Chips Wooddy (2018) and Blue Hills' Van McCarter (2017).
— Randy King, Special to The Roanoke Times