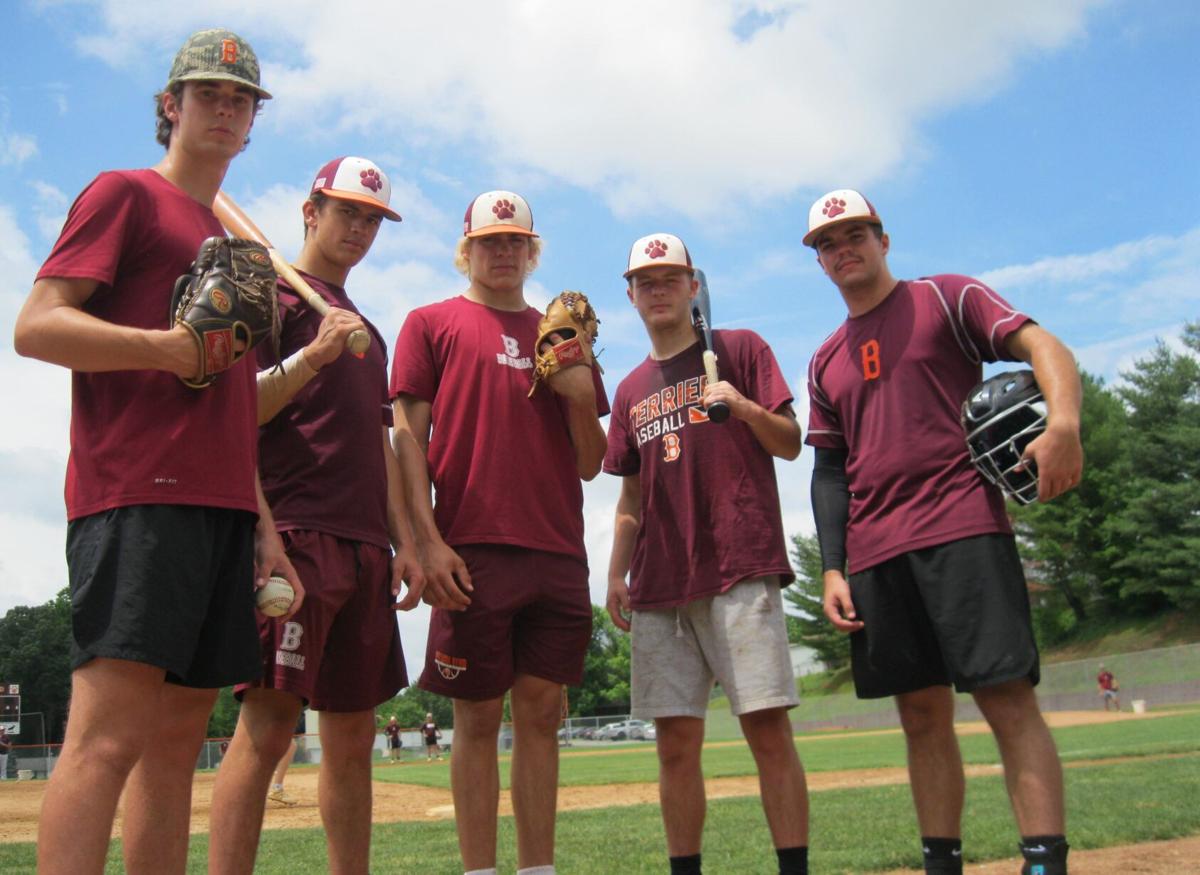 Kelly Dampeer, whose expertise extends to pretty much anything that involves a ball, is also a top-of-his-class deadpan.
Arriving at William Byrd High School for a regular season game earlier this spring, the Northside baseball coach walked out to the mound to greet Terriers coach Neil Zimmerman and assistant Chris Carr, who were talking baseball. Dampeer gave a brief nod to a large group of serious-looking individuals fiddling with electronic equipment or writing stuff in bedraggled notebooks on the other side of the fence.
Seen from a distance, the knot of major-league scouts seated in the bleachers directly behind the backstop, heavily armed with radar guns jutting at odd angles from their fleshy fists, looked like a porcupine on a bad hair day.
"See you have some scouts today," said Dampeer, who wore a black mask beneath which no doubt there was a straight face. "Dean must be pitching."
Correct, senior right-hander Tyler Dean had the assignment, his first this high school season and also since his last competitive outing with his travel ball team, the Dirtbags, this past October.
Dean's grandfather Doug Pence, who has coached east Roanoke County ballplayers since long before Tyler was born and is coaching Terriers still, had chatted with an early arrival at the ballpark about the young fireballer's upcoming start against the Blue Ridge District archrival Vikings.
Pence matter-of-factly listed a series of physical issues Dean had been dealing with since last fall, some of it earned while playing football for Byrd during this one-of-a-kind winter-spring season. Among the more notable of the nicks had been a dislocated rib on the right-hand side of the cage and a cracked tailbone.
Of all the irritants, only the tailbone was unrelated to competitive activities, unless he was racing somebody down the steep hill over at the church when he wiped out sledding and landed on his rear end.
"He played football our last game and was on the baseball field the next Monday," Pence said. "Hope he can pitch OK today."
Dean did, mowing down Northside batters for five innings of a 7-0 victory. The tally: three hits, seven strikeouts, three walks. The guns said 89-93 mph steady on the fastball with the occasional slider or curveball mixed in to keep the Vikings entertained.
"I would hate to hit against him," said Terriers third baseman Luke Taylor, also a pitcher. "He doesn't just have the fastball at 94 or whatever it is, he also has the nastiest slider I've ever seen in my life."
A day later, Zimmerman was shaking his head while looking for words to describe his reaction to Dean's performance.
"Missing last season like we did, it's been a while since I've seen him pitch, but that's as good as he's ever looked. He was in control the whole time."
The scout count was near 20. Any temptation to press, to try to do more than he can do?
"No, not really," Dean said. "Last summer and fall playing travel, those guys were always there watching individual players. There were a bunch of guys on my team getting a look from pro scouts. Almost every game, there would be 20-30 pro scouts, especially for the big games."
Big games he and his Byrd classmates are familiar with, too. They have one Monday when they open the Region 3D playoffs at home.
Team leaders of the current squad were part of one of the biggest upsets in memory when as freshmen they beat undefeated and then nationally ranked and defending state Class 4 champion Lynchburg Christian 4-3.
Dean had the three-out save and Dylan Hatfield had a two-run double and sacrifice fly. As sophomores, each made verbal commitments to play for Virginia Tech. They'll be there next year.
Hatfield, a catcher, committed first.
"It was my dream school," Hatfield said. "My father played there. I knew right away. It took Tyler a little longer to decide."
Dean, who had a school-record 10 saves in his first two varsity seasons, and Hatfield have been a battery throughout high school. They were playing together long before that along with left-handed pitcher Isaac Fix, designated hitter Hayden Lyle and Taylor.
All five will play next year collegiately. Fix, a top student with aerospace engineering aspirations, is Davidson-bound, putting three Division I recruits on one Class 3 team (Byrd has reclassified).
The number could be four collegians-to-be if Dean is a MLB draftee after the July 10-13 selections and opts to sign. Dean was cagey about his thoughts in that regard. Still, one has the impression he's prepared mentally for the challenge. His last travel ball pitching start was in a wood bat game against a Toronto Blue Jays scout squad replete with a talented cadre of Dominicans. By Dean's count, 30-plus scouts watched and evaluated.
"Nice guys," Dean said of the opposition. "Fun playing against them."
Mount Pleasant childhood pals Taylor and Lyle are headed to Bluefield College. Taylor clued recruiters in about Lyle.
"We're family around here," Lyle said.
Extended family make it. They all suffered in brotherhood when 2020 evaporated in the midst of pandemic.
"There was extra motivation this season," said Taylor, who bears striking likeness to his Terriers athletic director father Jason. "Some of our buddies we played with who didn't get a season last year, this is for them. Their numbers are on the back of our helmets. They are some of our best friends as well."
Those still on the roster can play. Against Northside (the Vikings won the second meeting), center fielder Ethan Tinsley — another senior — stroked an inside-the-park home run with a line drive over the outfielder's head and up against the fence in left center. Zimmerman said he'd never seen an inside-parker in a high school game, much less in Byrd's cozy yard.
"Did you see that throw Isaac made to get the guy at second?" Zimmerman asked, changing the subject.
Indeed. The left fielder ranged into the corner near the foul pole and fired the peg on a plane. Also conversation-worthy was Fix's bomb to lead off the fourth. Notable too for the southpaw hurler, he bats right.
That's just one of the things to take note about his group, more certainly soon to be revealed.
"I'm interested in what's going to happen," Jason Taylor said.