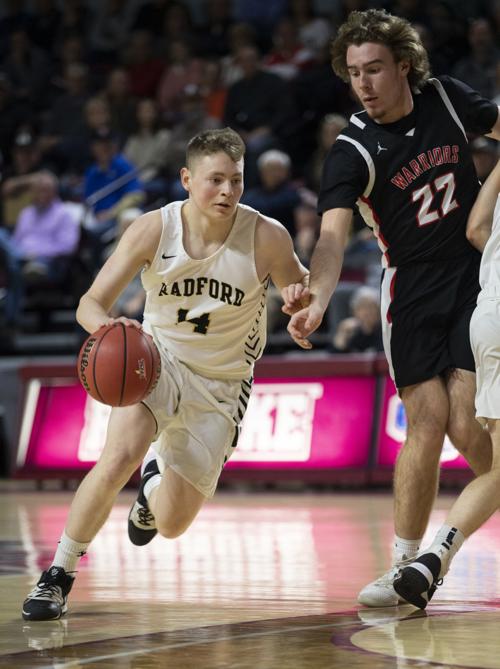 Cam Cormany is about to set sail on his college basketball career.
The Radford High School sharpshooter took a big step toward securing his future Wednesday when he made a commitment to play at the Naval Academy.
The 6-foot-1 Cormany, who played for Radford's 2019 VHSL Class 2 championship team as a sophomore, was offered a scholarship in a recent phone call from Navy coach Ed DeChellis.
Cormany said that playing Division I college basketball for one of the service academies will be a dream come true.
"That's kind of been something I've always wanted to do, serving and playing college basketball while I'm at it," Cormany said. "It really does set you up for life. I'm excited about it."
Cormany, who made first-team All-Timesland and also made the VHSL Class 2 all-state team, averaged 21.1 points per game for a Radford team that finished 23-4 and reached the state semifinals.
He shot 43.1 percent from 3-point range on 112 3-pointers made, including 10 in one game.
The Radford star said Navy is recruiting him as a scoring point guard, although Cormany said it is likely that he will spend the 2021-22 season playing for the Naval Academy Preparatory School in Newport, Rhode Island.
"I'd have to get my SAT score up a lot higher if I wanted to come straight in. I just don't really see that as a need. Prep just gives you another year to work on your game and get ready for how challenging the school work is there."
Cormany, the son of longtime Radford coach Rick Cormany, said he is confident he can make an impact at Navy.
The Midshipmen finished 14-16 in 2019-20 under DeChellis, a former head coach at East Tennessee State and Penn State.
"Just continue to work hard and do what I'm doing, I'm very confident I can play at that level for sure," Cormany said.
Cormany has not hurt his stock by playing for a Roanoke-based team coached by Shawn Good in a high-level statewide summer and fall league.
He said Navy assistant Drew Gibson, who was a college roommate at Wofford University with former Radford High star Shane Nichols, made the initial recruiting contact.
"They've been recruiting me for a good while," Cormany said. "I had a feeling something was coming pretty soon. From Day One, they've believed in me. They were loyal to me, so I'm loyal to them."
LB's Selkirk commits to NAIA school
Lord Botetourt guard Tanner Selkirk is known as an accurate shooter.
He will take aim next year at Southeastern University, an NAIA school in Lakeland, Florida.
Southeastern won its first Sun Conference regular-season title and also won the league's tournament championship in 2019-20 under first-year coach Kevin Lubbers. Selkirk's father played baseball at the Florida school.
Selkirk averaged 11.5 points and 6.1 rebounds per game as a junior, making the Blue Ridge District first team. Selkirk played this summer and fall for a Virginia travel team.
"He's very athletic," Botetourt coach Andrew Hart said. "He had a little interest from his ODAC schools but his recruiting really picked up when AAU opened up. He played really well in a tournament in Pennsylvania."
North Cross adds football game
The 2020 North Cross football schedule has been modified once again.
The Raiders have added a home game at 3 p.m. Friday against a travel team from Henry County called the Fieldale Ducks.
North Cross originally had a game scheduled for Saturday against Fredericksburg Christian before the Fredericksburg team canceled the trip.
North Cross is 3-0 with two victories over Fork Union Military Academy and a 69-0 season-opening win over the Roanoke-based Virginia Spartans homeschool team.
The Fieldale Ducks defeated the Virginia Spartans 40-0. They also have a 37-0 win over a homeschool team from Staunton.
The Ducks' roster includes players from Bassett, Magna Vista, Martinsville and George Washington high schools.
Alleghany hires volleyball coach
Alleghany has hired Kristen Tyree as its new volleyball coach.
Tyree was a Mountaineers assistant coach last year. She replaces Madison Carter, who coached the Mountaineers to a 4-16 record in 2019.
Tyree, 33, is a native of Clayton, North Carolina, and a graduate of UNC Greensboro.
She was the JV coach at Smithfield-Selma High School in eastern North Carolina before becoming a math teacher at Clifton Middle School in Alleghany County.
The Mountaineers return five starters from last year's team, but they must contend with recent Three Rivers District powerhouses such as Radford, Floyd County and Giles along with historically strong programs Carroll County, Glenvar and James River.
"We do have a very challenging league," said Tyree, who is not related to Covington head coach Mary Tyree. "But while it can be frustrating at times, it also forces us to be better and to work harder."