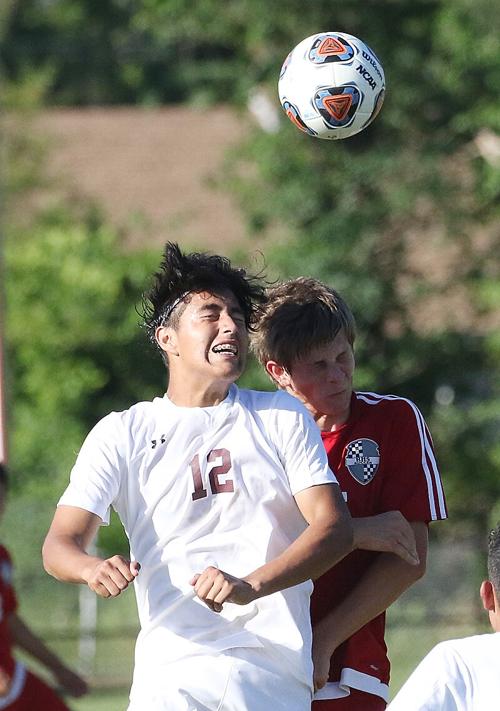 WARSAW — Galax's reign as the VHSL Class 1 boys soccer champion ended on a breezeless Wednesday evening.
Winner of five of the last six state titles, Galax bowed to Rappahannock on penalty kicks 5-4 after playing to a 2-2 deadlock during regulation and a pair of overtime sessions.
Rappahannock, which appeared in the state tourney the four previous years (excluding 2020) and lost to Galax 6-0 in the 2018 state final, became the first Region A team to win a Class 1 boys soccer title.
"They've become an eternal presence in the state tournament and you could see their program improve each year," Galax coach Troy Barkley said.
Rappahannock (13-0-1) grabbed an early 1-0 lead on Jerry Fisher's goal off a pass from Edward Headley.
The Raiders then dominated possession for the remainder of the opening half and into the second 40-minute stanza, but they had nothing to show for it.
Then, Fisher beat a defender, lobbed the ball over the reach of Galax keeper Josue Solis and found an empty net to put the home team on top 2-0 with 5:06 left in regulation.
Galax then cranked up its attack and got a goal from Cesar Perez on a deflection after a free kick with 3:13 to go to make it 2-1.
The Maroon Tide (9-3-2) knotted the score with less than two minutes left in regulation on a Seth Robbins header off a throw-in by Brender Rojas.
"It's been like that all year," Barkley said about his team's rally to force overtime. "Once we scored that first goal, it seemed like our energy level increased. They felt they had a chance to get back in the game."
The teams next went scoreless through two overtime sessions and entered the penalty kick phase.
After the round of five shots ended in a 3-all deadlock, the contest entered sudden death.
Following successes on initial attempts, Rappahannock's Alexis Ochoa knocked in a shot into the upper-right corner.
Rappahannock keeper Ethan Douglas then denied Jose Munoz, setting off a wild celebration by the Raiders.
"This is the result of a lot of hard work from our players," Rappahannock coach Jordan Clary said after the game. "This was a unique year. After losing our season last year [due to the COVID-19 pandemic], our eight seniors came in and had a perfect season. That's not easy to do."
Both coaches agreed that it was difficult having to determine a state championship via penalty kicks.
"You hate to have your kids in a spot like that, because if it doesn't work out, it's hard on a kid who misses," Barkley said. "I wouldn't change a thing about the way we did it. It went [Rappahannock's] way, and I feel the team that played better won today."
"It was just a matter of staying competitive under pressure," Clary added. "Our goalie made two huge saves when we needed them."