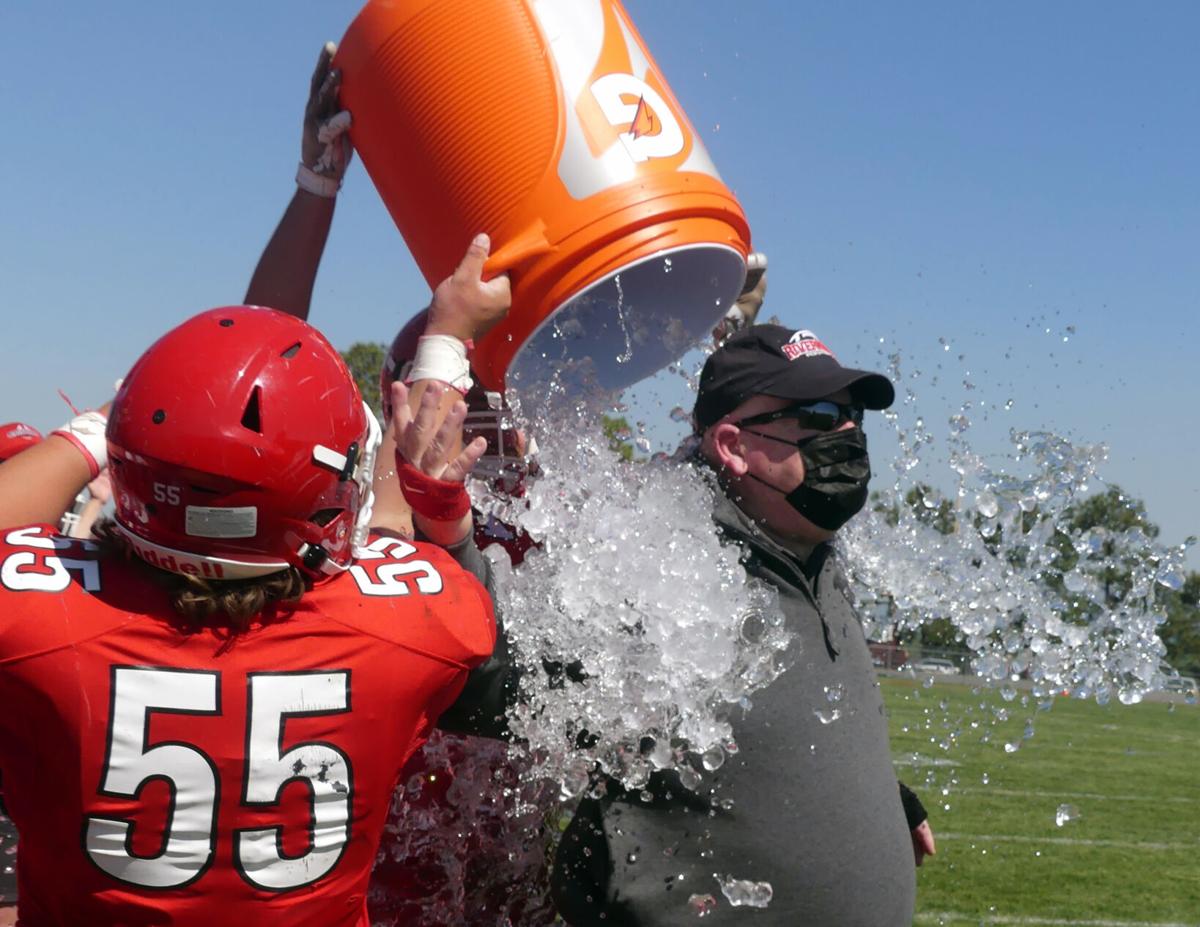 STAUNTON — Whether it's fall or spring, the well-oiled machine that is Riverheads football continues churning out state championships at a record pace.
The Gladiators exploded for 34 second-quarter points in front of their home fans as they pulled away from Galax to take a 65-29 victory over the Maroon Tide in the Class 1 state title game Saturday afternoon.
Riverheads (10-0) became the first team in the state of Virginia to win five straight state titles in any classification. The Gladiators' last playoff defeat came in the 2015 Class 1 final to Galax.
"I've been here four times and it almost feels normal, but it's not," Riverheads senior running back Zac Smiley said. "I'm blessed. I couldn't ask for anything else."
Smiley led the Gladiators with 121 rushing yards while freshman back Cayden Cook-Cash rushed for an additional 99 yards and scored three touchdowns.
The rarely used Riverheads' passing game even got into the act as sophomore quarterback Bennett Dunlap threw three touchdown passes on his only three pass attempts.
"We got a couple of breaks today and did some things people don't see us do," Riverheads coach Robert Casto said. "We probably threw the ball more today than we traditional do."
Casto added that his squad didn't come into the game thinking about being the first team to win five straight state titles.
"We didn't get caught up in all that stuff. It was never part of our conversation," Casto said. "It was just a byproduct of the hard work these kids have put in."
Early on Saturday, Galax (9-1) looked to be in good position to end the Gladiators' state title streak. After Riverheads ended the first quarter with a 10-3 lead, Maroon Tide senior quarterback Cole Pickett connected with Santana Sawyers on a 49-yard touchdown pass at the 10:52 mark of the second quarter to cut the Riverheads' lead to one point.
The ensuing extra point, however, was blocked by Cook-Cash and things quickly swung heavily in the Gladiators' favor.
On the following kickoff, return man Cook-Cash initially let the ball roll past him before trying to pick it up inside his own 5-yard line. After initially bobbling it, Cook-Cash got control of the pigskin and started up field, getting loose along the Riverheads' sideline as he marched 96 yards for a score to make it 16-9.
"I was just trying to secure the ball and then get out of it what I could," Cook-Cash said.
The kickoff return started a stretch where Riverheads outscored the Maroon Tide 34-6 before halftime. "We finally got some momentum going there and then we have that kickoff return," Galax coach Shane Allen said. "That was a backbreaker."
After the kickoff return score, Galax was stopped on downs on a fourth-and-2 from its own 44. Running back Keaton Beeman was held to just a yard on a run up the middle, giving the Gladiators great field position.
Three plays after the defensive stop, Riverheads fullback Cole Burton scored on a 24-yard TD run to make it 23-9 with 7:53 left in the half.
Pickett then lost a fumble at the Galax 42 on the Maroon Tide's next possession, which was recovered by Cook-Cash from his defensive back position.
On the next play, Dunlap tricked the Galax defense, throwing to a wide-open Landon Lightner for a 42-yard touchdown pass to increase the margin to 30-9. "When you try to get a stop, you got to sell out on their run," Allen said. "You're not going to come out and shut them down. Coach Casto has probably seen every type of defense."
Galax was able to get on the board again on its next drive when Pickett went 5 for 6 for 68 yards, moving the ball to the Riverheads 1. Beeman finished the drive off with a touchdown run to cut the deficit to 30-15 with 3:55 left in the period.
Riverheads, however, put the game away with two additional touchdowns before the half, including a 59-yard scoring run from Cook-Cash with 19 seconds left before the break to make it 44-15.
Cook-Cash "is a young kid who has a real upside to him, and he made a play," Casto said.
Galax put up a fight in the second half as Pickett and Beeman connected for two touchdown passes in the third quarter of 17 and 16 yards. Those scores, though, were sandwiched around another TD run of 11 yards by Cook-Cash to put the score at 51-29 going into the fourth, where the Gladiators scored a pair of touchdowns to close the scoring.
Pickett, playing his final high school game, finished 24 for 43 on the day for 313 yards and three touchdowns with one interception. Ian Ashworth was the game's leading receiver, finishing with 10 catches and 152 receiving yards for the Maroon Tide. "You never want to lose, but we'll learn from this," Allen said. "In three months, we'll be back ready to rock and roll again."
Riverheads 10 34 7 14 — 65
R – Lightner 72 pass from Dunlap (Robson kick)
G – Sawyers 49 pass from Pickett (kick failed)
R – Cook-Cash 96 kickoff return (kick failed)
R – Burton 24 run (Robson kick)
R – Lightner 42 pass from Dunlap (Robson kick)
G – Beeman 1 run (kick failed)
R – Roberts 18 pass from Dunlap (Robson kick)
R – Cook-Cash 59 run (Robson kick)
G – Beeman 17 pass from Pickett (Gallardo kick)
R – Cook-Cash 11 run (Robson kick)
G – Beeman 16 pass from Pickett (Gallardo kick)
R – Miller 8 run (Robson kick)
R – Burton 2 run (Robson kick)
Penalties-Yards 6-65 5-55
Punts-average 3-31.3 2-13.5
RUSHING – Galax, Beeman 14-37, Pickett 8-38, Reeves 4-5, Barnes 3-2. Riverheads, Z. Smiley 13-121, Cook-Cash 8-99, N. Smiley 2-5, Cox 2-21, Burton 7-65, Dunlap 4-30, Miller 3-14.
PASSING – Galax, Pickett 24-43-1-313. Riverheads, Dunlap 3-3-0-132.