SALEM — Rural Retreat claimed four individual state titles on Saturday, but it still was not enough to overtake the powerhouse program Grundy has established on the mat.
The Golden Wave compiled a winning total of 249 points to capture their 24th state title in program history at the VHSL Class 1 state wrestling meet at the Salem Civic Center.
Grundy placed nine wrestlers in the finals and walked away with six individual titles to finish ahead of runner-up Riverheads by 49 points.
The Indians, though, had nothing to feel bad about with their third-place finish as two of their wrestlers claimed their first state crowns and two more successfully defended titles from 2020.
Senior Wyatt Sage completed back-to-back undefeated seasons with a pinfall victory over Castlewood's Jacob Maxfield at 182. The Roanoke College commit was victorious at 170 for his state crown last year.
"I didn't have much pressure on me, but it was my last high school match, so I wanted to go out at 100%," Sage said.
Teammate Eli Fortuner had revenge on his mind entering his final for the Indians. Last week in the regionals he lost to Grundy's Hunter Scarberry at 195, but Saturday would be a different story for the defending state champ who pinned Scarberry at the 2:21 mark to take the title.
"This one means more to me than last year's because I lost to him last week," Fortuner said. "Once I got him on his back, I knew I had it."
The fourth time proved to be the charm for Indians senior Dorian Delp, who completed an undefeated season with a pinfall victory at 3:43 in the 160-pound final over Grundy's Ethan Roberts. Delp had placed in the top four of the state finals in his first three seasons but had never been atop the state podium before Saturday.
"It's relief," Delp said. "This means everything to me. I've been working for this since I was in eighth grade to get up to the top."
Sophomore Eli Blevins earned his first state title for Rural Retreat with a convincing 9-2 decision over Riverheads' Camden Cook-Cash at 126. Cook-Cash was the only wrestler to defeat Blevins during the season.
"He had beaten me earlier in the year and coach [Rick Boyd] and I just worked on what we needed to do to get the job done. Mostly it was just about staying low and how to get mentally focused before the match," Blevins said.
With fans not permitted in the stands due to COVID-19 protocols, Boyd helped out Blevins in another way as well.
"Usually the fans being loud and going crazy gets me motivated, but coach did it for me this time," Blevins said.
The Indians' Parker Stone, a sophomore, wasn't as fortunate as he was pinned by Castlewood's Adam Gibson in the 106 final.
Rural Retreat was not Wythe County's only representation on top of the podium on this championship day.
George Wythe senior Terry Morgan won the 170 title with an 8-4 decision over Riverheads' Evan Ross.
"Before the match I kept telling myself to stay aggressive, stay in a winning position and not to lose any points," Morgan said. "This is something I'm been dreaming about since I was a kid."
The day's action concluded with a rematch of the 2020 state final at 285 between Galax's Brender Rojas and Parry McCluer's Forrest Vassar. Rojas squeaked out a 3-2 decision last year and it was déjà vu on Saturday as Rojas scored on a one-point escape to clinch a 3-2 win in an ultimate tiebreaker.
"I knew it would come down to overtime. I just had to move," Rojas said.
The state tournament action continues on the mats Sunday in Salem with Class 3 holding their finals, while the Class 2 championship will take place inside the Civic Center on Monday. No fans will be admitted.
1. Grundy 249, 2. Riverheads 200, 3. Rural Retreat 185, 4. George Wythe 103, 5. Galax 81 ½, 6. Castlewood 56, 7. Mathews 52, 8. Grayson County 51 ½, 9. Franklin 51, 10. Parry McCluer 43, 11. Rappahannock County 26, 12. Patrick Henry-Glade Spring 14, 13. tie, Chilhowie and Northwood 11, 14. Cumberland 10, 15. Auburn 8, 16. Lebanon 3.
106 — Adam Gibson (Castlewood) p. Parker Stone (Rural Retreat), 1:37.
113 — Kaleb Horn (Grundy) d. Jake Yowell (Riverheads), 4-0.
120 — Jude Robson (Riverheads) d. Michael Taylor (Grundy), 6-2.
126 — Eli Blevins (Rural Retreat) d. Camden Cook-Cash (Riverheads), 9-2.
132 — Carson Griffey (Grundy) d. Jackson Allebaugh, 5-0.
138 — Chris Stiltner (Grundy) p. Colin Ward (George Wythe), :36.
145 — Jacob Stiltner (Grundy) p. Tanner Jones (Grayson County), 1:49.
152 — Ian Scammell (Grundy) p. Cody Cash (Riverheads), 3:49.
160 — Dorian Delp (Rural Retreat) p. Ethan Roberts (Grundy), 3:43.
170 — Terry Morgan (George Wythe) d. Evan Ross (Riverheads), 8-4.
182 — Wyatt Sage (Rural Retreat) p. Jacob Maxfield (Castlewood), 4:44.
195 — Eli Fortuner (Rural Retreat) p. Hunter Scarberry (Grundy), 2:21.
220 — Peyton McComas (Grundy) p. Riley Jo Vaught (Galax), :54.
285 — Brender Rojas (Galax) d. Forrest Vassar (Parry McCluer), 3-2, UTB.
Salem pair finish 2nd in Class 4
VIRGINIA BEACH — Salem wrestlers Walker Chambers and Cameron Martindale posted runner-up finishes Saturday in the VHSL Class 4 championships at Virginia Beach Sports Center.
Chambers dropped an 11-5 decision to Tuscarora's Bobby Philpot in the 113-pound final, and Martindale fell 3-1 to Broad Run's EvanAlex Birchmeier at 285.
Salem placed eighth in the battle for the team title, which was won by Liberty-Bealeton with 113 points.
Salem's Kyman Kinney (145) and Blacksburg's Sam Baker (170) placed fourth.
1. Liberty-Bealeton 113, 2. Eastern View 92, 3. Loudoun County 90, 4. Amherst County 81, 5. Smithfield 80, 6. Powhatan 79 1/2, 7. Spotsylvania 70, 8. Salem 62, 9. Fauquier 55, 10. Dominion 49, 11. Broad Run 44, 12. Hanover 39, 13. John Handley 36, 14. Caroline 33, 15. Blacksburg 29, 16 .Culpeper County 25, 17. Louisa County 23, 18. tie, King George and Tuscarora 22, 20. tie, E.C. Glass and Heritage-Leesburg 16, 22. Orange County 13, 23. Pulaski County 12, 24. Courtland 11, 25. tie, Grafton and Kettle Run 10, 27. Patrick Henry-Ashland 7.
106 — Bryson Rios (Loudoun County) d. Christian Eberhart (Liberty-Bealeton), 3-0;
113 — Bobby Philpot (Tuscarora) d. Walker Chambers (Salem), 11-5.
120 — Owen Greslick (Louisa County) d. Cam Gordon (John Handley), 3-2.
126 — Moses Wilson (Spotsylvania) md. Patrick Smith (Heritage-Leesburg), 13-3.
132 — Mason Barrett (Liberty Bealeton) d. Luke Roberts (Loudoun County).
138 — Colin Dupill (Liberty-Bealeton) tf. Kyle Csikari (Spotsylvania), 23-8.
145 — Noah Hall (Liberty-Bealeston) p. Logan Jones (Dominion), 2:02.
152 — James Dosado (Caroline) d. Luke Hart (Hanover), 3-2.
160 — Simon Fossett (Broad Run) d. Daniel Taylor (Eastern View), 3-2.
170 — Griffin Smythers (Eastern View) d. Linwood Hill (Powhatan), 5-2.
182 — Kaine Morris (Amherst County) d. Kingsley Menifee (Fauquier), 4-3.
195 — Royce Hall (Liberty-Bealeton) d. Benjamin Bell (Fauquier), 3-2.
220 — Aden Halsey (Hanover) md. Caleb Graham (Loudoun County), 11-2.
285 — Alex Birchmeier (Broad Run) d. Cameron Martindale (Salem), 3-1.
02202021 Class 1 HS Wrestling01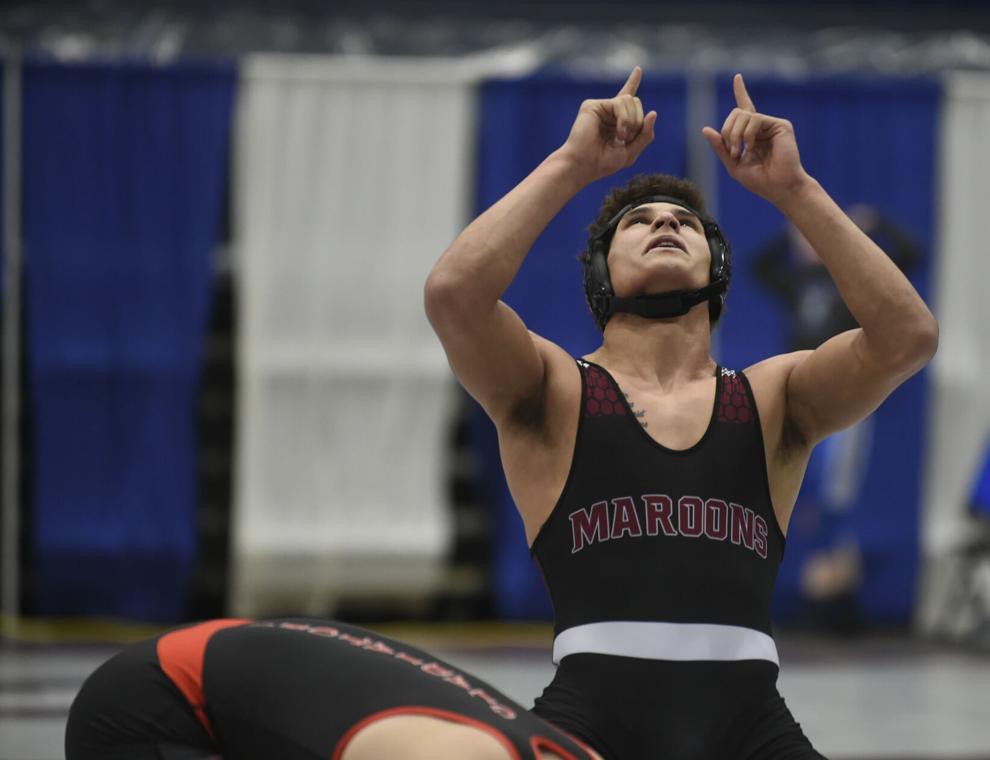 02202021 Class 1 HS Wrestling02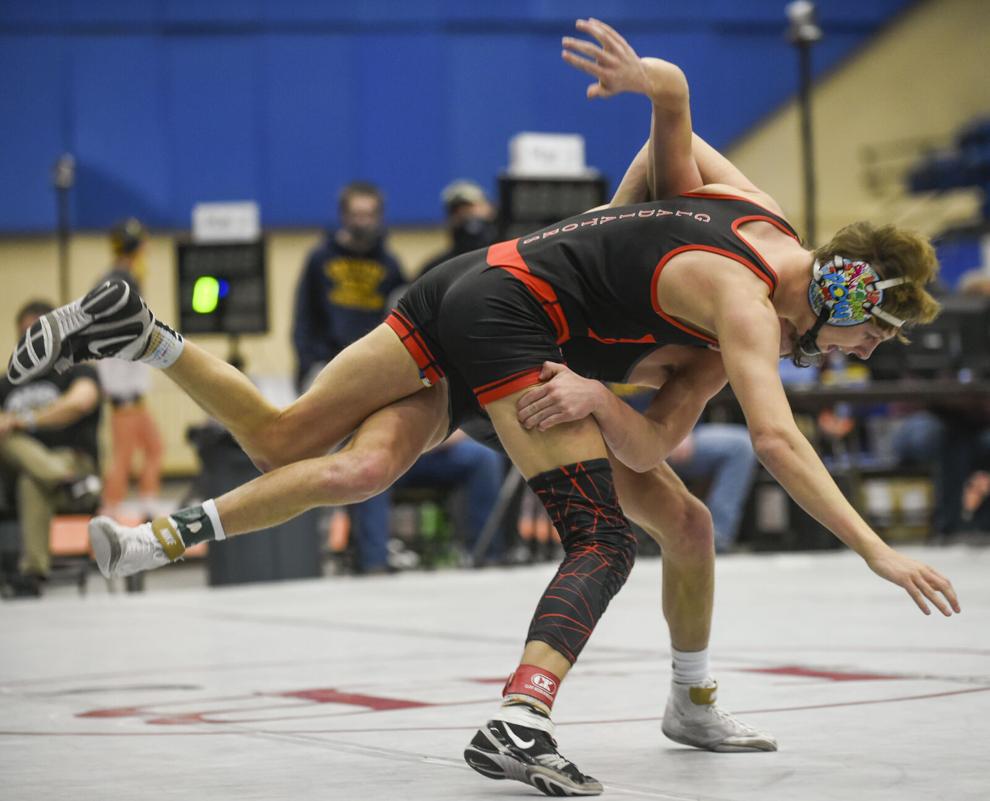 02202021 Class 1 HS Wrestling03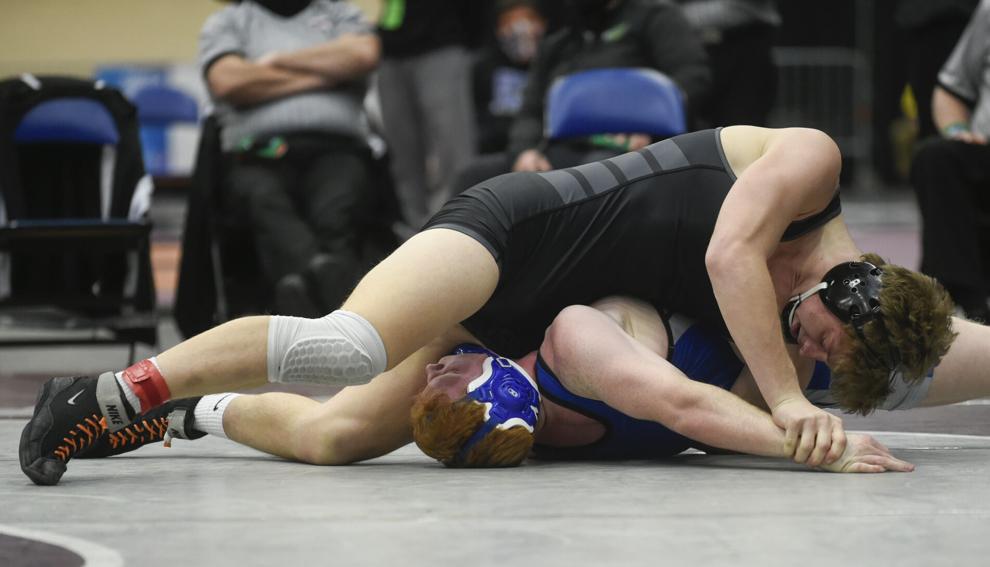 02202021 Class 1 HS Wrestling04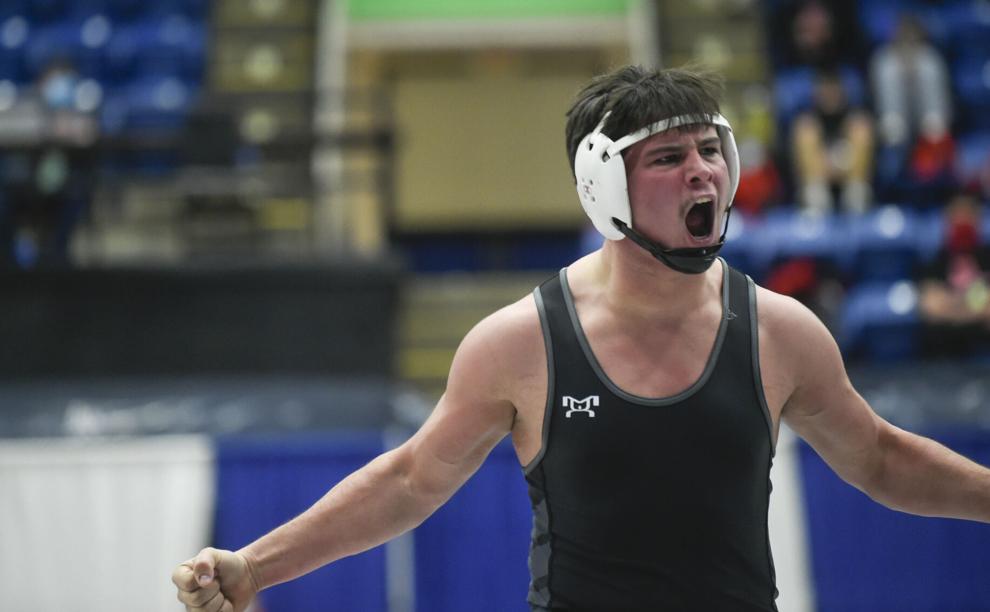 02202021 Class 1 HS Wrestling05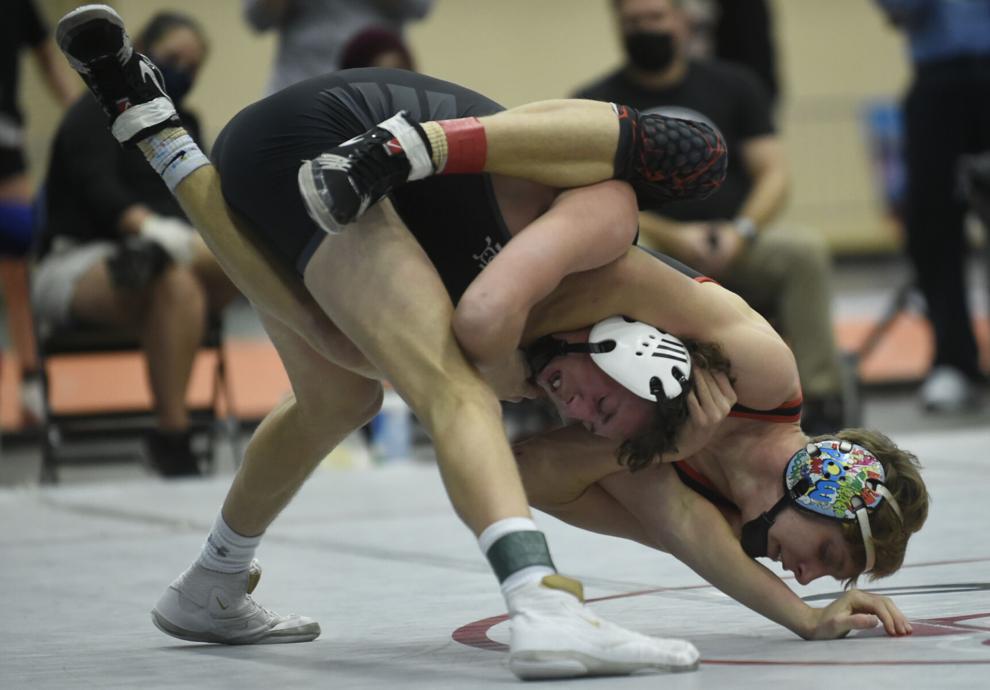 02202021 Class 1 HS Wrestling06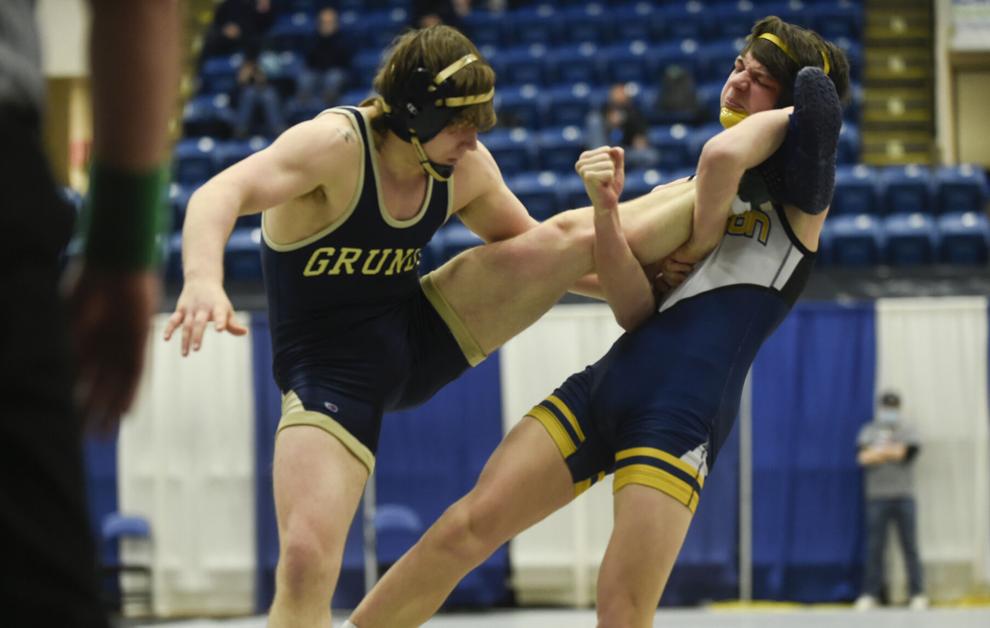 02202021 Class 1 HS Wrestling07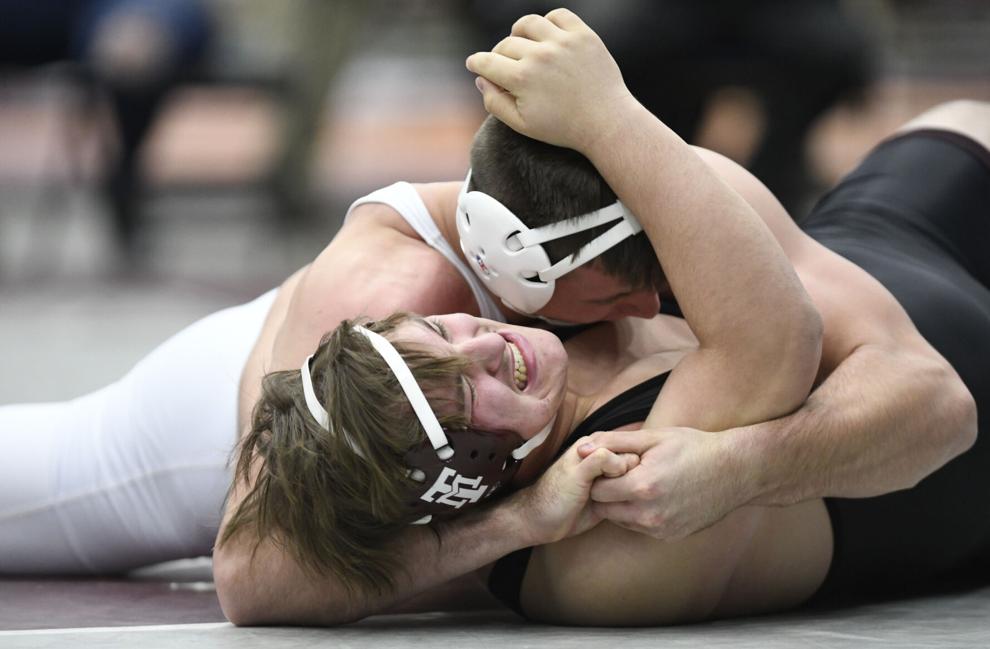 02202021 Class 1 HS Wrestling08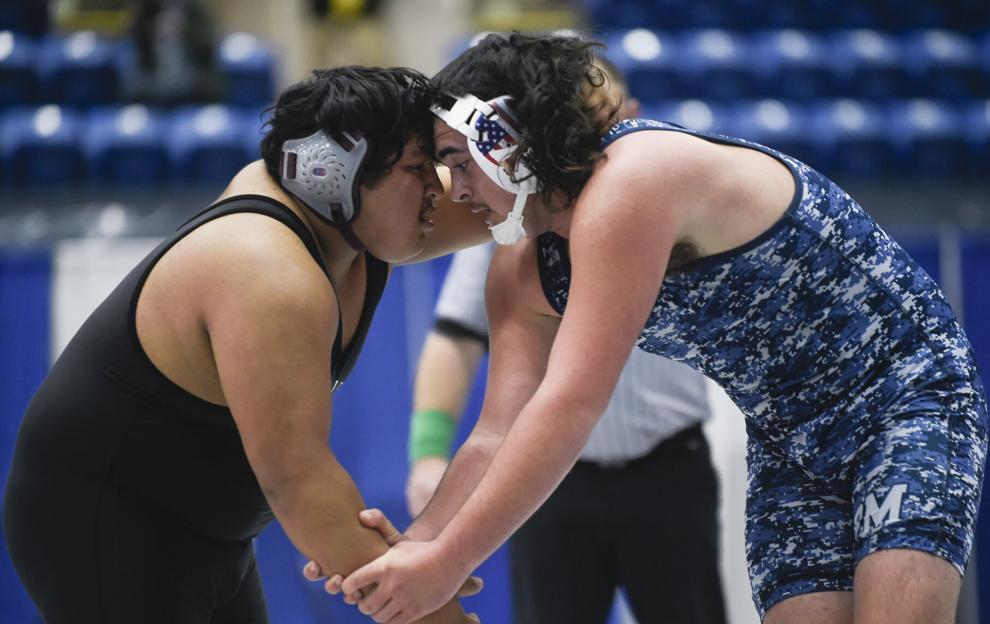 02202021 Class 1 HS Wrestling09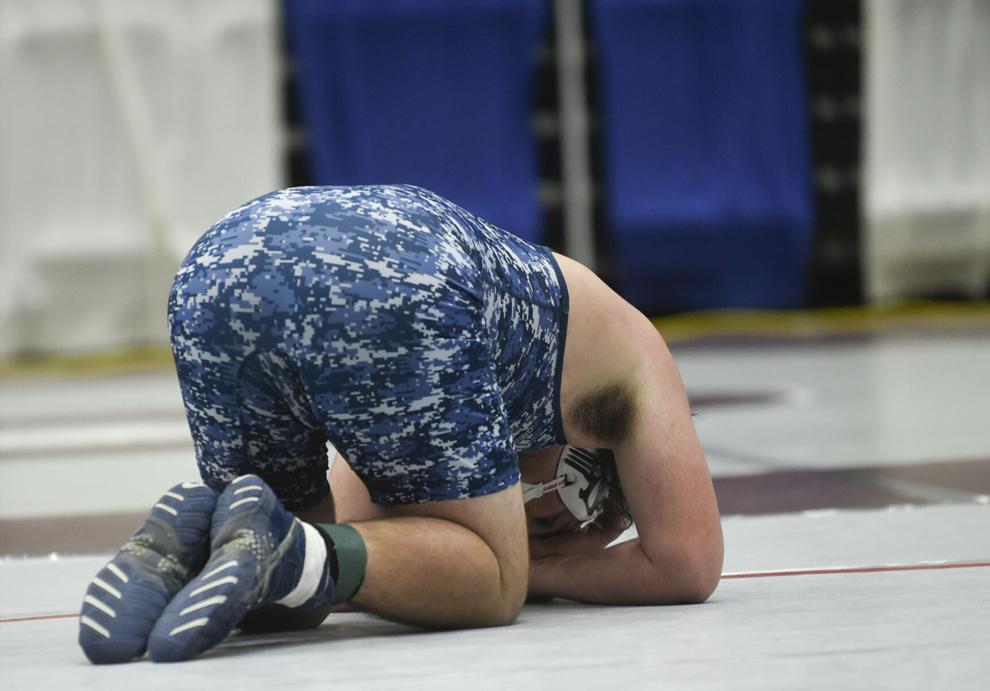 02202021 Class 1 HS Wrestling10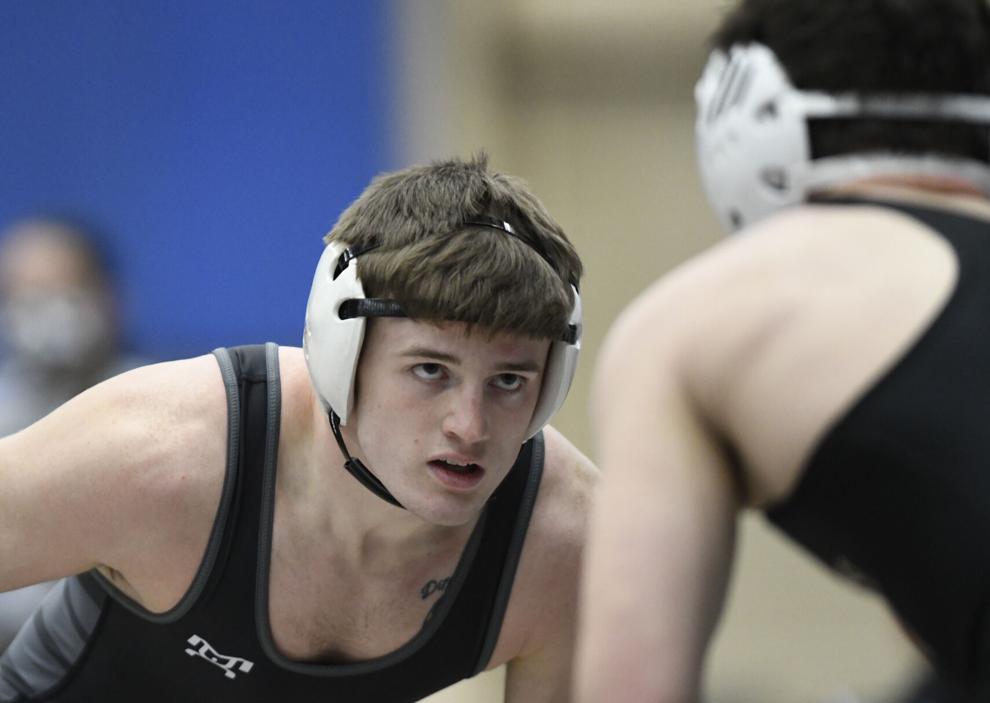 02202021 Class 1 HS Wrestling11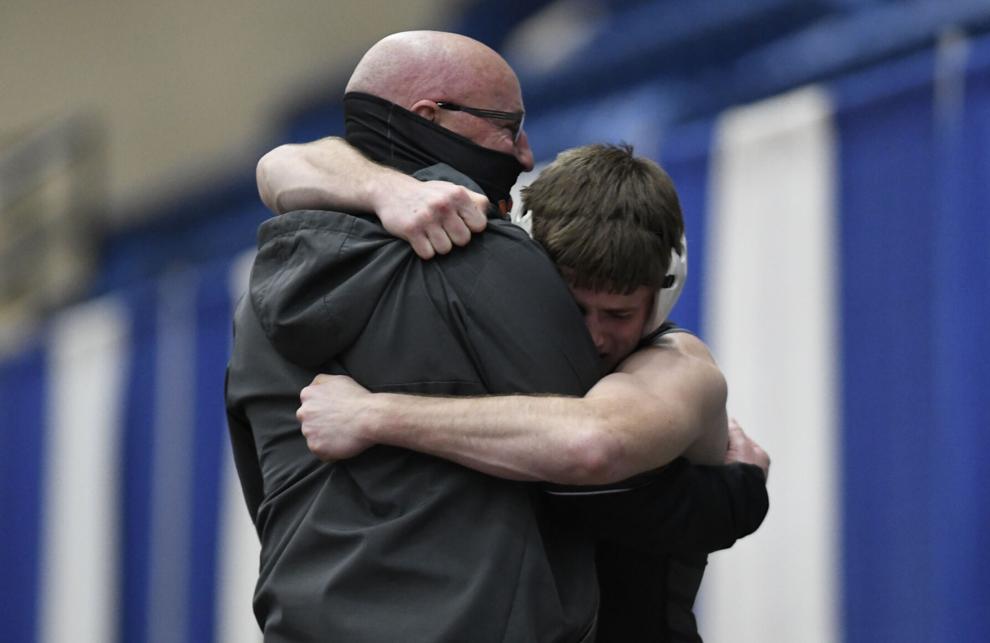 02202021 Class 1 HS Wrestling12
HIDE VERTICAL GALLERY ASSET TITLES