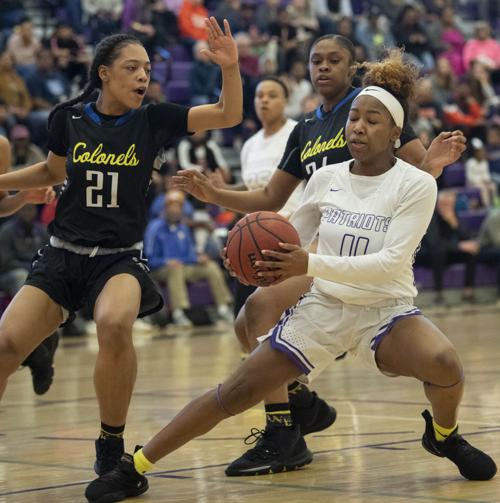 The delayed VHSL winter sports season is scheduled to open Dec. 21 with the start of boys and girls basketball games.
However, if the season began this week, a number of Timesland schools would be on the sidelines.
School administrators within the Alleghany and Roanoke Health Districts — which include 13 public high schools — have agreed to determine whether their winter sports teams will compete based on a series of measures of the spread of COVID-19.
One Roanoke Valley administrator said Monday that the high number of coronavirus cases in the region would preclude any competition in basketball, wrestling, swimming and indoor track and field for now.
"Unless things get better, it's unlikely that we would be able to play," Salem Assistant Schools Superintendent Curtis Hicks said.
The school divisions in the two health districts — Alleghany County, Botetourt County, Craig County, Covington, Roanoke County, Roanoke and Salem — are trying to design a cohesive plan for playing during the pandemic.
Each school and its opponents for a particular week must determine by noon each Monday whether its city or county falls within acceptable levels of risk of transmission of the coronavirus.
"All the school divisions in the Roanoke [and] Alleghany Health Districts are on the same page," Hicks said.
"There might be some minor tweaks … but at the very least we're on the same page."
Franklin and Pittsylvania counties also are adopting the plan, Franklin County High School Principal Jon Crutchfield said Sunday.
The schools will use three measures updated daily on the Virginia Department of Health dashboard:
The number of new cases per 1,000 population over a 14-day period.
The percent positives in RT-PCR (nasal swab) testing over a 14-day period.
The percent of difference in transmission between the most recent seven-day period and the previous seven-day period.
A city or county must be at a moderate, low or minimal level in all three measures to play games or hold full-scale practices.
Basketball practice is scheduled to begin Dec. 7. Practice for wrestling, swimming and indoor track begins Dec. 14 with competition in those sports starting Dec. 28.
There are possible exceptions.
If a local health department determines that a locality is at a high-risk or highest-risk level because an outbreak is traced to one source not related to one of the participating schools, competition between schools still might proceed.
"It's not a drop-dead, you can't play in [high risk]. It's you can't play unless you get permission from the health department," Crutchfield said.
"If it's an outbreak not connected with the school, say, a large wedding that took place at Smith Mountain Lake, they could give permission to play but it would be [without spectators]."
Hicks and Roanoke County Public Schools Director of Administration Rhonda Stegall did much of the work crafting the return-to-play guidelines for the schools in the Alleghany and Roanoke health districts.
The administrators shared their input with other school systems within the Virginia Department of Education's Region 6, which also includes schools in Floyd, Franklin, Henry, Montgomery, Patrick and Pittsylvania counties and the cities of Danville and Martinsville.
"It's kind of like different circumstances in different places call for different weather decisions," Hicks said. "Depending on [school] boards, and community input and political pressure you could have people either accept it as it is or maybe tweak it a little bit to fit their individual needs."
Hicks, an Alleghany County native who played college football at Virginia, took note of Saturday's last-minute postponement of the ACC football game between Clemson and Florida State.
"It would be nice if something like this would be … across the state … so you would know where everybody stands and you don't run into a situation like Clemson arriving at Florida State and all of a sudden Florida State says 'We're not going to play,' he said.
"By having these guidelines, you avoid that 'hard feelings' notion because the metrics we're using are publicly available."
Bath County has opted to delay its winter sports season until Jan. 18. Neighboring West Virginia has delayed its season until mid-Janury
Several school districts across Virginia already have decided to cancel winter sports.
Williamsburg/James City County on Monday joined the cities of Richmond and Alexandria along with a handful of other central Virginia and Southside schools in canceling.
"We absolutely think that sports and extracurricular activities play a huge role in the lives of kids. We want to support that much as we can," Hicks said.
"We want to prepare to play. We hope that the conditions will improve so that we can play. The last thing we want to do is say, 'We're not going to have a season.' "