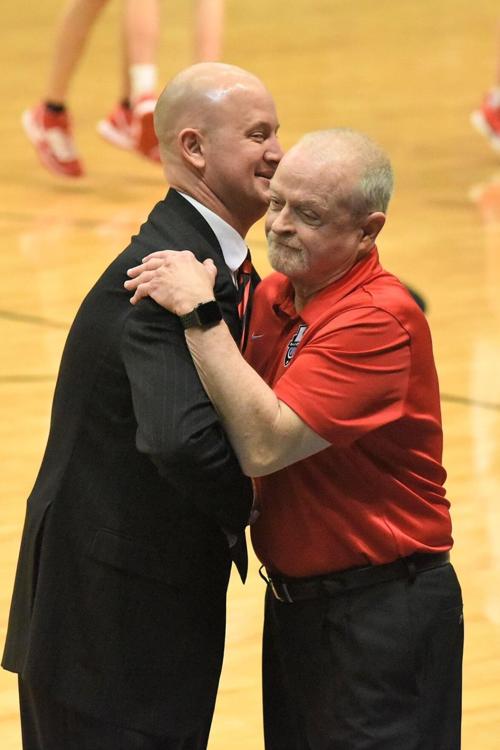 Tim Myers helped Cave Spring's boys basketball program win four VHSL championships.
To the two Knights' head coaches during Myers' 24 years as an assistant, he simply had their back.
And to many, Myers was a backbone of the Cave Spring program.
Tuesday, his body gave out after a five-year battle with a rare form of gastrointestinal cancer. He died under hospice care in Richmond at the age of 67.
"He was the most loyal guy in America," Cave Spring head coach Jacob Gruse said. "You don't find a guy that's more Cave Spring-basketball than him.
"You can't put into words everything he's done for the Cave Spring community."
When Gruse succeeded Billy Hicks as Cave Spring's head coach in 2014, Myers aided with the transition.
It culminated in 2019-20 when Cave Spring finished 28-2 with a Class 3 state semifinal victory over Central-Woodstock, earning a share of the state championship in a season shortened by COVID-19.
"He did so much for me," Gruse said. "He told me the ins and outs of the program, the ins and outs of the community."
Myers was a Cave Spring assistant when the Knights won the old Group AAA championship in future Duke University star and NBA player J.J. Redick's senior year in 2002. He was on the bench when they took back-to-back Group AA Division III titles in 2009 and 2010.
However, before Hicks coached Cave Spring to three state titles in a nine-year period, he was a 29-year-old first-year head coach in 1996-97.
Myers, a Roanoke native who played basketball at Patrick Henry High School and served as a youth coach for the Heights Club, approached the young coach wanting to assist.
"He wanted to help and I needed people around me who were going to be hard-working, loyal and supportive," Hicks said. "He was all that.
"He started as ninth-grade assistant coach all the way to my right-hand man when we were winning back-to-back state championships."
While Hicks had assistants move onward and upward to head coaching positions, Myers stayed behind.
"He was one of those guys even after he had three state championship rings," Hicks said. "He would stay with me and do the laundry after a game.
"He would mop the floor and pick up towels in the locker room, long past the time that I would ever have asked him to do any of that. I'd be thinking of things I needed to ask the assistants to do, and I'd turn around and he'd be doing it."
Hicks said the last time he spoke with his former assistant was in May when members of Cave Spring's 2010 team connected via a video conference call.
"He told everybody he was doing well," Hicks said. "I think he was protecting the guys at the point. You know, 'Hey,' I'm good.' He was very, very upbeat. He was smiling the whole time the guys were talking."
Gruse said Myers made him laugh even not-so-funny moments.
A former head coach at Dan River High School and an ex-assistant at Averett University, Gruse took the Cave Spring job in 2014 and charged into the season opener at Roanoke County rival William Byrd.
Several hours later, Gruse and Myers boarded the bus after a disappointing loss.
"We didn't play particularly well so I probably wasn't in the best of moods," Gruse said. "I go to sit down on my seat and I sit on a bag. I grab it because I'm mad like, ''What?'
"Coach Myers says, 'It's your goodie bag for the ride home."
Gruse was not quite ready to accept any treats after losing a basketball game.
"I said, 'Coach, you know why we lost? Because there's Scooby Snacks in our bag,' " Gruse said.
"The next day at practice I go into the coaches office and the door is locked. I look through the window and Coach is kicked back with his feet on the desk. I walk in and right in front of him is an economy size box of Scooby Snacks. He says, 'I've got enough Scooby snacks for the year for us.' That was his personality."
Myers' health problems forced him to leave Cave Spring's coaching staff for a period in recent years, but he rejoined the squad late in the 2018-19 season which ended with a state semifinal loss to Northside.
Then came Cave Spring's dream season in 2019-20 with Myers next to Gruse on the Knights' bench, at least while the highly charged head coach was seated.
Few high school coaches have been a part of four state championship teams.
"It's elite company," Gruse said. "He was in charge of setting all our team goals this year. He could still relate to high school kids, and our kids absolutely lit up every time Coach walked into the gym.
"For him to go out the way he did this year with a state championship, he deserved it."
Gruse said he is considering fitting tributes.
"We might just leave a chair open on the bench," the Cave Spring coach said.
Myers is survived by his wife, Teresa, and an adult daughter and son.
The family requests that donations be made to the Cave Spring High School basketball program.
"That was his thing," Teresa Myers said. "Those bus trips were rough on him this last year, all that bouncing around.
"But those boys wanted him on that bus."
Be the first to know
Get local news delivered to your inbox!