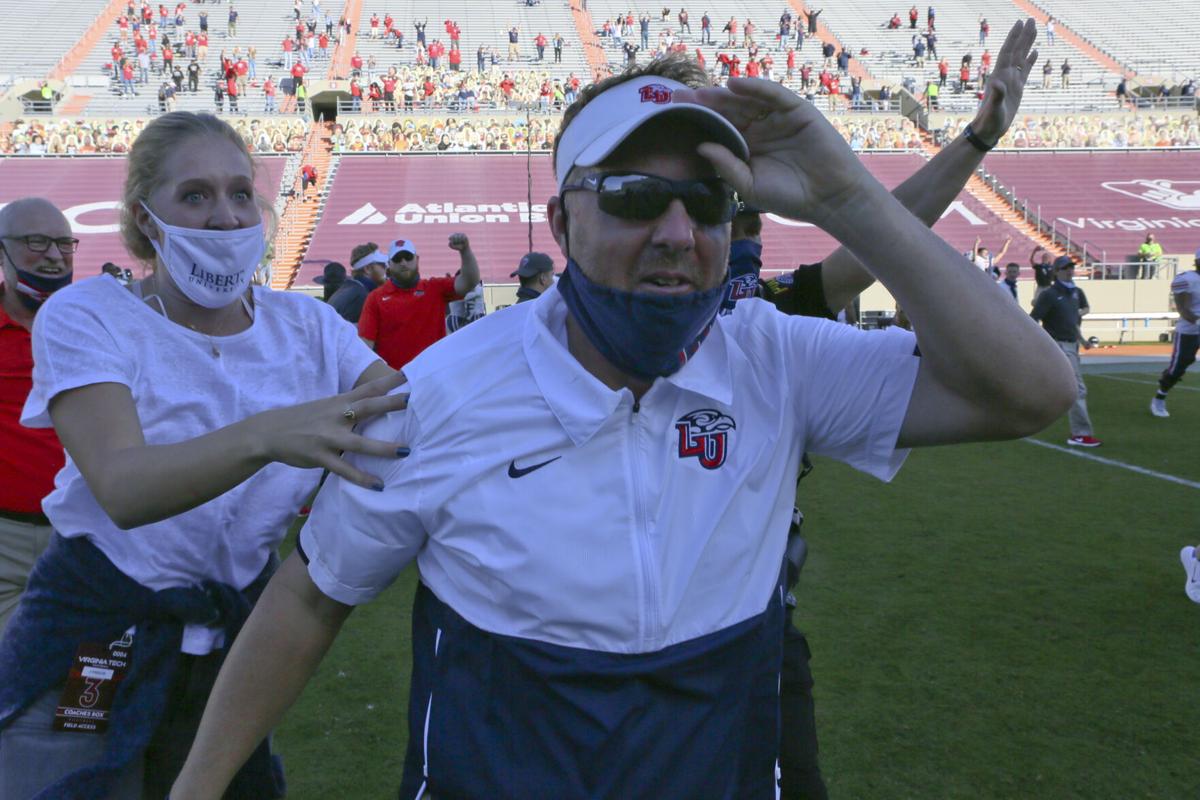 The 21st-ranked Flames (8-0) have already knocked off Syracuse and Virginia Tech this year. On Saturday, they will try to pick up another win over an ACC foe.
But Liberty coach Hugh Freeze said State (5-3) is "our toughest opponent of the year to date."
"It's hard for me to see how they've lost three games when I put their tape on," Freeze said. "They're extremely talented and deep. It's the best defensive front we've seen."
Freeze, a former Mississippi coach, is in his second year at Liberty. The school announced last week it had extended Freeze's contract through the 2026 season.
Despite the extension, it would not be a surprise if Freeze left Liberty after this season for another school. But Freeze downplayed that possibility Monday.
"It would take something very, very, very special for me to even consider it, and I don't know that even that would do it," Freeze said.
Liberty QB Malik Willis has thrown for 1,645 yards and has rushed for 700 yards.
"He's a really special player," State coach Dave Doeren said. "This whole thing's going to be about being able to get Willis off track, because nobody's been able to do that."
The fourth-ranked Tigers (7-1, 6-1) return to action for the first time since their 47-40 double-overtime loss at Notre Dame two weeks ago.
Notre Dame QB Ian Book threw for 310 yards against Clemson. He was sacked just twice.
"He had his way. We didn't affect him at all," Clemson coach Dabo Swinney said. "He held the ball, he ran around, he scrambled. It was obviously a problem."
Notre Dame's offense was 10 of 19 on first down, while Clemson was just 4 of 15.
"We had our worst game [on] third down offensively and we had our worst game [on third down] defensively," Swinney said. "A lot of that was just our inability to affect [Book] and contain him."
Clemson QB Trevor Lawrence, who missed his team's past two games after testing positive for COVD-19, is expected to play Saturday. But LB James Skalski will miss his fourth straight game with a groin injury.
Florida State (2-6, 1-6) is on a three-game skid.
True freshman QB Chubba Purdy made his starting debut in last weekend's loss to N.C. State, becoming the Seminoles' fourth different starting signal-caller this season. But coach Mike Norvell announced Wednesday that Purdy had collarbone surgery Tuesday and will miss the rest of the season.
QB Jordan Travis, who missed last weekend's game because of an injury, is expected to return to the starting lineup Saturday.
"Excited about having him back," Norvell said.
Louisville (2-6, 1-6) is coming off back-to-back losses to Virginia Tech and Virginia.
Cardinals RB Javian Hawkins missed last weekend's loss to UVa because had to quarantine after a roommate tested positive for COVID-19. On Monday, he announced he was opting out of the rest of the season to focus on the NFL Draft.
"It kind of hit home when one of his roommates … tested positive. I think that had something to do with [opting out] — and then the fact that he's got a dream and he wants to go tackle that," Cardinals coach Scott Satterfield said.
Cardinals RB Hassan Hall, who missed the UVa game because of a death in his family after having missed the two previous games with an injury, is expected to play Saturday.
Louisville WR Tutu Atwell, who missed the UVa game with an injury, is questionable for Saturday.
Injury-plagued Syracuse (1-7, 1-6), which was idle last week, is on a five-game slide.
"We're really down on our numbers. It's really difficult for us to play at the [offensive] speed that we really want to," coach Dino Babers said.
Orange true freshman QB JaCobian Morgan made his starting debut in a loss to Boston College two weeks ago. He threw for 188 yards.
"We're just trying to increase the volume on his plate," Babers said. "We're not able to do everything that we're capable of doing [because of his inexperience]."
Be the first to know
Get local news delivered to your inbox!