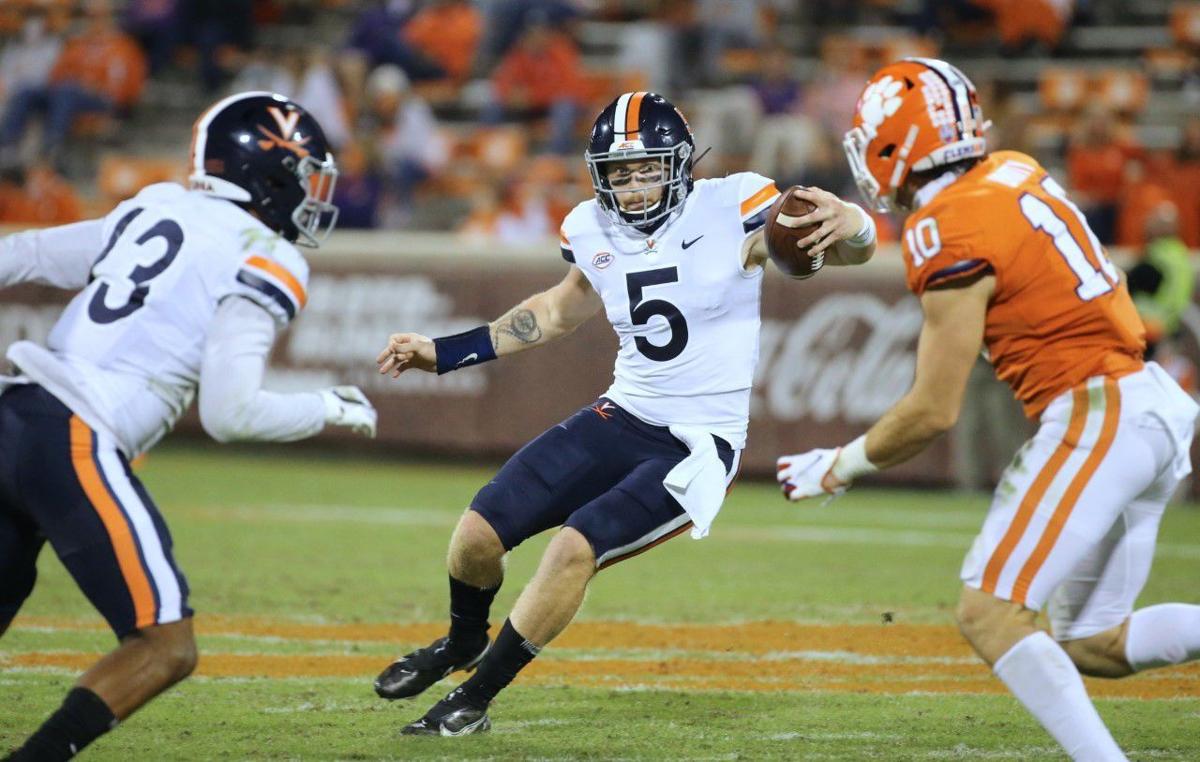 CLEMSON, S.C. — Ten months ago, Clemson dump-trucked Virginia, the fourth quarter of the ACC football championship game a showcase for reserves. Saturday night at Death Valley, the Cavaliers extended the Tigers deep into the second half.
That's a large difference. That's progress for UVa.
No, the Cavaliers did not have Twitter buzzing with "upset alert" warnings. Twenty-five years after ending Florida State's record 29-game winning streak against ACC competition, Virginia became Clemson's 24th consecutive ACC victim.
The final margin was 41-23, more comfortable than it appears given the Cavaliers' touchdown with 1:11 remaining.
But for a team with an overhauled offense in its second game of the season, this was a credible — dare I say encouraging? — performance against an opponent that's qualified for the last five College Football Playoffs.
"We didn't come [here] to be better than we were [last season against Clemson]," Virginia coach Bronco Mendenhall said.
No, the Cavaliers didn't. They traveled south with what Mendenhall called "high expectations" of winning. But UVa was better than in last year's 62-17 defeat — on both sides of the ball.
And not just on the scoreboard or stat sheet. The Cavaliers just looked more like a squad that belonged on the same field with No. 1 Clemson.
This could have been over at halftime. Clemson was in command at 24-3 and, after a Virginia three-and-out, the Tigers took over at their own 29 with 1:45 remaining in the second quarter.
Another Clemson touchdown there, and it's avert-your-eyes time for UVa faithful.
But three consecutive Trevor Lawrence incompletions and a Tigers punt gave the Cavaliers possession at their own 35 with 1:19 and no timeouts left. True freshman defensive tackle Bryan Bresee sacked Brennan Armstrong on first down, and UVa might have let the clock expire had Clemson not called timeout.
What followed showed why Virginia coaches are so high on Armstrong. He completed consecutive passes of 22 yards to Billy Kemp, 27 to Lavel Davis Jr., and 23 to Terrell Jana, the latter for a touchdown that drew the Cavaliers within a reasonable 24-10.
Could they sustain that momentum into the third quarter, when they would receive the opening kickoff?
No, the closest Virginia came to drawing within one score after intermission was on the opening possession of the third quarter. On first down from the Tigers' 19, Armstrong lofted a pass toward the 6-foot-7 Davis in the end zone, where 6-foot cornerback Andrew Booth Jr., made a leaping, one-handed interception.
"Those are the kind of plays that help you get in the playoffs and help you win national championships," Mendenhall said.
That was the last of Armstrong's two interceptions, but he threw for 270 yards and three touchdowns and rushed for 89, his second game with more than 300 yards of total offense in as many starts. And if the Tigers thought Armstrong was a threat running, wait until they get a look at Miami quarterback D'Eriq King next week.
For the night, UVa gained 417 yards and averaged 5.1 per play, both numbers better than in the previous week's 38-20 victory over Duke. In short, given additional practice reps and game experience, Armstrong and this offense are going to be a chore for most, if not every, defense the Cavaliers will face.
Virginia's defense had its moments, too. The Cavaliers limited Travis Etienne to 5.2 yards per carry, well off his remarkable 7.7 career average. Joey Blount blitzed Lawrence into an intentional grounding penalty. Nick Grant busted up a pass for Amari Rodgers.
But beating Clemson requires scores of such plays. The Tigers are that elite, that gifted.
Indeed, their three first-half touchdowns were works of art.
Etienne broke attempted tackles by Grant and Brenton Nelson, and added a spin move, on a 16-yard run. Well-protected on a UVa blitz, Lawrence threw a 27-yard rope to Rodgers in the back of the end zone, where Rodgers toe-tapped against quality coverage by D'Angelo Amos. Rodgers caught a perimeter screen pass and hurdled Grant at the 1 for a 9-yard score.
Lawrence threw for 329 yards and three scores, and Etienne, among the most complete backs in ACC history, caught five passes for 114 yards. As Blount said postgame, Etienne has a remarkable knack of making "something out of nothing."
Most telling: A week after forcing seven Duke turnovers, Virginia (1-1, 1-1 ACC) had no takeaways. Clemson (3-0, 2-0) isn't going to lose many games in which it's turnover-free.
Last season, Virginia learned from its loss to Clemson loss and performed much better in the Orange Bowl against Florida. The challenge is to do the same next week against N.C. State.
"I liked our conditioning, our toughness, our resiliency," Mendenhall said Saturday. "I liked our execution, but a handful of plays [were] the difference. A significantly different story than a year ago."
Be the first to know
Get local news delivered to your inbox!