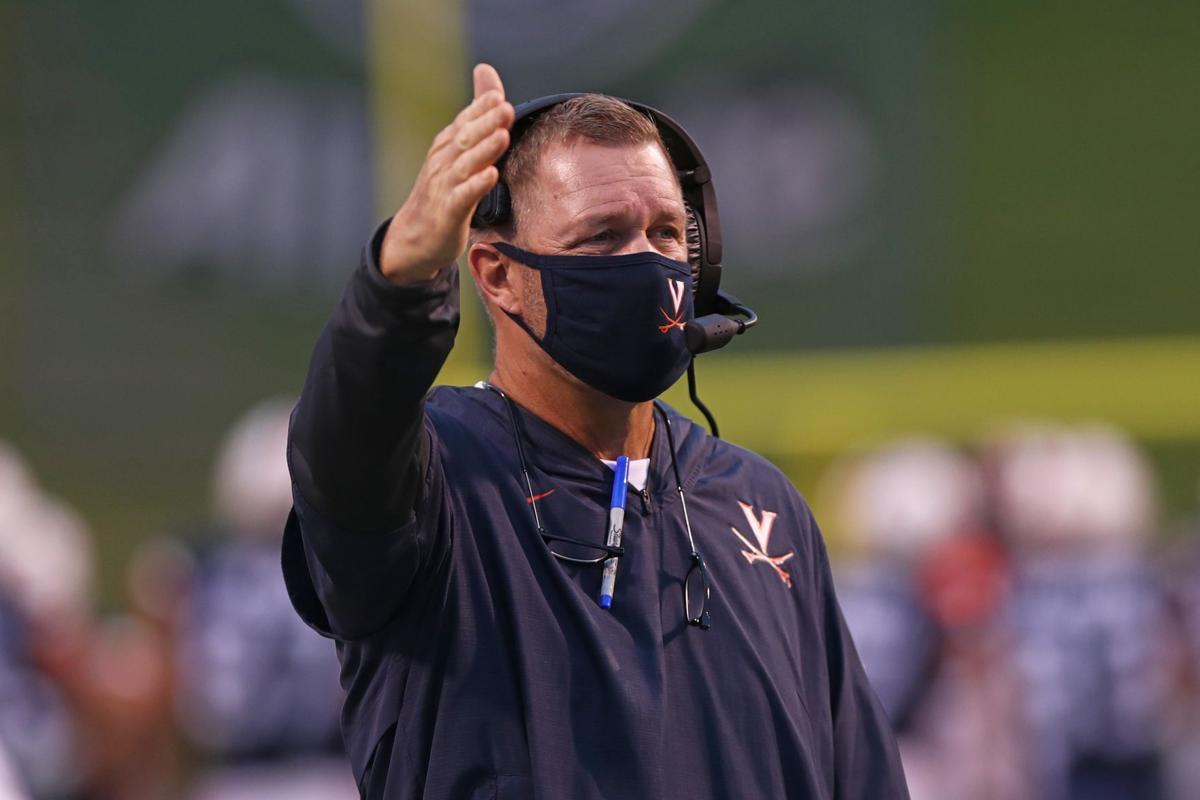 Although they have become close over the years, it's unlikely that Virginia football coach Bronco Mendenhall has been quick to share the identity of his starting quarterback with Wake Forest coach Dave Clawson.
From most indications, it appears that redshirt junior Lindell Stone will make his first career start for the Cavaliers, whose No. 1 quarterback, Brennan Armstrong, was placed in a concussion protocol after being sidelined by a blow to the head early in a 38-21 loss to North Carolina State.
At one point, Stone had been seen as the No. 3 quarterback behind Armstrong and Keytaon Thompson, a transfer from Mississippi State who suffered an early shoulder problem and was moved to wide receiver.
Virginia (1-2, 1-2 ACC) heads into Saturday's 4 p.m. kickoff as a 2 1/2-point favorite over the Deacons (1-2). It's been two weeks since Wake routed Campbell 66-14 at Truist Field, site of Saturday's 2 p.m. kickoff.
"It feels like our third opener," Clawson said. "We had an opener with Clemson; then we had an unexpected bye week and then it felt like another opener with Campbell. And, now it's two more weeks and it feels like another opener.
"We need to play games and we're hopefully going to have a chance to do that three weeks in a row. Certainly, the bye week was very productive for us. We're breaking in nine new starters on offense and it's only going to help us."
Clawson, previously the head coach at Richmond and Bowling Green, is in his seventh season as the head coach at Wake Forest. His counterpart today, Mendenhall, is in his fifth season at UVa.
They have met only once on the playing field, when Wake defeated Virginia 27-20 in 2016, Mendenhall's first year in Charlottesville.
"I certainly have as much respect for Bronco Mendenhall as any head coach in the ACC," Clawson said in a Zoom conference call at Wake. "He's someone that I visit with over the phone.
"We certainly share a lot of ideas with each other on how our teams have handled the pandemic protocols and doing everything we can to keep our team safe. I think he's one of those coaches that's truly in it for the right reasons.
"They progressively have built their program very similar to the way we have — started slow and just gotten better every year. They're extremely creative on offense. They probably manufacture as much offense as anybody in the conference."
Virginia finds itself almost in a must-win situation with games against ranked foes Miami and North Carolina in the next two weeks, with Florida State and Virginia Tech down the road.
The Deacons go to Virginia Tech next week and that will be followed by dates with North Carolina and Notre Dame.
"When you look at our schedule, there's certainly an argument that this might be the most challenging schedule ever played in the history of Wake Forest football, with 10 conference opponents," Clawson said.
Clawson spoke highly of the Cavaliers' talent, including safety Joey Blount; however, Blount has missed the past two games.
"They've got a lot of veterans on defense," Clawson said. "On their combined two-deep, they've got 34 juniors and seniors. This might be the oldest, most experienced team we've played in all my time here."
Be the first to know
Get local news delivered to your inbox!