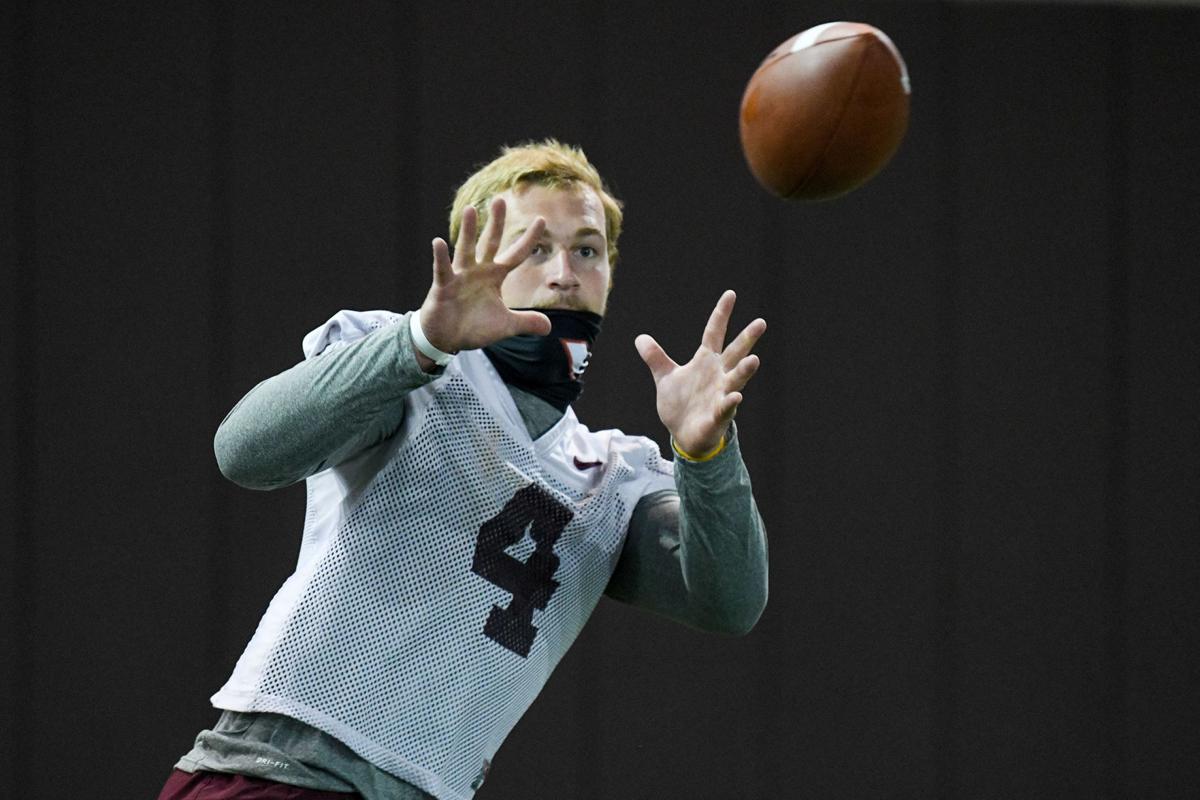 The tunnel is always a focal point at Lane Stadium.
Never has that been more true than Saturday.
Long before the Virginia Tech players rush onto the field for their first game of the season — presumably to the traditional playing of "Enter Sandman" — they'll be trickling out of the tunnel for warmups. That's the time reporters will have binoculars pressed to their eyes, and the few fans in attendance should be paying attention.
That's when we'll get some answers — specifically, about who the heck is playing against N.C. State.
Tech coach Justin Fuente didn't know that answer when he addressed the media on Monday. And given that the third and final COVID-19 test of the week wasn't administered until Friday, he probably can't say for sure until sometime Saturday which players he will have available.
That matters just a bit. But just like everything else in this crazy year, there's only one way to approach it: Take what you can get.
Take the ACC schedule as it's given, then re-given, and then given again. Then take it as it's further modified week by week as needed.
The fewer complaints, the better.
That's going to be true when the Hokies and Wolfpack kick it off, too. Whatever notable absences there are to the lineup can't be used as an excuse, even though it's a perfectly valid one. The Hokies will have to take what they can get.
The noise they hear will be largely artificial. The home-field advantage they're accustomed to won't be there. But now's not the time to complain about that, either.
"It'll certainly be different," Fuente said. "I think the biggest thing is not traveling, staying where we're comfortable staying. It's going to be a little surreal in the stands. I've watched the games on TV, and I feel like everybody's home field artificial noise sounds a little different. Some of them sound like a rock concert, and some of them sound like church."
The N.C. State-Wake Forest game in Raleigh, North Carolina, last week sounded more like a rock concert, especially when the Wolfpack scored the final touchdown to win it 45-42. The N.C. State offense put up 463 yards despite having to go to backup quarterback Bailey Hockman after the starter had to quarantine for about 20 days during fall camp.
That suggests a challenge for new Tech defensive coordinator Justin Hamilton, but the Hokies believe they are ready for it.
"We've been practicing for like 10 weeks now," Tech linebacker Dax Hollifield said. "I pretty much know the defense like the back of my hand, and I know a lot of guys also do. We have a really good game plan for this week. Obviously, there are going to be some of those first-game mistakes and stuff like that … but I'm excited to go."
Offensively, Tech's new stable of running backs should be excited, too. Wake tailback Kenneth Walker III ran for 131 yards and three touchdowns against the Wolfpack.
Another high-scoring game could be in the offing, which would entertain folks at home even if they can't be in the stadium.
"I probably don't have the same tone in my voice that you usually have when you're heading into the first game," Fuente said. "We are excited. We're anxious to play. We are tired of practicing. It's just from the organizational standpoint of putting it all together that creates a little bit of angst."
Eventually, though, that tunnel will empty. Then empty again.
And the answers will come in bunches.
"I can't wait to get out there," Hollifield said. "I know everybody else on the team feels the same way. The wait is over. It's been a long time coming."
Be the first to know
Get local news delivered to your inbox!