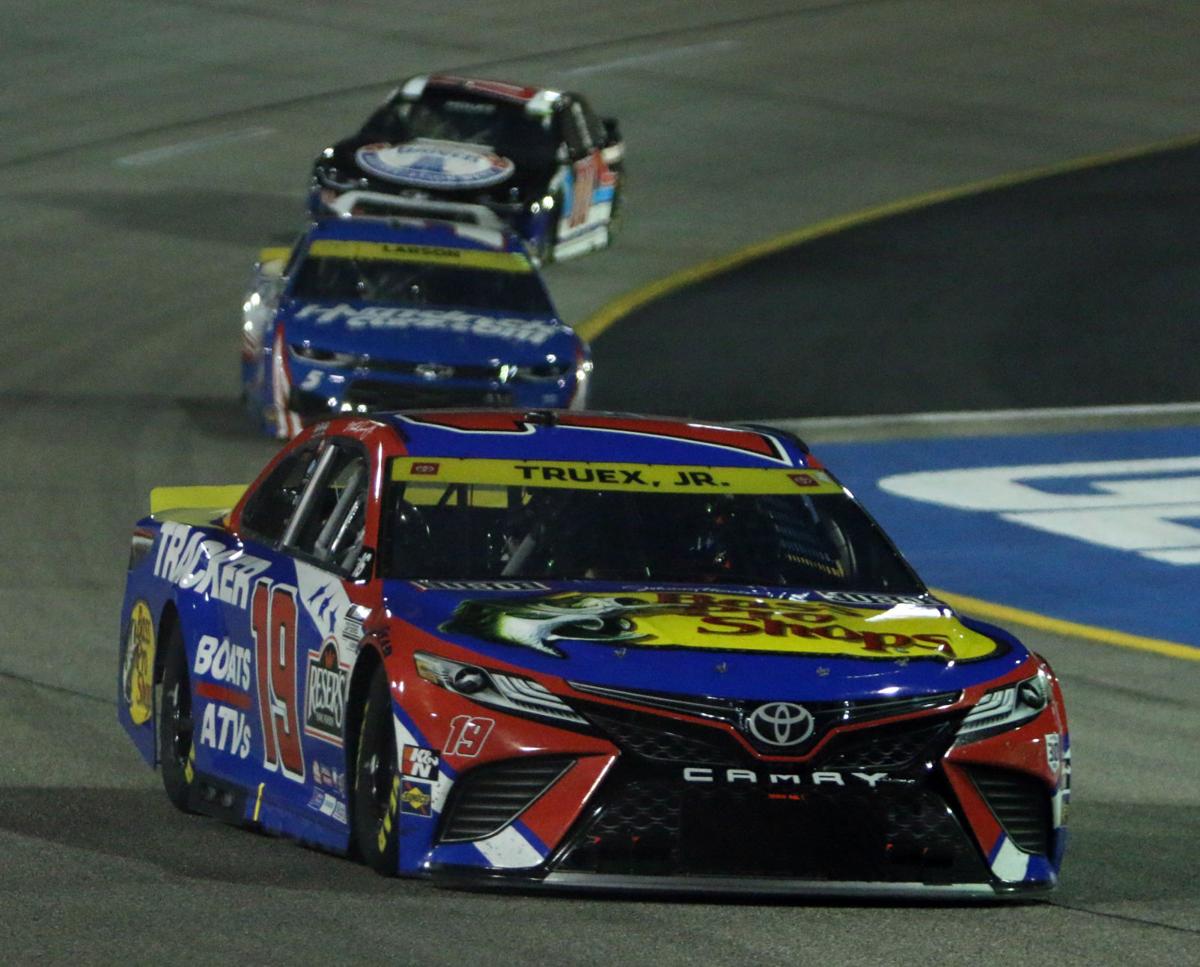 A significant part of success in stock car racing has always been the ability to recover from misfortune.
NASCAR started with the ultimate example. Red Byron, the first champion of the sanctioning body's Strictly Stock division and winner of the first NASCAR-sanctioned race at the Richmond Raceway site in 1948, drove with a clutch-pedal brace fashioned to accommodate the leg injury he had suffered when his B-24 was shot down during World War II.
Martin Truex Jr. has no such physical injury, but his victory in Federated Auto Parts 400 at Richmond Raceway on Saturday night might be regarded as a salute to Byron on an evening rich with tributes to first responders and members of the military.
Truex's misfortune was technical and simple. It occurred in the first instant of the race.
Starting from the second spot, Truex applied just a little too much horsepower as the field approached the green flag. His front bumper crossed the starting line before the bumper of pole-sitter Denny Hamlin.
That's against NASCAR rules. The second-place driver can't be first to the line at the start. Truex, despite radio protests that Hamlin must've balked because he spun his tires, was required to make a slow pass through the pits while the rest of the field sped on.
That put Truex behind by the better part of a lap — a good driver in a good car on a track where he has been successful — with lots of work to do.
He was going to get the work done, he did win the race, but before we look at how he did that, let's review Truex's complex history at Richmond Raceway.
The ¾-mile track is the scene of what must be the worst moment in his NASCAR Cup Series career — the "spingate" scandal in the track's 2013 September event.
Back then, Richmond's September race wasn't part of the playoffs. It was the final race before the playoffs began, last chance for a driver to make the championship-eligible field.
Driving for a three-car team owned by Michael Waltrip, Truex was close to playoff eligibility, but needed to gain points in the Richmond race.
As the race neared its finish, cryptic radio messages were exchanged and odd things happened to Waltrip's other two drivers. Clint Bowyer had an inexplicable spinout. Brian Vickers made an inexplicable pit stop.
Their actions changed the outcome of the race and altered the playoff lineup — Truex was in.
NASCAR investigated, and a few days later levied an array of fines, probations and points penalties that, among other things, eliminated Truex from the 2013 playoffs — even though there was no evidence that Truex had taken an active part in the manipulation of the race's outcome.
It got worse for Truex. At the end of the 2013 season, he lost his sponsor and his ride. He caught on with Furniture Row, a single-car team based in Colorado, far from NASCAR's Charlotte, N.C., hub.
There began the biggest recovery of Truex's career. After a lackluster 2014, Truex and Furniture Row started winning — one race in 2015, four in 2016. And in 2017, Truex and the team from Denver blitzed the rest of NASCAR with eight victories and the Cup Series championship.
Furniture Row's owner, Barney Visser, bowed out of racing after one more season, but Truex was established as a major star. He was added as one of the four drivers for the powerhouse Joe Gibbs Racing team.
That guy — the driver who resuscitated a career that once appeared to be flat-lining — was the driver who found himself penalized and nearly a lap behind at the beginning of Saturday's race at Richmond Raceway.
After the race, Truex said he took the penalty in stride, thinking "I'm already last now, so there's nothing I can do except for go forward."
He said Hamlin — one of his Gibbs teammates — had stuttered as they approached the green flag.
"I wasn't going to jump him," Truex said, "and then he spun the tires and stopped. What am I supposed to do, stand on the brakes and crash the field behind me? It's ridiculous, but yeah, I got over it fairly quickly because that's what it was, and we had to go forward."
Getting over adversity "fairly quickly" seems to be a Truex specialty. That attribute saved his career. Rather than letting that 2013 debacle at Richmond Raceway put a cloud over the track, he has become its master.
In his last six starts at the track he has won three times and finished second, third and fifth in the other three races.
It took him longer than usual to get to the front Saturday. Hamlin, who also runs well at Richmond, was out front most of the way, leading 197 of the 400 laps.
Truex rose relentlessly through the field and was clearly a contender by the halfway point. His team's quick pit work gave him a comfortable eight-second advantage over Hamlin with 50 laps to go.
Hamlin, who grew up in Chesterfield County, had fresher tires at the end and gave his best effort to win on his home track. He carved away at the lead but ran out of laps. He finished about seven tenths of a second behind Truex.
When Truex climbed from his winning car, he wasted no time acknowledging the history of 9/11 and "the honor and the privilege it is to get to come out here and do this.
"All these great fans that come out," he said, looking up at the stands, "we couldn't do any of these kinds of things without the men and women that take care of us and all the first responders, police officers, firefighters, the military — you name it."
A race driver's salute to them all — Robert Nold "Red" Byron among them.
Randy Hallman, a veteran NASCAR writer, is retired from the Richmond Times-Dispatch. Email him at fullthrottlerh@gmail.com and follow him on Twitter @RandyLHallman.