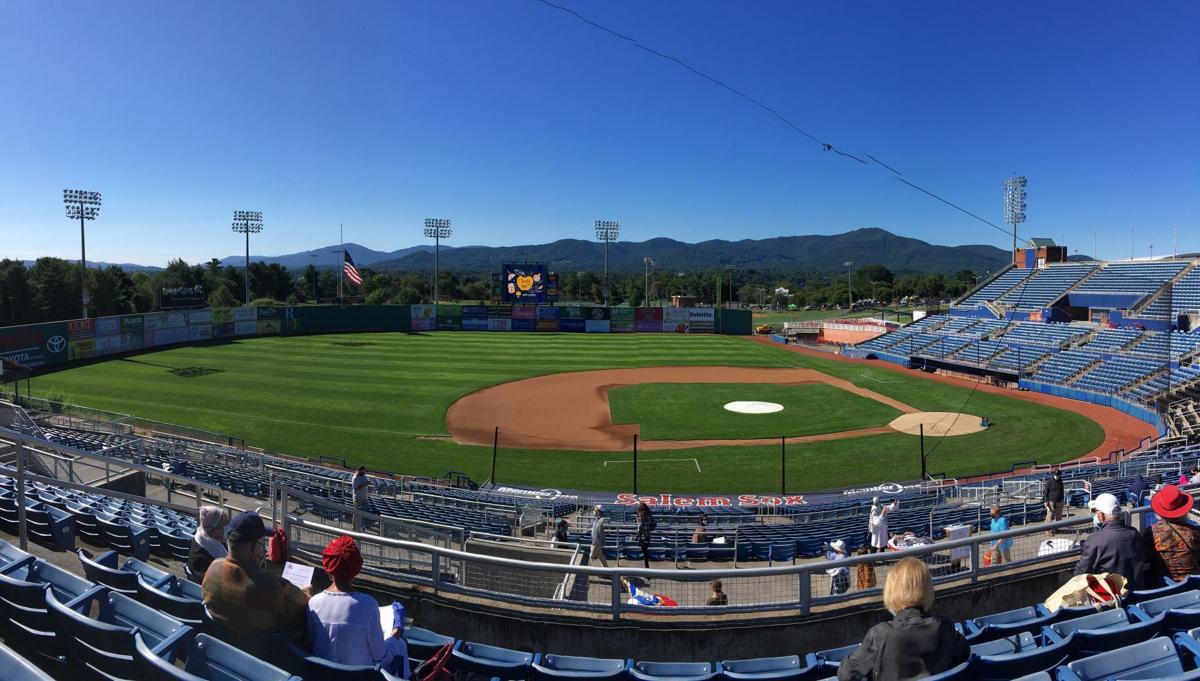 They like to run a little bit.
Small sample sizes are fun, aren't they? Often useless. But if the first week of the Red Sox season is any indication, there will be some action on the base paths this year.
The Sox swiped 10 bags and were caught just once while going 3-3 in their six-game series at Delmarva last week. That would extrapolate to 200 steals over a 120-game season — significantly more than the 90 Salem registered across 137 games in 2019.
Salem's team profile will continue to evolve this week, when the Sox play a six-game series against Lynchburg at Haley Toyota Field. Individually, though, some of these players already have a rep.
Five members of the current roster are rated among the top 30 in the Boston organization by MLB.com. Here's a brief look at each of them (plus one bonus player) heading into Tuesday's 7:05 p.m. home opener.
CF Gilberto JimenezOrganizational rank: No. 5
First week stats: 8 for 26 (.308), 2 2Bs, 6 Rs, 2 RBIs
Summary: Jimenez served as Salem's leadoff man throughout the opening series and figures to be the team's most prolific base bandit. The 20-year-old speedster won the 2019 New York-Penn League batting title before impressing coaches at the team's instructional league last fall.
2B Nick YorkeOrganizational rank: No. 8
First week stats: 4 for 20 (.200), 2B, 2 RBI
Summary: Many were surprised when Boston drafted Yorke 17th overall in 2020 — the California prep product had been rated lower by most draftniks — but Boston believes in his bat. The youngest player invited to the team's alternate training site last summer, he just turned 19 in April.
SS Matthew LugoOrganizational rank: No. 12
First week stats: 3 for 18 (.167), HR, 2 RBIs
Summary: Carlos Beltran's nephew, Lugo completes Salem's promising young double play tandem. He was a second round pick in 2019 out of a Puerto Rican high school. Scouts like his speed, arm strength and willingness to use the entire field.
RHP Aldo RamirezOrganizational rank: No. 19
First week stats: 5 IP, 5 Hs, 3 ERs, BB, 6 SOs
Summary: Salem's opening day starter, Ramirez was lifted after one inning when that game was suspended, then pitched well in his second start on Sunday. He's shown impressive command of three pitches since singing out of the Mexican League for $550,000 in April 2018.
OF Nick DeckerOrganizational rank: No. 22
First week stats: 4 for 17 (.235), HR, 3B, 3 Rs, 2 RBI
Summary: The New Jersey-born Decker committed to Maryland before joining the organization as a second-round pick in 2018. Big and physical, he's got well above-average power. Salem skipper Luke Montz batted Decker in the lineup's No. 3 hole for most of the opening week.
First week stats: 6 for 13, 3 HRs, 5 RBI, 7 BBs, 5 Rs
Scott was drafted by the Marlins in the 31st round in 2018, but he opted to return for his senior year at Vanderbilt. He batted .325 with a 1.028 OPS that season while helping the Commodores win the College World Series. Boston took him in the 10th round in 2019.
Scouts don't love Scott's tools outside of his power, which is why he isn't ranked among the top 30 Boston prospects. Still, check out last week's numbers! Three homers in five games!
Like I said, small sample sizes are fun. So is watching them grow.