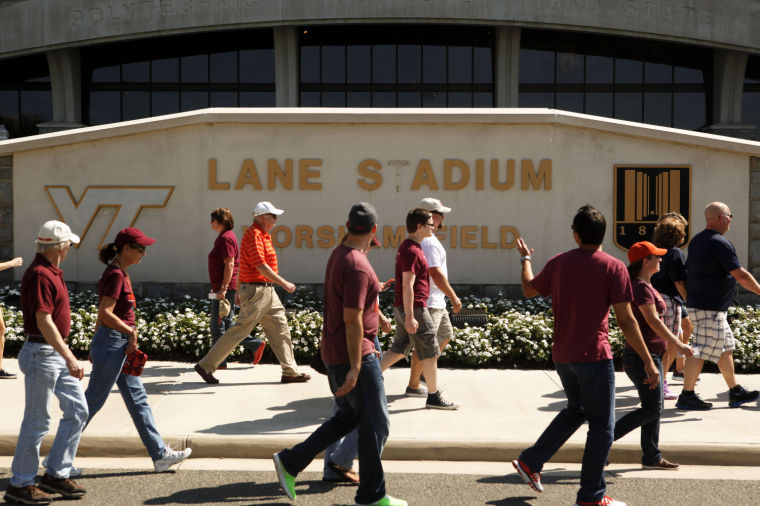 On Thursday night in Blacksburg, I saw something which I never thought to see. I was thoroughly ashamed of what Virginia Tech has become.
The stadium was half-empty by the fourth quarter.
I am not referring to the tail kicking Tech got from Miami. These happen occasionally to the best of teams.
I am referring to the apparent apathy which our administration has toward a winning environment. Our fans were totally demoralized, with the venue which Tech has pursued for its games.
Once proud Lane Stadium: Where teams feared to play.
Where the opposing team's attempt to be audible was an insult to our fans and was always met with an extreme roar that the new fancy noise meter may never hear,
Where a Syracuse player said, "They think they are playing, too";
Where Tech fans received accolades as not only being loud and proud, but knowing when to do it;
Where most Tech fans never left a game early because we were there for our kids, our team, our athletes, our students, our coaches and our university — no matter what.
You cannot blame the coaching staff for the events in the stands on Thursday, for the loss of a winning attitude by the fans.
This is what I have witnessed over the last few years when we began to falter as a dominant program.
The issue began several years ago with some misguided PR type with no understanding of the dynamics of football and the emotion that the team needs to succeed and dig down deep to win when things are tough and that carries them on the road in hostile stadiums.
The Hokie Respect campaign was an insult to one of the greatest and classiest college fan bases this nation has ever seen. When the crowd got really going, here would come a BUCKET OF COLD WATER in the form of a lecture on proper behavior. Instead of fanning the emotional high and feeding our team with support, crowd noise dropped 50 percent every time. I guess we should stay home and watch the game on TV instead of being an embarrassment.
And they kept it up all game long. What did the Hokie Nation do to deserve this? I guess we were just too loud and too proud in Lane for some people.
Tech is 1-3 at home this year.
Thursday night was the culmination of the idiocy that has been fermenting all season. Songs popular with the students blaring from the giant speakers, playing right up until the teams were setting at the line.
Drowning out the crowd and our bands. The fan support was snuffed by the Jumbotron.
How distracting is it to a team trying to focus on an opponent when scenes of dancing coeds are on the big screen? What kind of signal are we sending to our teams? They are getting their lunch eaten by the opposition and we are dancing in the stadium? Not to mention the picture of a Smithfield barbecue and commercials blaring at all of us just like on TV. Really?
We have two of the finest collegiate bands in the country. Those students should be playing their hearts out and showing their stuff instead of being relegated to the shelf. Real Hokies love our bands and would much rather hear them strut their stuff.
What happened Thursday night in Blacksburg wasn't the fault of our team or our coaches. We have seen worse and never left.
Hokie Nation has shown what we think of the atmosphere in our Lane Stadium. We deserve better from the administration.
It is time to return to our traditions.
This Hokies football team needs to find answers
Virginia Tech's football game with Miami was a disgrace, and it was on national TV to boot.
Tech has absolutely no offense. Tech had better wake up. Its recruiting over the past few years has obviously been very poor, and with performances like this past Thursday night, it's going to get worse.
Who would want to play for a team that gets embarrassed like that? The Hokies need to do a much, much better job of recruiting star athletes, especially on the offensive side. The emphasis in the past has seemed to always be on getting defensive players for Bud Foster.
It's time to concentrate on getting great players on offense as well. And maybe it's time to rethink the hiring and retention of offensive assistants Scot Loeffler and Shane Beamer.
Letters should include signature, full address and, for verification only, phone number. All letters are edited. Letters of 200 words or fewer are given preference.