A large boulder called the "Spirit Rock" rests on a patch of grass between the west end zone at North Cross School's Willis Field and the campus parking lot.
It is usually painted at the end of each school year in some combination of red, white and black North Cross colors adorned with personal expressions by graduating seniors.
On a cold Saturday, the rock got a new coat.
A group of students from North Cross and Roanoke Catholic repainted the Spirit Rock dark green as a tribute to former Celtics star athlete Kawuan Ray.
Ray, who was a senior at Patrick Henry High School, died Tuesday after experiencing chest pains while showering at his home following a basketball practice at PH earlier in the day.
The shock waves from the 18-year-old's death reverberated across the Roanoke Valley.
Roanoke Catholic and Patrick Henry have set up separate fund-raising efforts on line to assist Ray's family, but North Cross sophomore football player Chase Daniel wanted to make a different gesture.
What would be more visible than taking a symbol of school spirit and dedicating it to a fallen competitor?
"The rock is kind of a source of pride for North Cross," Daniel said Saturday. "Under very few circumstances would we ever change it to a Roanoke Catholic color. This is one of those times."
On occasion over the years, the rock has been repainted a deep forest green, presumably in a stealth operation under the cover of darkness and anonymity.
"Twenty-five years ago when I was a student at Roanoke Catholic, I might have heard a rumor about it being painted green," Celtics athletic director Matt Peck said.
Youthful hijinx aside, Roanoke Catholic athletes know that by honoring Ray's memory their North Cross counterparts are showing their true colors.
"For a rival to come together and do something for a loved one that we were both amazed by everything he could do ... it is certainly amazing," Roanoke Catholic senior football player Andrew Vaught said.
Vaught first informed Daniel of Ray's death Tuesday night.
Daniel said he discussed his idea for a tribute with his parents, then ran it by a very receptive Vaught the next day.
"All the guys on my team have a great deal of respect for that program and that team," Daniel said. "Kawuan was a standout player. Everybody knew him. Hearing the news, it was shocking.
"We might be at different schools. We might be at rival schools, but he's still part of our community. It was almost like losing one of our own because of that. We felt we should do something to honor his memory and to do something for the people that are close to him, whether it's his family or his teammates."
Once Daniel received the OK from North Cross football coach Stephen Alexander, the plan quickly was put in action.
"I thought it was perfect," Alexander said.
Ray was near the top of a short list of the premier athletes in the Roanoke Valley during his three years at Roanoke Catholic.
He averaged 13.7 yards per carry as a running back for his career at Catholic, also starring at defensive end on two VISAA Division III state championship teams and one state runner-up.
He was named Division III player of the year as a sophomore.
Ray won the long jump and triple jump while placing third in the 100-meter dash in the 2019 Division II state outdoor track and field meet.
Ray also played basketball, but he was unable to finish his junior season when he was hospitalized in Roanoke and later in Richmond for an extended illness.
Peck said Ray was advised by doctors to attend a school that offered virtual classes. With Roanoke Catholic set up for five-day, in-person learning, Ray transferred to Patrick Henry.
Vaught said he spoke with his former teammate Dec. 18. They had planned to work out together, but Ray canceled because he had volunteered to help distribute food that Patrick Henry cafeteria workers had assembled for students to take home for the holiday break.
Vaught still has a vivid memory of one of his early encounters with Ray, who transferred to Catholic in the summer of 2017 after playing JV football at Patrick Henry.
"The first day of camp, we knew that he was going to be something special," Vaught said. "Then the first day of our first scrimmage, he came in at outside linebacker. He had never played outside linebacker. [A] guy broke away, Kawuan chased him down 45 yards in probably three seconds."
Ray's hospitalization and time away from sports had prevented the young athlete from being in peak condition. Ray also was balancing basketball practice and school with hours spent working at a part-time job.
"He was struggling to get in shape," PH boys basketball coach Jack Esworthy said Tuesday. "He put on a lot of weight this summer."
Roanoke Catholic football coach Bob Price said he last spoke with Ray a month ago.
"He called me out of the blue," Price said Saturday. "He just wanted to say, 'Coach, I was just thinking about you. I wanted to check in with you.' "
Roanoke Catholic and North Cross restored their football rivalry in 2016 after several years of separation.
Alexander got to see Ray up close and personal in three of them.
"Kawuan was special," Alexander said. "Some kids peak early and kind of taper off. Kawuan just seemed to keep getting better.
"The football rivalry has been tremendous. We've had no major incidents. We've had no fan incidents. We've had great games, competititve games. That's awesome. That's what it's all about."
A group of approximately 20 students gathered at North Cross on Saturday, adorning the freshly painted rock with Ray's No. 8 in gold and the message "LLK" for "Long Live Kawuan."
Former Roanoke Catholic assistant coach Kenny Wimmer offered a prayer at the conclusion of the ceremony.
A candlelight vigil was planned later Saturday at Melrose Park
Services for Ray are scheduled for 11 a.m. Thursday at Hamlar-Curtis Funeral Home. Visitation will be from 1 to 5 p.m. Wednesday.
"It's a remainder to all of us who drive on our campus that our days are numbered and never promised," Alexander said. "So let's live our lives the way we should and be true to our values, because you never know."
Photos: Friends, former football competitors honor Kawuan Ray
122620-roa-va-kawuanray p01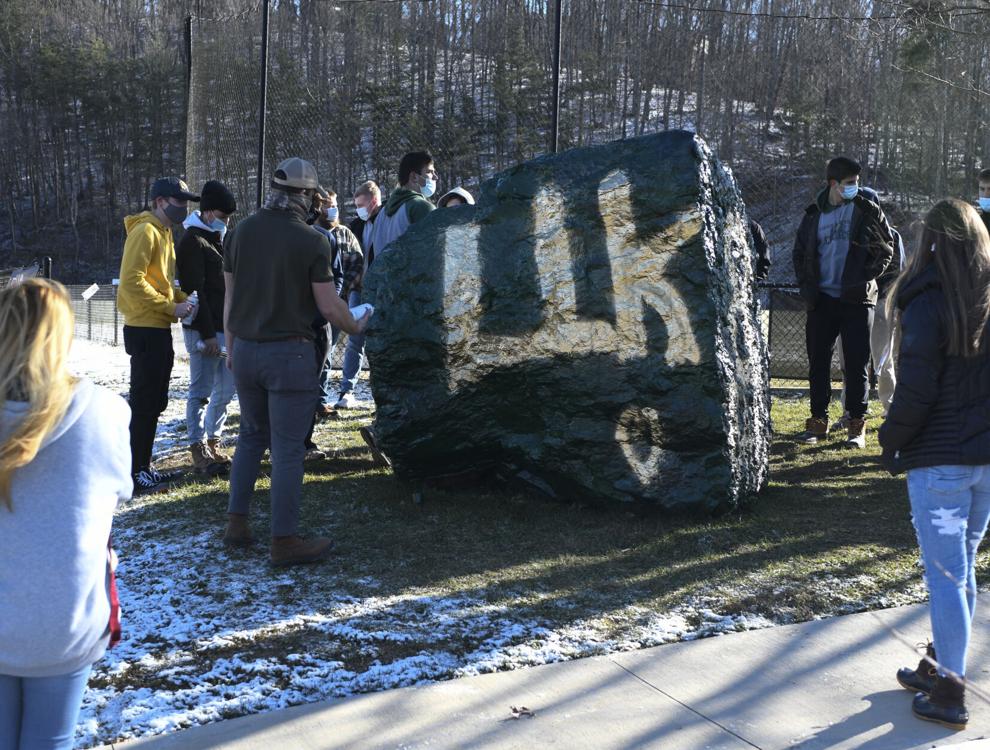 122620-roa-va-kawuanray p02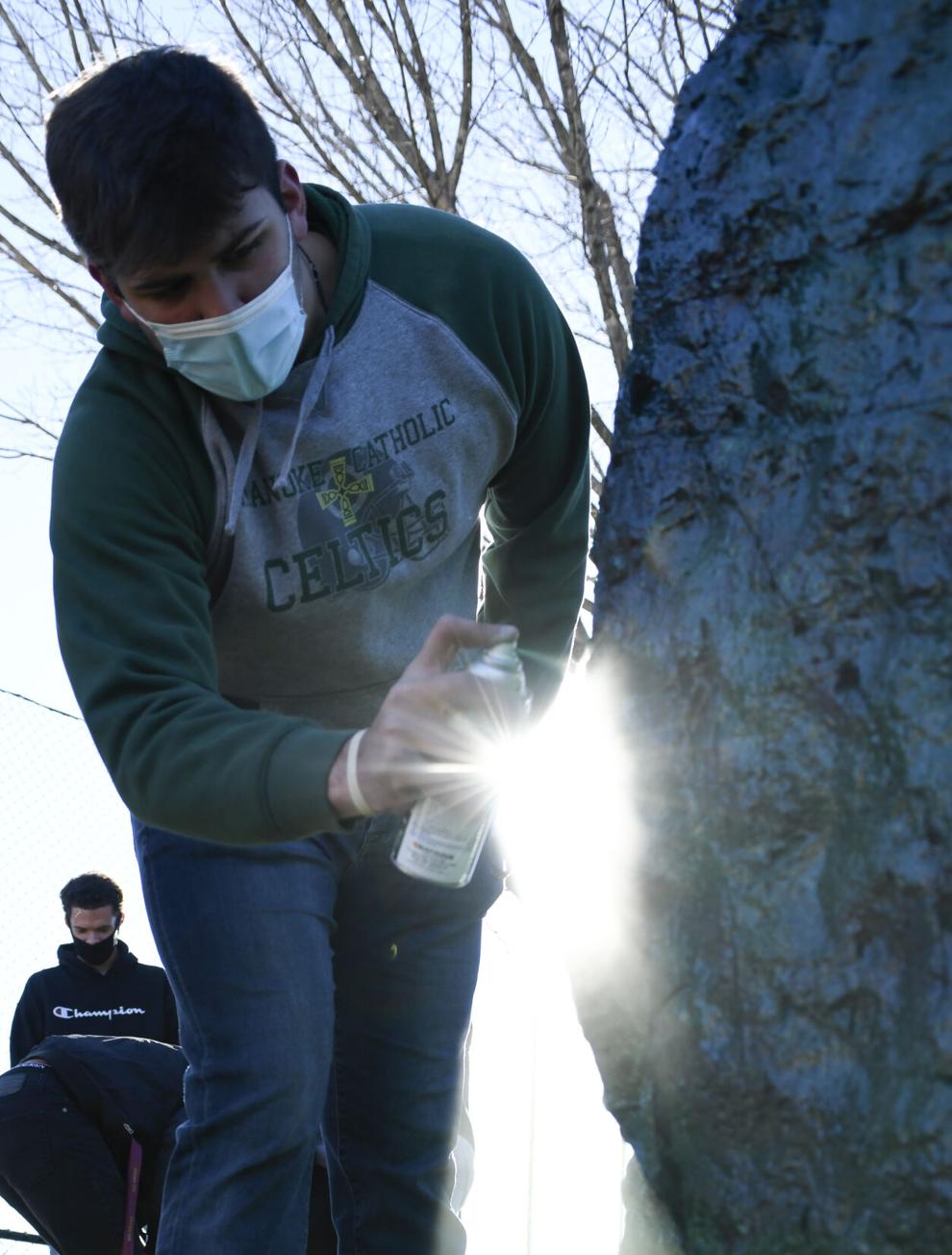 122620-roa-va-kawuanray p03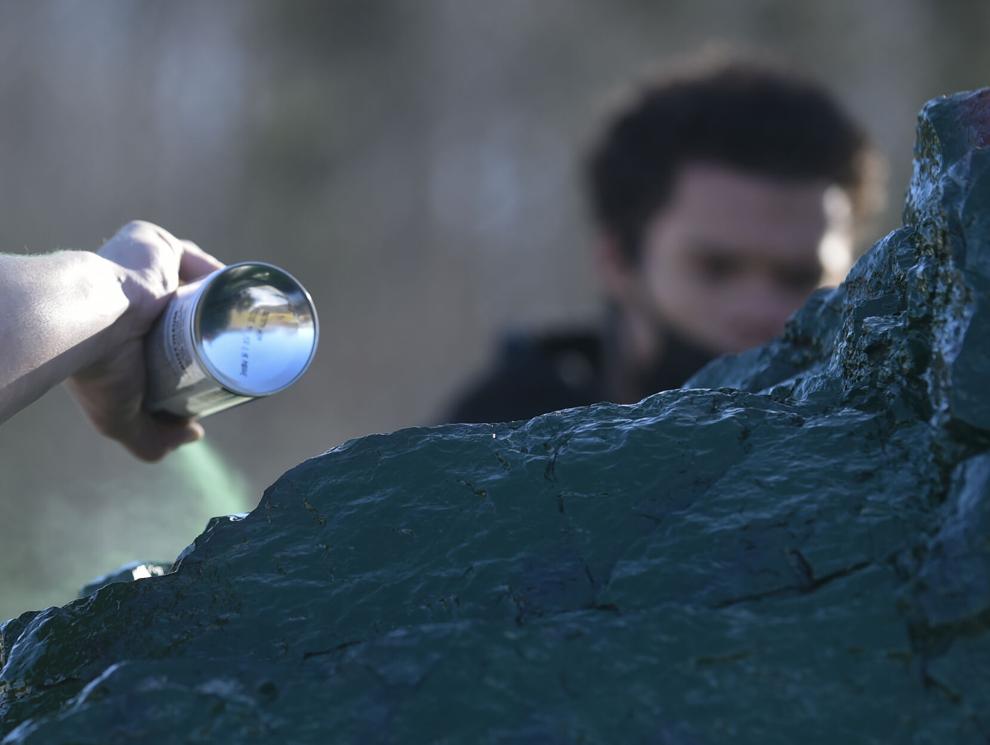 122620-roa-va-kawuanray p04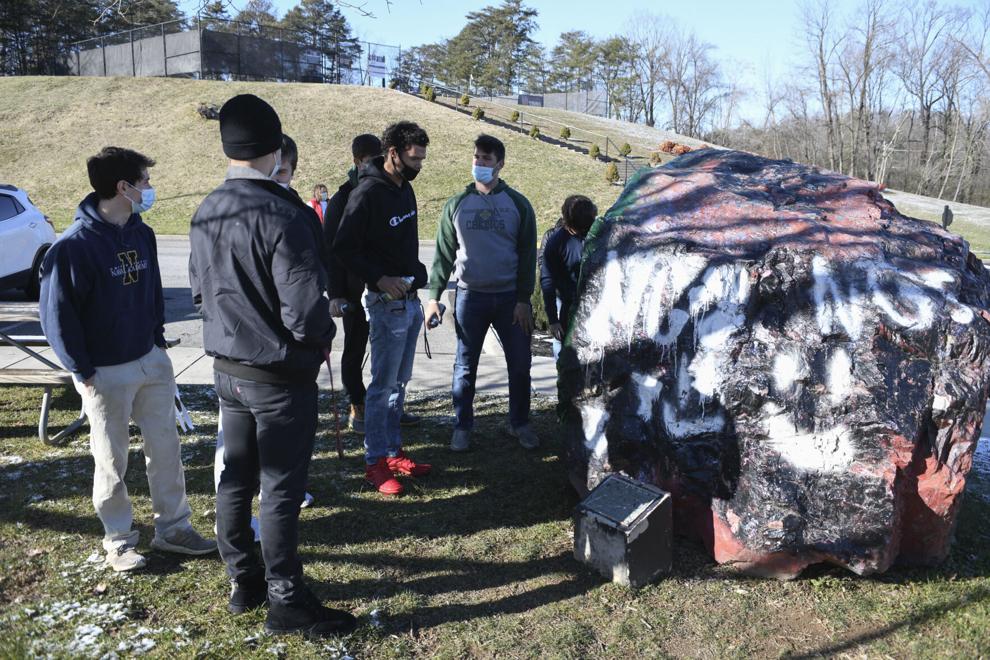 122620-roa-va-kawuanray p05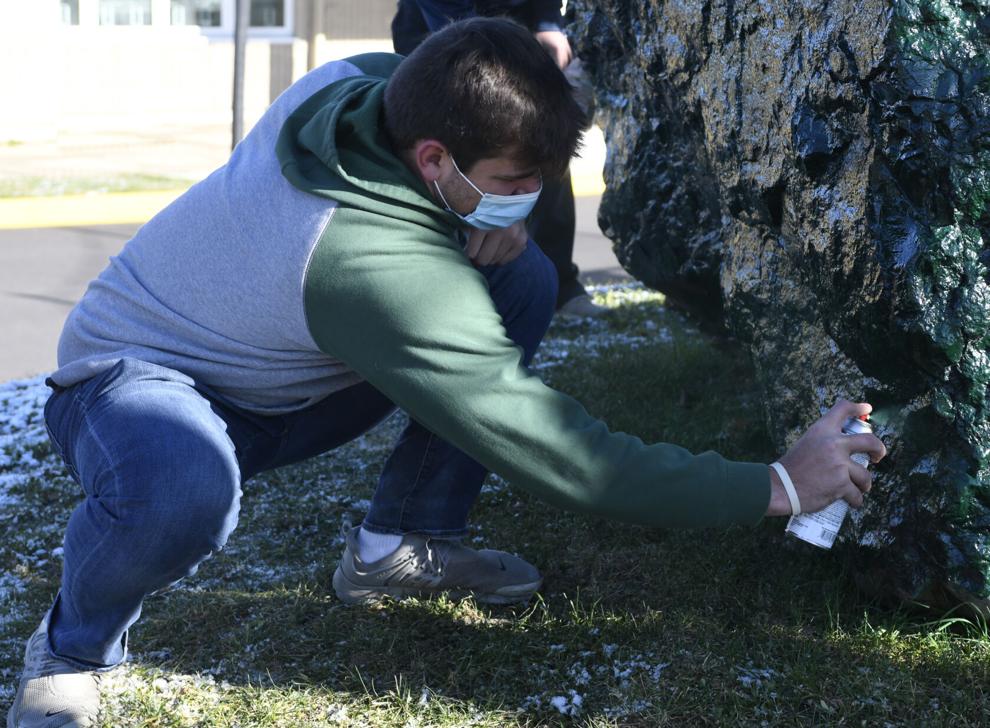 122620-roa-va-kawuanray p06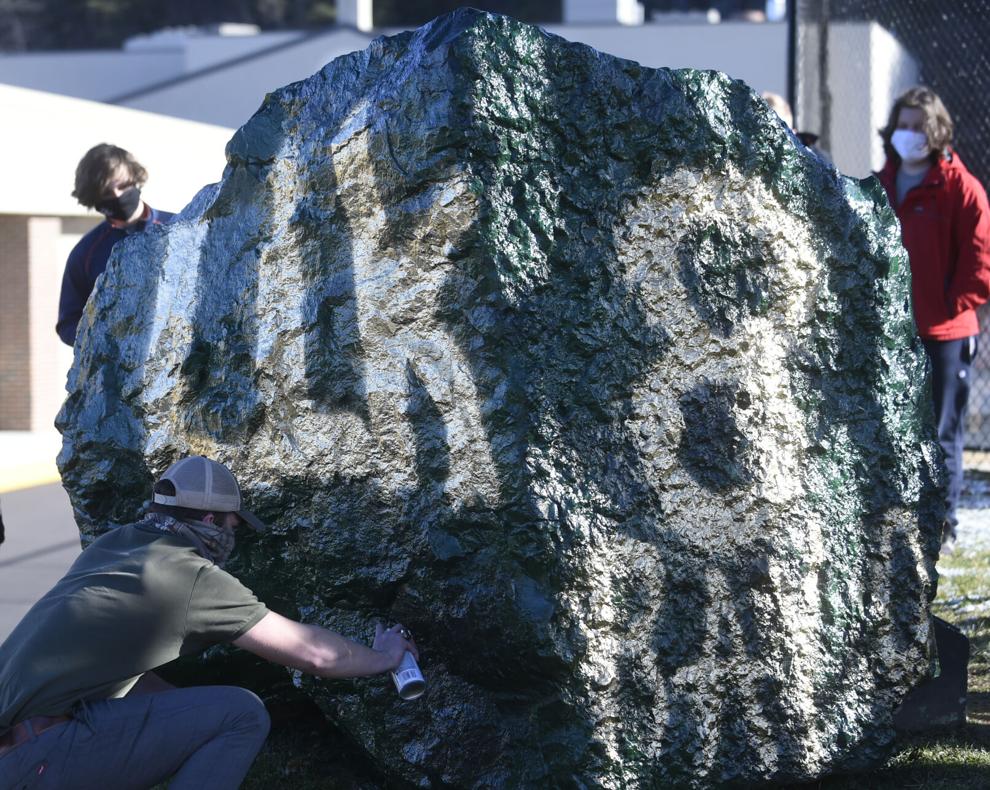 122620-roa-va-kawuanray p07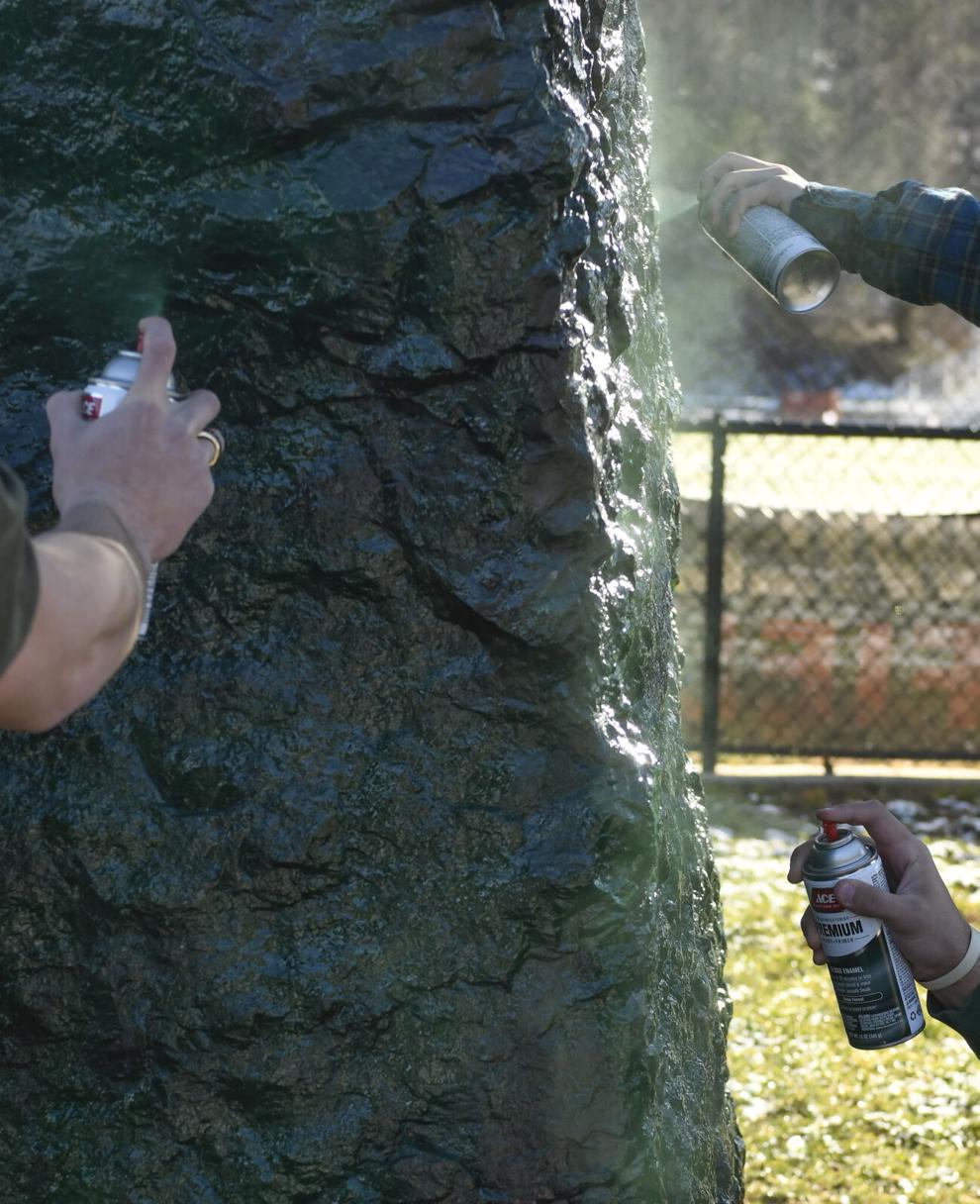 122620-roa-va-kawuanray p08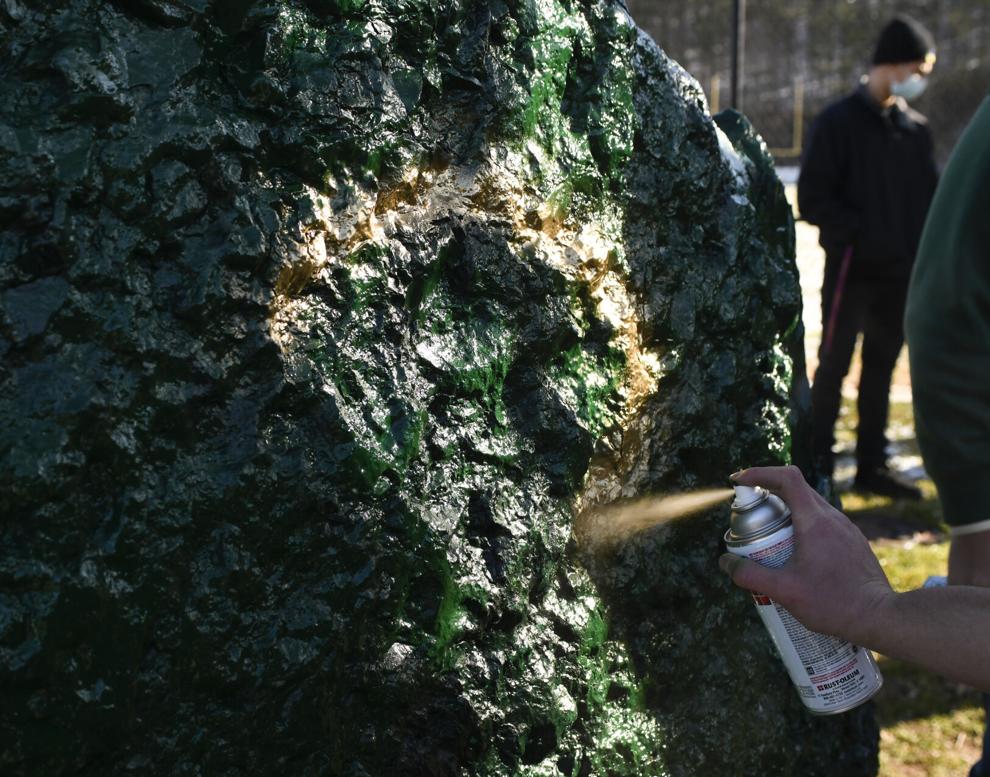 122620-roa-va-kawuanray p09