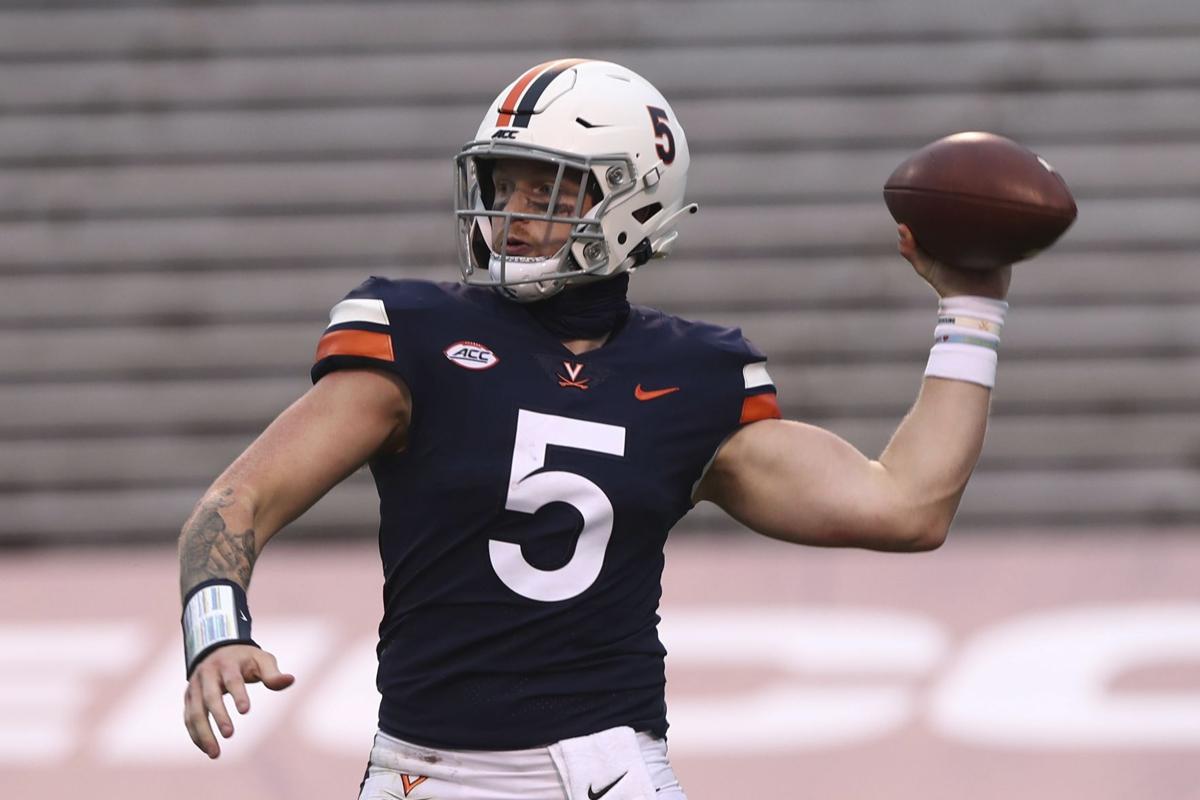 Bronco Mendenhall had to know prior to Virginia's football game Saturday with North Carolina State that the Cavaliers were not a first-quarter team.
Virginia has been outscored 34-0 in the first quarter of its three games, including Saturday's contest, when the Cavaliers trailed North Carolina State 14-0 after 15 minutes.
"That's atypical for teams that I've coached," said Mendenhall, the Cavaliers' fifth-year head coach, on a Zoom call with reporters Monday.
"We started to address it last week in practice but it kept going. We're playing with more urgency and more focus when we're behind."
The Wolfpack, who came to Scott Stadium as a seven-point underdog, won 38-21.
"It might be inexperience at quarterback and just facing the different looks and getting acclimated," said Mendenhall, referring to redshirt sophomore Brennan Armstrong, a first-year starter.
"There might be other factors as well but it's making it difficult, right from the beginning, to have the kind of start that we want."
The Cavaliers, who travel to Wake Forest for a 4 p.m. Saturday kickoff, may or may not have the services of Armstrong, who suffered a concussion late in the second quarter against N.C. State.
"He'll have to work through the protocols," Mendenhall said, "and, from the my understanding, it is his first [concussion] and so it is possible that he could return this week. So, it's really day-by-day as he works through the protocol.
"So, probably probable is what I would say."
The Cavaliers can feel more comfortable following the performance of fourth-year junior Lindell Stone, who came off the bench to complete 30 of 54 attempts for 240 yards and three touchdowns.
"Lindell did not have many practice reps at all with our offense," said Mendenhall of the week leading up to the game.
"He was really working with our defense and helping us in that regard. We'll be going day-by-day with Brennan but, in the meantime, preparing Lindell."
When Armstrong took a blow to the head that led to a targeting penalty and dismissal of the Wolfpack defender, it was reasonable to think the Cavaliers would turn to Keytaon Thompson, a somewhat heralded transfer from Mississippi State.
Instead, the call went out to Stone, who is listed at 6 feet and 240 pounds. What's more, Stone was wearing No. 36, a numeral more closely connected to a fullback or linebacker.
"When Keytaon first came in, he was really impressive at quarterback," Mendenhall said. "And, wow, on any given day between him and Brennan, it was close.
"But, very, very early on, he had a shoulder injury that precluded him from playing that [quarterback] position effectively at that time."
It didn't preclude Thompson from lining up as a receiver and catching a touchdown pass in UVa's 41-23 loss at Clemson.
"He also was a great athlete and we wanted, hopefully, for him to have a great experience and us to find a place for him," Mendenhall said.
**"It was more an early shoulder injury that was the reason for the move. We really liked what he was doing at quarterback."
Be the first to know
Get local news delivered to your inbox!