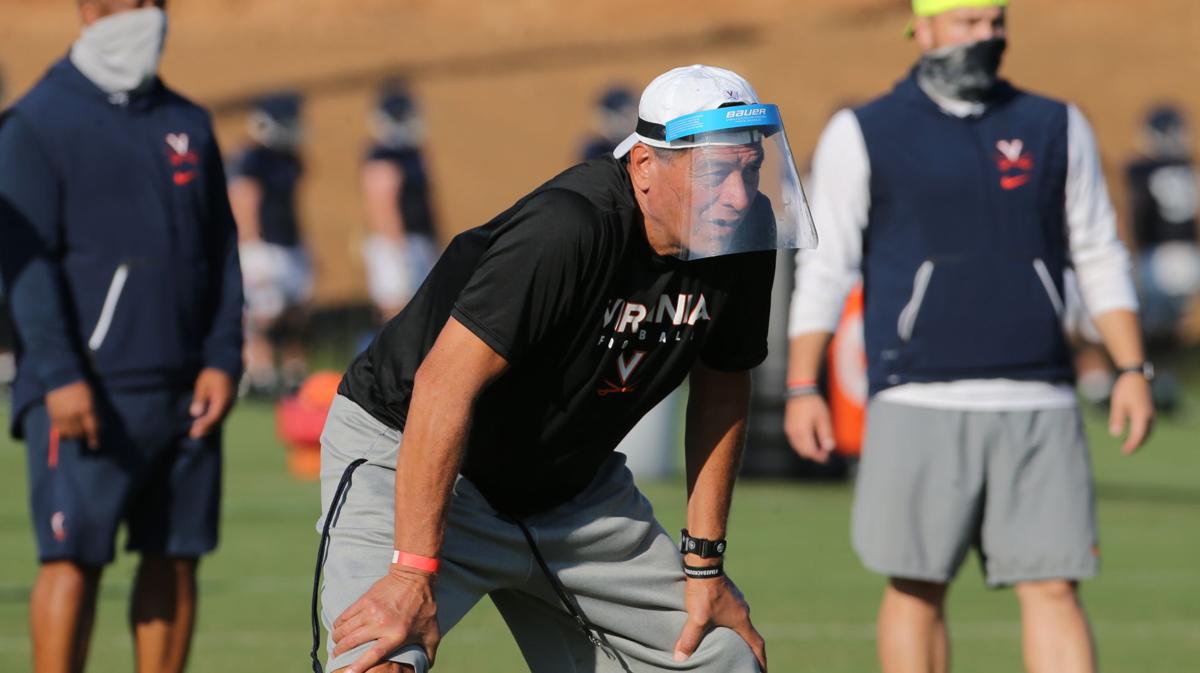 Almost two weeks after Virginia quarterback Brennan Armstrong took a blow to the head against North Carolina State, news of his status remained under wraps Friday.
Armstrong was not in uniform Oct. 17 when the Cavaliers dropped a 40-23 decision at Wake Forest.
Now the Cavaliers (1-3, 1-3 ACC) are headed to Hard Rock Stadium for an 8 p.m. Saturday start against 11th-ranked Miami (4-1, 3-1).
Seldom-used veteran Lindell Stone got the start at Wake Forest after replacing Armstrong one week earlier. After attempting two passes in the previous three seasons, Stone has thrown 96 passes in Virginia's last two games.
And, that was with Armstrong sharing time with two other quarterbacks — Keytaon Thompson, a transfer from Mississippi State, and January enrollee Ira Armstead, a freshman.
Even Armstrong has limited experience after backing up Bryce Perkins, who broke numerous school records over the previous two seasons.
Perkins was always a running threat and the Cavaliers may add that dimension to the current group with Thompson, who had 10 carries for a team-leading 71 yards against Wake Forest.
"With Keytaon, we're just building capacity there," UVa offensive coordinator Robert Anae said earlier this week. "We ask him to do a bunch and I thought he responded really well. That toolbox begins to grow and expand and we look for more great things out of him."
Armstead ran the ball six times for 46 yards, including a 22-yard touchdown run that was UVa's biggest gainer on the ground or through the air.
Anae said that Armstrong was working out Wednesday and that all was needed was clearance from the trainers.
Thompson has not attempted a pass this season but he did catch a touchdown pass at Clemson, where he lined up as a receiver.
"We're trying to work there," Anae said. "You know, he did come as a quarterback and quarterbacks are supposed to throw the football. That shoulder might be a little funky but, shoot, once you get back there, that's what quarterbacks do.
"So, we hope to get that going."
Stone had three carries for 10 yards.
"We try to get stuff to distribute because that's his top skill set," Anae said of Stone. "With the other kids, their top skills set is running the ball. But, dang, we're not going to expand Lindell's skill set to run the ball."
Never mind that Stone wears No. 36, a numeral more closely affiliated with O.J. Simpson and Jerome Bettis, kindly identified as "the Bus."
Armstead is No. 98 and Thompson is No. 99.
"Lindell's skill set is, he's a very good captain and commander of this, that and the other," Anae said on a Zoom call following practice this week, "and he reads it very well.
"We've got that pegged with Lindell. With the other two, dang, we're just scratching the surface. We're looking forward to Lindell's best as we move forward."
Miami coach Manny Diaz had spoken of the confusion that the Hurricanes might be facing as they tried to identify and manage the various Cavalier QBs.
"I think that's just defensive talk," Anae said. "The game is 11 people and somebody plays quarterback, somebody plays tight end and so on and so forth. Right now, that's just where our program is.
"We are at a spot where our starter is hurt and our answers go deeper than one guy and we're just starting down that road."
Be the first to know
Get local news delivered to your inbox!