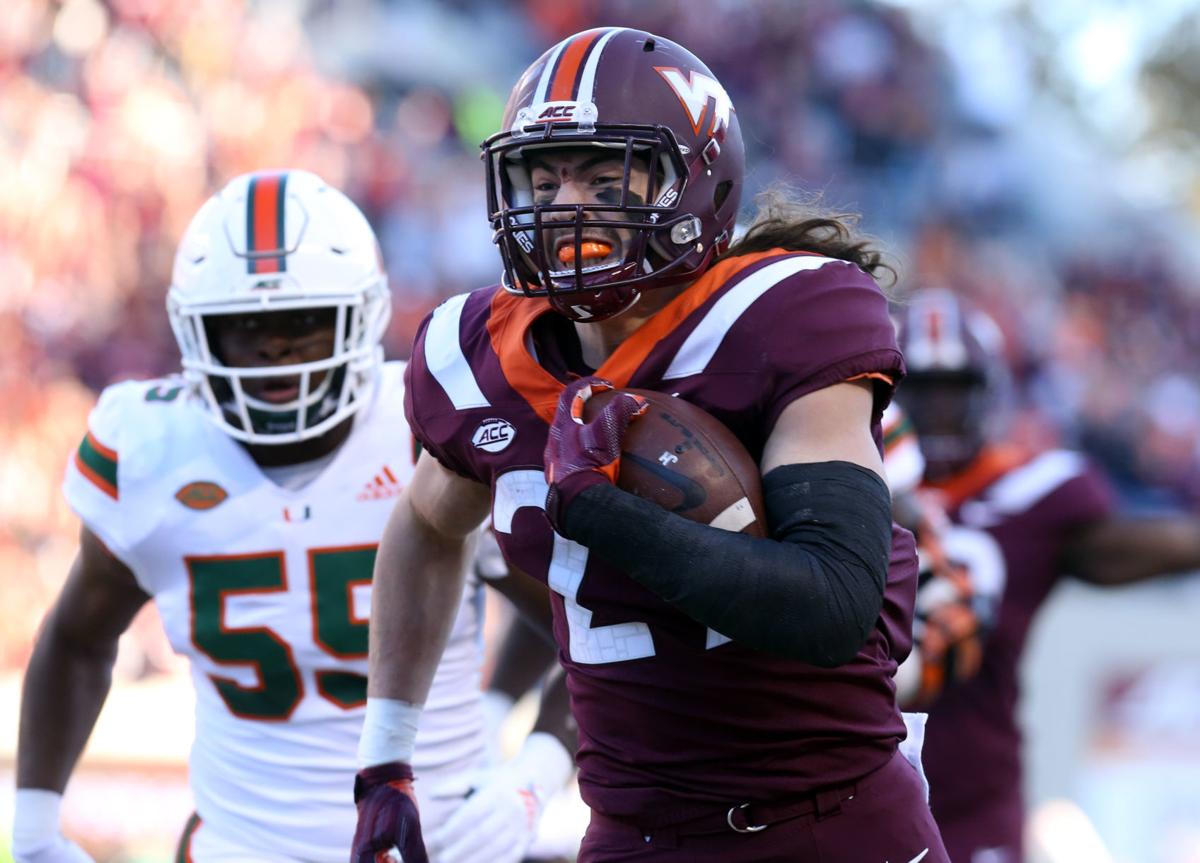 The Atlantic Coast Conference announced the student-athletes selected to attend the league's annual media days on Tuesday. The 2019 ACC Kickoff is July 17-18 at The Westin Charlotte in North Carolina. 
Virginia Tech is bringing safety Reggie Floyd along with tight end Dalton Keene.
Floyd, the lone returning co-captain from last year, was second on the team with 88 tackles last year (9.5 tackles for a loss) as a junior. The Manassas, Virginia native has 161 career tackles and five interceptions. 
Here's a full list of ACC student-athletes participating in the 2019 ACC Kickoff...
AJ Dillon, RB, Jr., New London, Conn.
Tanner Karafa, DT, Sr., Ashburn, Va.
John Simpson, OG, Sr., North Charleston, S.C.
Tanner Muse, S, Sr., Belmont, N.C.
Quentin Harris, QB, Sr., Wilton, Conn.
Koby Quansah, LB, Sr., Manchester, Conn.
Tamorrion Terry, WR, So., Ashburn, Ga.
Marvin Wilson, DT, Jr., Houston, Texas
Jalen Camp, WR, Sr., Cumming, Ga.
David Curry, LB, Sr., Buford, Ga.
Seth Dawkins, WR, Sr., Columbus, Ohio
Dorian Etheridge, LB, Jr., Charleston, W.Va.
K.J. Osborn, WR, Gr., Ypsilanti, Mich.
Shaquille Quarterman, LB, Sr., Orange Park, Fla.
Charlie Heck, OT, Sr., Kansas City, Mo.
Myles Dorn, S, Sr., Charlotte, N.C.
Justin Witt, OT, Jr., Chicago, Ill.
James Smith-Williams, DE, Gr., Raleigh, N.C.
Maurice Ffrench, WR, Sr., New Brunswick, N.J.
Dane Jackson, CB, Sr., Coraopolis, Pa.
Tommy DeVito, QB, So., Cedar Grove, N.J.
Kendall Coleman, DE, Sr., Indianapolis, Ind.
Bryce Perkins, QB, Sr., Queen Creek, Ariz.
Bryce Hall, CB, Sr., Harrisburg, Pa.
Dalton Keene, TE, Jr., Littleton, Colo.
Reggie Floyd, S, Sr., Manassas, Va.
Cade Carney, RB, Sr., Advance, N.C.
Justin Strnad, LB, Sr., Palm Harbor, Fla.
Mike Niziolek is the Virginia Tech football beat writer for The Roanoke Times. Follow him on Facebook and Twitter.