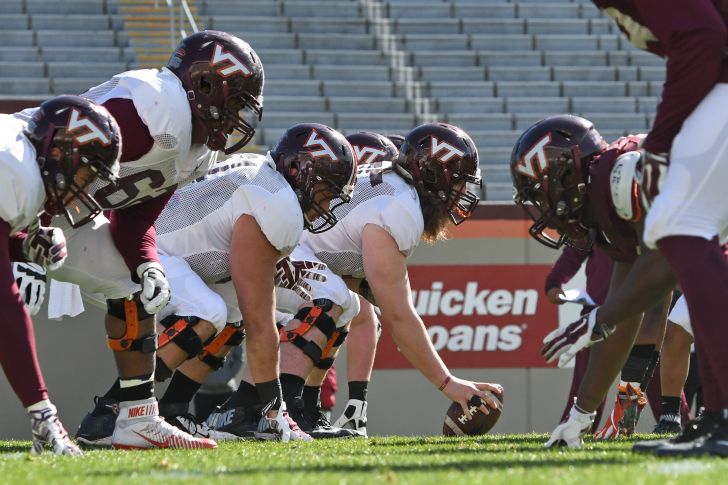 The Hokies' April 22 Maroon-Orange spring game at Lane Stadium (2:30 p.m.) will be an offense-vs.-defense affair again. Injuries and scholarship numbers at certain positions almost necessitate it, just like last year.
The game will be four 12-minute quarters with a running clock and a 10-minute intermission, pitting the Orange team (offense) against the Maroon team (defense).
The quarterbacks, wearing gold jerseys, will not be tackled and special teams will be limited to reduce injury risk.
Scoring will be six points for a touchdown, three points for a field goal and one point for an extra point on offense.
The defense can get seven points for a turnover, three points for a three-and-out and one point for a defensive stop.
Here are a few more links for your Sunday reading ...
-- Rogers, by the way, will be signing autographs at the Tech Bookstore on South Main on April 13 from 4-6 p.m. The price is $20 per autograph. You can bring your own items for him to sign or purchase pictures and mini-helmets that'll be available on site.
-- The ACLU's going to keep tabs on the sites chosen for any events to make sure they're living up to their non-discrimination standards. This issue doesn't sound like it's over by any means.
-- Some scenes from the Hokies' scrimmage in Lane Stadium on Saturday:
-- Virginia Tech's still using those Hokie Stone uniforms for recruiting purposes. Here's Big Stone Gap tight end James Mitchell posing in them this weekend.
-- Want to hear from Hokies QB Quincy Patterson, who was recently invited to be part of the Elite 11 Finals? Of course you do. I get the sense that Virginia Tech is going to have to fend off some competition for him in the 10 months before signing day.
-- Jerod Evans went to the Cowboys' quarterback camp this week.
-- Virginia reported some recruiting violations yesterday. What's amazing is that there were 32 incidents of "impermissible contacts" over a two-week period. Sounds like some coaches will be taking some extra compliance classes.
Be the first to know
Get local news delivered to your inbox!