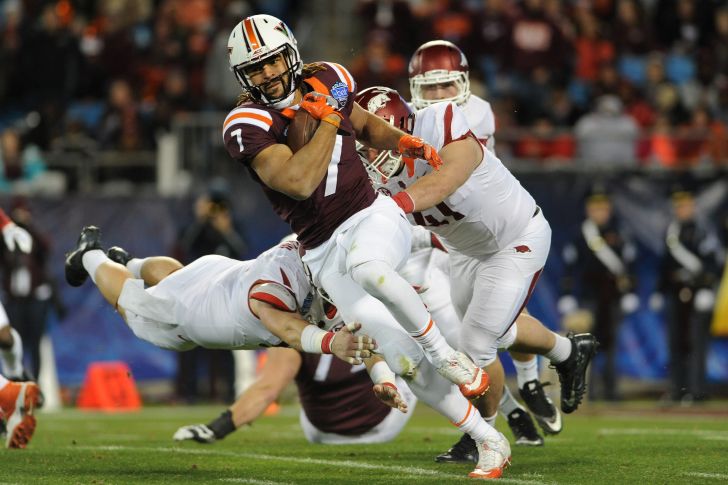 The NFL Draft starts Thursday, although no Hokies figure to have their names called until Friday at the earliest, possibly even Saturday, when rounds 4 through 7 take place.
There's been a lot of fluctuation in projections since January, when the draft discussions really started to get going.
Here's a look at what some of the draft analysts out there are saying about Virginia Tech's players.
Once considered by ESPN's Mel Kiper Jr. as a first- or second-round pick, Hodges is now in the third-to-fourth-round range, according to the ESPN draft analyst.
"He's got tremendous talent," Kiper said. "You think about blocking, that's not what he's going to get paid to do. He's going to get paid to catch the football.
"And he was a little inconsistent. He'll pluck it out of the air and he'll show nice hands, and he'll make the highlight film grab, then there's other times where it gets into his pads and he doesn't secure the grab. So I think he needs to be consistent in that."
Kiper said he likes the way Hodges creates separation and, though his running can be more crisp, he likes the tight end's body control and playmaking ability. He said Hodges can be a bargain "if you get him at the right point in time, in the third, fourth round, for an athlete of his caliber and with his size and the advantages he can create in terms of mismatches."
The NFL Network's Bucky Brooks likened Hodges to Washington Redskins tight end Jordan Reed.

"What Jordan Reed has been able to do for the Washington Redskins has intrigued a bunch of offensive coordinators to try to find someone who can do similar things," Brooks said. "I do believe he's going to have to transition from being an outside player to a guy that can get it done in the slot. He has nice size, hands, can play above the rim. You worry about his ability to separate and handle some of the physicality and contact that can come from dealing with linebackers as he's trying to get open.
"I like him in the third-round range as someone that can be that H or that F tight end that is the move tight end, that plays in two tight end sets, but he may be more of the wide receiver like tight end as opposed to the end line blocker."
-- Bleacher Report has him going at the very top of the third round to the Browns.
-- Chad Reuter of NFL.com has Hodges going in the third round to the Broncos.
-- Peter Schrager of FOX Sports has him going late in the fourth round to the Titans.
-- R.J. White at CBS sports has him going in the fifth round to the Texas.
Much of the discussion about Evans has still centered around why the quarterback decided to go pro in the first place. Kiper said he was "surprised" Evans came out. Mike Mayock of the NFL Network couldn't find a good reason either.
"I always preface these comments: I don't know anything about his personal situation and I'm only commenting on pure football," he said. "From a pure football perspective, he's not ready for the NFL."
Daniel Jeremiah of the NFL Network had similar thoughts, saying he spoke to some NFL executives at the Belk Bowl.
"Evans' name never even came up," he said. "I was kind of blindsided when he came out. I was kind of shocked."
Nevertheless, Evans is in the draft, although he might be looking at long odds of being selected at all.
"He's highly inconsistent from an accuracy perspective and I felt like needed at least one more year," Mayock said. "And I don't think he's going to get drafted."
Kiper was a little more forgiving.
"He put up good passing numbers, but he's still a work in progress as a pocket passer," Kiper said. "One play he surveys the field and makes a nice throw. The next he stares down a receiver and throws it into tight coverage. The release bothers me a bit. Not as smooth as I would prefer. He's an outstanding runner but it's not exactly what you want a quarterback to do is running around. When I watched him against Arkansas, Boston College, Notre Dame and numerous other teams, you like some of the things you see, but you say, 'He's got to have another year.' And he didn't. So I'd say right now, a late rounder, priority free agent for Evans."
Jeremiah was equally bearish on his draft stock.
"Studied him. He has a big arm, can make every throw," Jeremiah said. "He has some wild plays when you watch him. You see some of the issues. I don't think he has good pocket awareness. I thought he locked onto force some footballs. He's a raw player. I was very surprised that he came out. But I think he's somebody that's going to find his way in probably the fifth round would be the high watermark. You're probably talking about more like a sixth- or seventh-round pick who is going to come in and be a true developmental player.
"In terms of what he could eventually be, just watching him throw the football, he reminded me a little bit of David Garrard who had some success with the Jags. If you take him, I think that's what you're hoping one day he can become."
-- Bleacher Report has Evans selected by the Rams in the sixth round.
-- CBS Sports has him going to the Cowboys in the seventh round.
Ford's watched his stock drop since the end of last year, and almost all of it is tied to his workout numbers. He ran a 4.61-second 40-yard dash at the NFL Combine, which was among the slower times for the top wideouts, even though Ford's never been considered a burner.
The analysts overlook that, though, in his projection as a pro, even if it might not help him much on draft day.
"You don't have tremendous measurables," Kiper said. "I think you look at Ford right now and say, OK, good size at 6-1, needs to get a little stronger, speed is always going to be what it is. He's a pretty good athlete. And he works hard. I think that's going to help him. I think that's going to benefit him at the next level is his work ethic. So I think the end of Day 3, anywhere from the fourth to sixth round is a good area for him."
Mayock thought more highly of Ford's stock than the others.
"I like Isaiah Ford," he said. "Very quick, gets in and out of plays. Didn't run as well at the combine as we all expected he would run. But he catches the ball, he's very consistent. I think he's either going to go mid to late third round or early fourth round."
-- CBS Sports has Ford going to the Cowboys in the fifth round.
-- Bleacher Report likes him as a fifth-round pick by the Titans.
-- Schrager at FOX Sports has him going in the fifth round to the Panthers.
-- Reuter has him as a prioritized undrafted free agent.