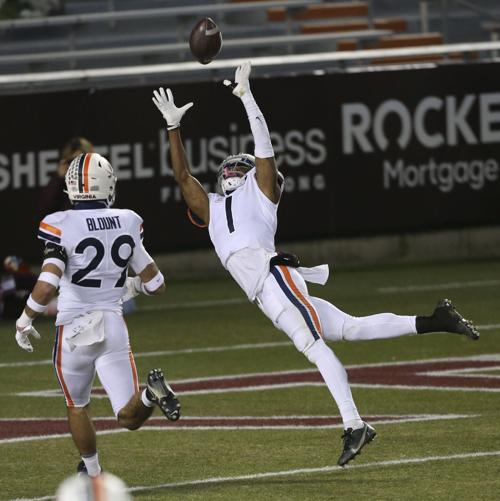 Virginia announced Monday night that nine fourth and fifth-year football players who recently completed their final season of eligibility have decided to take advantage of an NCAA ruling that will enable them to play in 2021.
The NCAA Division I Board of Directors in August gave all 2020 fall sports athletes an extra year of eligibility because of the coronavirus pandemic, no matter how much or how little they play this school year.
Virginia was able to play 10 of its scheduled 12 games this year after a 14-game 2019 season that included the ACC championship game and the Orange Bowl.
Two defensive backs who started all 10 games this year, DeVante Cross and Nick Grant will be back. Offensive tackle Ryan Nelson and guard Chris Glaser also announced they are returning, as is defensive end Mandy Alonso and outside linebacker Elliott Brown.
"I'm coming back because I didn't want my senior year to end like last year," Nelson said. "Also, I miss the football environment with all the fans, the noise and the atmosphere at the games. I'm hoping to have that next season."
The returnees included two players who contributed as transfers last year, wide receiver Ra'Shaun Henry from St. Francis of Pennsylvania and defensive end Adeeb Atariwa from James Madison.
"I believe that I have not finished with what I have started here," said Atariwa, who has one UVa degree and is working on a second. "The vision I have goes way beyinbd football. I believe that I have not finished what I started here."
Safety Joey Blount, projected as a candidate for postseason awards and the son of former UVa great Tony Blount, was limited to five games because of injuries.
"Due to my injury, I felt like I had more to give to this team and my brothers. Also, I think that we have an opportunity to be one of the best teams in ACC if we stay consistent and healthy."
The players were emotional in their quotes.
"This program has allowed me to become and grow up as a man," Grant said. "It has afforded me the opportunity of a lifetime with experiences and lessons that are sacred to me.
"From being 2-10, this program has become everything Coach Mendenhall promised it would be in 2016 and still is becoming."