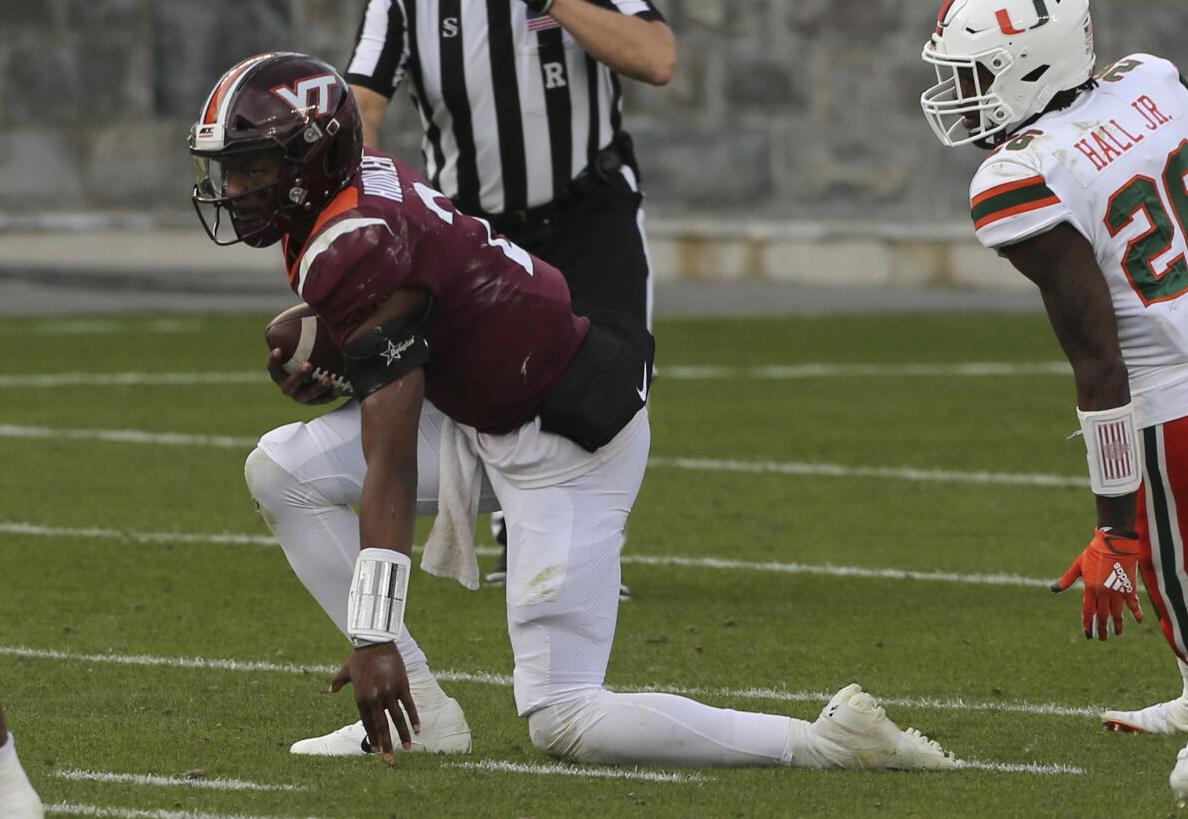 BLACKSBURG — Virginia Tech quarterback Hendon Hooker had a memorable starting debut last year when the team visited South Beach.
Hooker orchestrated a late scoring drive to put the Hokies back in front after Miami erased a 28-0 lead. The quarterback's performance — he put up 260 total yards and four touchdowns — provided a lasting spark for the offense.
The concluding moments of the rematch at Lane Stadium on Sunday didn't go nearly as well for Hooker.
Tech's offense sputtered down the stretch and didn't score any points on its final five possessions as Miami erased a 24-13 deficit. Hooker was under fire from an aggressive Hurricanes defense that sacked him six times.
He threw an interception in the fourth quarter and was tackled behind the line of scrimmage four times in the final 15 minutes.
"I was just kind of waiting for different windows and different plays to develop and trying to be alert with the pressure on me," Hooker said. "I was trying to move around and get my feet set, but yeah, the pressure did affect me a little bit, but I mean, that's football and I'm still supposed to make the plays."
Tech coach Justin Fuente quickly (and forcefully) shot down the suggestion that Hooker was holding onto the ball too long.
"I'm not going to go there on that," Fuente said. "The kid just played his tail off. We'll look at it and diagnose it and figure out ... that's not an urge I felt on the sidelines. I'll say that."
The lackluster fourth quarter didn't diminish Miami's high opinion of Hooker.
"That quarterback is a problem," Hurricanes coach Manny Diaz said.
Hooker had a heavy workload again on Saturday with running back Khalil Herbert and tight end James Mitchell limited with injuries for a second straight week. He tied his career high with 21 carries — it was the second straight week he carried the ball at least 20 times — and would have crossed the 100-yard mark again if it wasn't for the sacks.
He gave the Hokies an early advantage with a 53-yard touchdown run in the first quarter. He also threw for 202 yards and completed passes to a season-high eight different targets.
"I have to give all the credit to Hendon Hooker, I think he's a great quarterback and Virginia Tech is a very dynamic team," Miami starting defensive end Jaelan Phillips said.
The loss continued what has been an up-and down season for Hooker. He sat out the first two games after going through a series of tests for an unknown medical issue. He won his first start of the season against Boston College, but had the worst performance of his career a week later against Wake Forest.
He's now 8-4 in his career as Tech's starter and has 1,072 passing yards (66.1%) with seven touchdowns and four interceptions this season. He is second on the team in rushing with 574 yards (5.6 yards per carry), and his nine rushing touchdowns lead all ACC quarterbacks.
Tech's running back situation was up in the air all the way until kickoff on Saturday.
The coaching staff watched star running back Khalil Herbert with a close eye throughout the week as he battled back from the hamstring injury that sidelined him against Liberty University.
Herbert made it through the pregame warmups without a hitch, but Fuente was still cautious about putting a heavy workload on the back's shoulders in the 25-24 loss to Miami. The Kansas transfer didn't make it until the game until there was 6:01 left in the first quarter and had only one other carry before halftime.
"He said he felt good," Fuente said. "He's a really positive kid though ... I was really pretty conscientious about trying not to set him backwards, that was the biggest thing. He has got a big, strong hamstring and you can imagine when you start to get issues with that, they can linger on for weeks or months."
He still led the team's running backs with eight carries for 49 yards and caught one pass for 7 yards. Much of his production came in the second half when he was allowed to stay on the field for longer stretches.
"Today I felt pretty great," Herbert said. "I was just going to go out there and cut it loose and lay it on the line for the team."
The explosiveness Hokies fans have come to expect — he has 15 plays of 20 yards or more this season — might not have been there for Herbert, but he was effective when his number was called.
"During the week each day I got better and better, felt better each day; coach did a great job of just getting me back," Herbert said. "Trainers did a great job of helping me get healthy. Each day it increased. I wasn't really worried what the workload was going to be like."
Herbert didn't take an offensive snap last week, but still came into the game as one of the nation's leading rushers with 803 rushing yards and six touchdowns. He became the first Tech running back since David Wilson to reach the 100-yard mark in four straight games this season.
His production on Saturday made him Tech's leading rusher during Fuente's tenure, beating out Jerod Evans, who ran for 846 yards in 2016, and Deshawn McClease, who had 843 rushing yards last year.
Herbert will have to wait a while longer to jump back into his special teams role. Fellow running back Raheem Blackshear was the team's starting kick returner against Miami.
Be the first to know
Get local news delivered to your inbox!