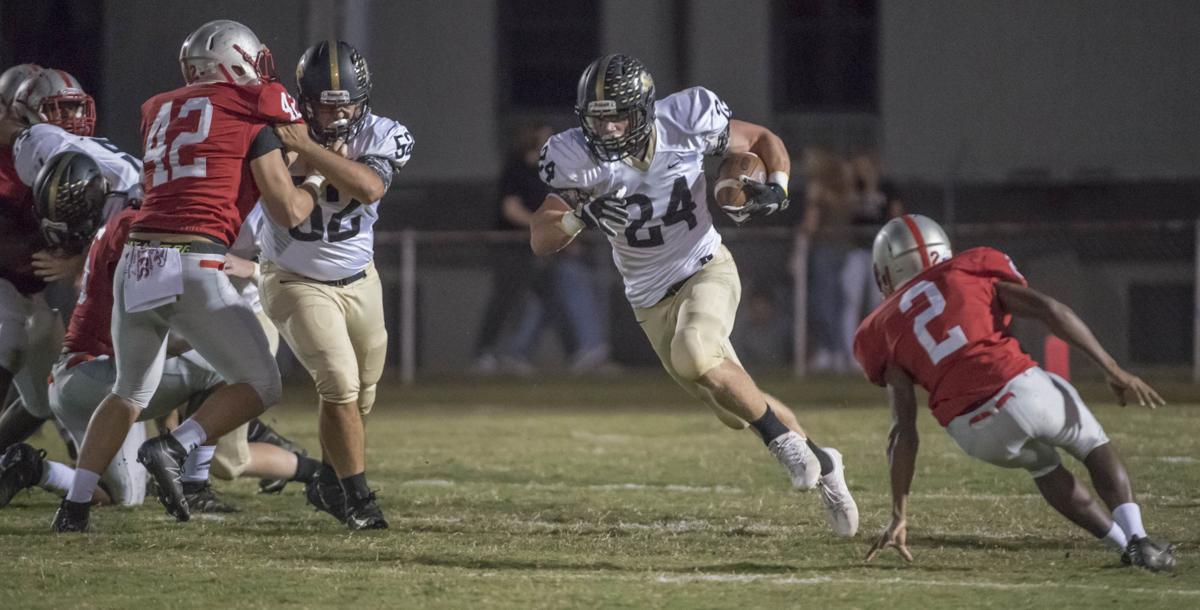 Some of the details are fuzzy, but five years later Grayson Overstreet recalls one thing clearly about Staunton River's 3A West Region second-round football playoff game at Western Albemarle.
"I was pretty tired by the end," he said.
That's what happens when you are a sophomore and you run for 305 yards and five touchdowns.
Those seem like huge numbers, but they made up just a fraction of the total offense produced in a game that had the scoreboard smoking.
Those present in Crozet on the night of Nov. 11, 2015, will not soon forget that Staunton River scored 85 points in four quarters of high school football and still nearly lost.
Noah Dellis intercepted a potential game-tying pass in the end zone on Western Albemarle's final play, allowing the Golden Eagles to escape with a crazy 85-79 victory in the second-highest scoring game in VHSL history.
The offensive numbers — 164 points and 1,370 total yards — remain astonishing.
Staunton River wingback T.J. Tester backed Overstreet with 214 rushing yards and three more TDs on just eight carries. Golden Eagles quarterback Jakob Divers ran for 92 yards and three TDs on 12 attempts.
Western Albemarle QB Sam Hearn completed 34 of 52 passes for 585 yards and five TDs in the Warriors' spread offense as Western outgained the visitors 729-641.
Staunton River's single-wing offense needed no more than six plays on any possession to score one of its 11 offensive TDs. Three consecutive scores in the second half came on the first play.
The two teams combined to score 66 points in the third quarter alone.
"It's the most incredible football game I've ever been a part of," former Staunton River coach Chuck Poston said. "We kept saying, 'We've got to run some clock.' But we'd hand it to Grayson, he makes one move and boom, he's gone."
Staunton River's single-wing produced a 36-8 record from 2015-17, featuring the 6-foot-3, 220-pound Overstreet, who ran like a wrecking ball in fifth gear.
When Overstreet's career ended in 2017, he had blown a big hole in the VHSL record book, setting career state marks for rushing yards (9,042), points (950), touchdowns (142) and games with at least 100 yards (41).
However, Overstreet and Staunton River were just getting started in 2015.
The Golden Eagles finished a 6-4 regular season with a 19-13 loss to Lord Botetourt.
They raised a few eyebrows with a 61-21 first-round win over Blacksburg when Overstreet scored seven TDs.
The victory at Western Albemarle caused bigger ripples.
"People around the state took a look at that game, but that was a huge game for our kids and our program," Poston said.
"Look, we just scored 85 points and sometimes people forget, [Western Albemarle] was the No. 1 seed. That was one of the seminal moments in this program for sure."
Eventual state champion Magna Vista ended Staunton River's 2015 run with a 54-14 setback, and despite a 26-3 record over the next two seasons, Staunton River fell short of an elusive VHSL title.
Overstreet signed a scholarship with Richmond, where he played in four games as a true freshman, starting one at linebacker.
However, one year in the big city was enough and Overstreet transferred to Emory & Henry, joining Tester on the E&H roster.
"Just the overall environment, it really wasn't my place," he said of his decision to trade a full scholarship for Division III football.
Overstreet had an impact, but it wasn't quite immediate.
He started at linebacker for Emory & Henry in 2019, adding a handful of carries at running back.
"They said I could do either one," Overstreet said of the E&H coaching staff. "I felt they needed me more on defense. I'd start out on defense, and the game plan was to run the ball a couple times a game."
But when Tester was sidelined for the season finale against Ferrum, Overstreet got the call and the ball.
All he did was set E&H and ODAC single-game rushing records with 324 yards.
Emory & Henry made headlines earlier this week when the school announced it will leave the ODAC to join the Division II South Atlantic Conference.
Overstreet welcomes the challenge.
"I like it. We're really going to have to step up our game a little bit," the former Staunton River star said.
"The first full season of nothing but D-II schools is definitely going to be tough. It's going to be a bigger step, but I don't think it's something that we can't handle."
Staunton River reached the Group 3A championship game in 2016, scoring even more points against Western Albemarle than the Golden Eagles did the previous year with an 87-40 first-round win.
Blacksburg derailed the train in the state final with a 28-20 victory.
Staunton River won its first 13 games in 2017 before Heritage took a 49-35 state semifinal win in Overstreet's final game.
"I definitely wish I would have ended up with a ring, but overall I was happy with what my class did," he said.
Staunton River had a tradition of awarding sledge hammers to players for various accomplishments.
Poston kept a full-size model in his office.
When Overstreet was last seen leaving the Staunton River locker room, the big kid who blew holes in the VHSL record book was carrying the big sledge hammer home.
"When that game was over and I knew that was going to be the last time that kid would step off that field," Poston said, "I wanted him to have that one."