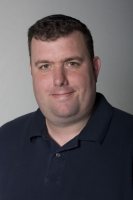 Aaron McFarling
Bio

Aaron McFarling joined The Roanoke Times in 2000 and has been writing sports columns since 2004.
Coaches have seen and heard it all. From Little League to the big leagues, few benchings have ever occurred that aren't met with some resistance.
The Salem Red Sox were scheduled to open their season on Tuesday night with the first of six games against the Delmarva Shorebirds in Salisbur…
Minor league baseball is back in Salem. The team opens the season on the road and will have its home opener May 11. Things will be different for fans and players alike.
Red Sox general manager Allen Lawrence.
Red Sox general manager Allen Lawrence is among the people on the clubhouse exclusion list, at least to start the season, due to COVID-19 protocols.
DALEVILLE — A football state championship captured in May?
So we have a choice here.
Rain, mud, an old-school offensive formation and a running quarterback carried Lord Botetourt to victory.
The journey for VMI has been long, remarkable, arduous.
RADFORD – One day, when Darris Nichols was 10 years old, an adult saw him and his older brother, Shane, playing near the railroad tracks in th…
View all