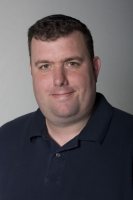 Aaron McFarling
Bio

Aaron McFarling joined The Roanoke Times in 2000 and has been writing sports columns since 2004.
Blacksburg High School graduate Lanto Griffin heads to the PGA Championship in San Francisco as a PGA Tour winner ranked 12th in the FedExCup standings.
A fan base hungry for information during an unprecedented time in sports continues to get a puzzling stiff-arm from Hokies leadership.
After a decade away, Rick Watson's long-running NRV radio show, "Big Dawg Sports Talk," will return to the airwaves Monday morning.
The Roanoke Rail Yard Dawgs announced Tuesday that the opening of their 2020-21 SPHL season has been pushed back to December, buying the league time in the hopes that the COVID-19 pandemic will improve.
The VHSL'S decision to push sporting events back until at least late-December was inevitable, but still a bummer. The reality is this: Sports won't look familiar until schools do, and we can't say when that will be.
As MLB returns, we all need to hope that this thing won't get shut down, once again setting us back in our collective quest to return to more of the activities we love.
As Chase Elliott hopped out of his car to the cheers of roughly 30,000 fans and fireworks exploding above Bristol Motor Speedway, Kyle Busch once again was left frustrated in 2020.
The roughly 30,000 fans allowed in for NASCAR's All-Star Race felt a combination of familiarity and exclusivity as they formed the largest crowd at a U.S. sporting event since the COVID-19 pandemic began.
The Proton Packs sounded interesting.
You're totally underrated. Did you know that?
View all