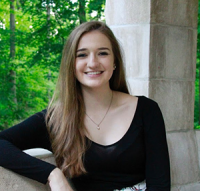 Alison Graham
Bio

Alison Graham covers Roanoke County and Salem news. She's originally from Indianapolis and a graduate of Indiana University.
Two candidates are challenging Del. Terry Austin's reelection bid for the 19th District seat in the Virginia House of Delegates.
Residents can anonymously return unwanted or unused prescription medications Saturday at multiple locations across the Roanoke Valley.
As of Wednesday, the health department identified 44 cases with at least 26 hospitalizations and one death in the  hepatitis A outbreak at three Famous Anthony's locations in the Roanoke Valley.
Agee received the Cabell Brand Hope Award, named for TAP's founder, in recognition of her work at Carilion Clinic, particularly during the COVID-19 pandemic.
The adult was hospitalized with complications from hepatitis A and had underlying medical conditions, according to health department officials. Thirty-seven cases and 26 hospitalizations have been confirmed. 
Douglas Martin sat at a wooden podium just inside the automatic doors of Roanoke Memorial Hospital for close to 64 years. On Thursday afternoon, Mr. Martin's chair sat empty, and the usual larger-than-life man had been replaced with a bouquet of roses.
State and local officials gathered Tuesday for the grand opening of the newest building at the Fralin Biomedical Research Institute in Roanoke.
A Franklin County woman filed a lawsuit against Famous Anthony's, alleging that she contracted hepatitis A from eating at one of the chain's r…
A Pittsylvania County supervisor retaliated against the county's former social services director after she gave a First Amendment-protected sp…
Erika Stinnett shuffled her stack of papers and looked up at the 17-year-old sitting across the table. She asked the girl about her plans for …
View all