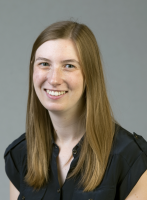 Casey Fabris
Bio

Casey Fabris covers business for The Roanoke Times, where she has been a reporter since 2015. Previously, Casey covered Franklin County. She can be reached at (540) 981-3234 or casey.fabris@roanoke.com.
A business offering gift boxes and baskets now has a retail space in Christiansburg.
As the Roanoke Valley's profile has grown in the health and biomedical fields, professionals with ties to the region have returned to practice medicine, teach and conduct research.
Zorba Restaurant, known for its Greek and international cuisine, has closed with the retirement of owner Adel Eltawansy, better known as "the king."
Cardinal Bicycle has opened its Grandin Village location, which also features a cafe.
Carilion Clinic plans to begin treating patients this fall at its new hub for children's services at Tanglewood Mall.
The Soccer Stop is relocating and changing its name.
Owners of two businesses in Roanoke's Wasena neighborhood have come together to open an ice cream shop serving dairy-free scoops.
When a team at the Fralin Biomedical Research Institute at VTC was looking for a solution to a drug delivery problem, they found it on a dairy farm.
View all