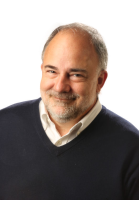 Dan Casey
Bio

Dan Casey knows a little bit about a lot of things but not a heck of a lot about most things. That doesn't keep him from writing about them, however. So keep him honest!
If you're a Roanoke County voter who yearns for adventure, you're going to love the jaunt to the recently relocated Board of Elections office.
Roanoke County voters line up outside the Craig Center in Vinton for early voting Tuesday afternoon.
Sheila Harper of Roanoke was perfectly satisfied with a home warranty she purchased on a rental duplex she owns. Until she had to make a claim.
Is it beyond the realm of possibility that Jerry Falwell Jr. and President Donald Trump will both end up behind bars? In the same federal prison? Imagine those conversations . . .
President Donald Trump (left) talks with Jerry Falwell Jr. in Lynchburg.
Deadly pandemics and mass indoor breakfast gatherings are a risky mix, as the Roanoke Kiwanis Club has discovered this year. So they've turned their annual Kiwanis Pancake and Auction Day into a drive-thru affair, with an autocross element and an online auction.
Don't necessarily believe a viral news story you may have heard recently about violent racial injustice protesters who supposedly attacked a man in downtown Roanoke.
My investigation of that rate hike led me down a wormhole Thursday. By the time I emerged eight hours later, I felt like the ball in a ping pong title match.
Read on about protests to wear pants, how coeds hid their liquor from campus snoops -- and the curious case of a custody dispute over a pet iguana.
George Wall figured he was covered when a huge oak tree came down at his Roanoke home in May, causing about $30,000 in damage. He was — but he didn't realize his homeowners insurance deductible was $17,621. He's urging others to check their policies carefully.
View all