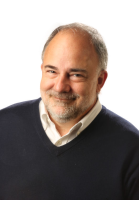 Dan Casey
Bio

Dan Casey knows a little bit about a lot of things but not a heck of a lot about most things. That doesn't keep him from writing about them, however. So keep him honest!
Democrat Joe Biden and Republican Donald Trump. How many votes will Biden take in Roanoke County on Nov. 3? | AP Photo
"I've talked to infected people in their 80s, who have pre-existing conditions, who have mild symptoms for a few days and get over it. And 19-year-olds who can't shake it and are still feeling feverish a month later."
Andy Parker, 67, of Collinsville, works in his home office. Since July, the gun-control activist has been working with the Virginia Department…
Read on for other reader comments about the prospect of President Trump and Jerry Falwell Jr. in prison, and a Radford professor who took down the college's president.
Between the time 80-year-old Rudolph King Sr. got sick in 2017 and died in 2018, the ownership of his paid-for home in Roanoke was mysteriously transferred to a woman he didn't know, his family contended.
A snapshot of Rudolph King Sr.'s obit in The Roanoke Tribune, published shortly after his death on Sept. 17, 2018. Six weeks after he died, Ki…
The Lafayette Boulevard home owned by the late Rudolph King Sr., who worked as a Roanoke barber for more than 60 years. Shortly before he died…
Ever since I lost a 2016 presidential election bet to my gambling pal "Frankie Four Eyes, he's gloated like the only rooster in a coop full of hens. Now we're approaching payback time, and I have a few surprises for Frankie.
Voters line up to vote early at the Roanoke County Board of Elections office in Vinton. | By Dan Casey | The Roanoke Times
View all