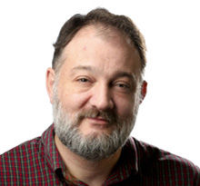 Kevin Myatt
Bio

Since 2003, Kevin Myatt has penned the weekly Weather Journal column, and since 2006, the Weather Journal blog, which becomes particularly busy with snow. Kevin has edited a book on hurricanes and has helped lead Virginia Tech students on storm chases.
The spotty, streaky pattern of showers and thunderstorms will continue on Thursday and Friday across much of Virginia, but the splotches of ra…
Compared to the previous and overlapping 1981-2010 climate normal period, the new climate normals for 1991-2020 specifically for Roanoke are almost all warmer and mostly wetter.
Stiles Falls at Camp Alta Mons in Montgomery County was flowing well on Monday despite recent drier than normal conditions. New 30-year normal…
Early June sunshine lights up a forest in southern Roanoke County as temperatures head toward 90 on Saturday. New 30-year data for the 1991-20…
Each day in week ahead likely to have storms dotted around; a quick 1-2 inches in heaviest storms, while others get little or nothing.
Roanoke area got skipped by needed rainfall on Thursday. Weekend looks warm and dry -- very much the Saturday and Sunday on the lake that Memorial Day weekend wasn't.
Many areas from Roanoke eastward are now in "moderate" drought. Showers and storms will provide some streaky relief by Thursday PM, with a few strong to severe storms possible.
No sooner had almost all of Virginia been colored yellow on the U.S. Drought Monitor map than some persistent showers came to make that color …
Droplets of water are stuck in a caterpillar's web on Sunday after a couple of days of intermittent rainfall.
A rainbow appears Friday evening over southern Roanoke County, as sunshine peeked out briefly after beneficial showers.
View all