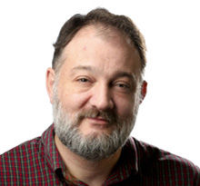 Kevin Myatt
Bio

Since 2003, Kevin Myatt has penned the weekly Weather Journal column, and since 2006, the Weather Journal blog, which becomes particularly busy with snow. Kevin has edited a book on hurricanes and has helped lead Virginia Tech students on storm chases.
After widespread overnight rain of 2-6 inches in and around the Roanoke and New River valleys, there will be more showery rain during the day …
Most seasons arrive meekly. Autumn 2021 is roaring in loud
UPDATE 8:30 AM, 9/21/2021: A flash flood watch has been issued for much of western Virginia from 2 p.m. Tuesday through 11 a.m. Wednesday, whe…
The calendar and changing seasonal weather look to match up extremely closely this week.
No temperatures hotter than 96, no long runs of 90+ temperatures, but yet, one of the most sweltering summers on record locally.
Roanoke hasn't hit 90 yet in the first 12 days of September, but likely will over the next 3 or 4 days, as dominant high pressure brings weath…
A hurricane-turned-nor'easter in 2009 named Ida had was far more impactful for our region and Virginia's coasts than the recent Ida.
Recent cool mornings and warm but not humid afternoons may have us thinking fall, but summer hasn't given up its ghost yet.
Virginia Tech fans cheered for touchdowns Friday night, but a touchdown of a different sort three evenings earlier could have left ruins in Blacksburg.
Short-lived EF-1 tornadoes were confirmed near I-81 southeast of Radford and near Merrimac. It is unclear if a funnel cloud sighted near Virginia Tech touched down.
View all