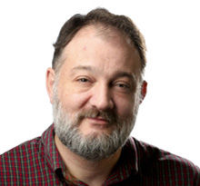 Kevin Myatt
Bio

Since 2003, Kevin Myatt has penned the weekly Weather Journal column, and since 2006, the Weather Journal blog, which becomes particularly busy with snow. Kevin has edited a book on hurricanes and has helped lead Virginia Tech students on storm chases.
Lighting illuminates a cumulonimbus cloud of a storm north of Roanoke on Friday evening. (Frame from video)
Sticky-stormy weather has not entirely retreated from Southwest Virginia, but it has been more spotty the past few days. The next several days…
Our region's June 29, 2012, derecho began near Chicago, but there were reasons to be reassured Monday evening, as atmospheric factors didn't favor the most recent derecho making it to us.
An earthquake of magnitude 5.1, centered near Sparta, North Carolina, just south of the Virginia state line, shook many residents of Southwest Virginia shortly after 8 a.m. Sunday.
The first week of August has provided a bit of a disruption to the weather pattern that brought the Roanoke area its warmest July on record, w…
Fog rises from the mountains on Thursday morning in Southwest Roanoke County. Abundant moisture has fueled daily rounds of showers and storms …
This tornado was just the way we like them — a fascinating curiosity and visually interesting phenomenon, with no lasting disruption of people's lives or livelihood.
Isaias has regained hurricane strength at mid-evening Monday. While that will mean a bit rougher go for parts of the Carolinas coast near Myrt…
Isaias got a humiliating demotion from hurricane to tropical storm Saturday evening as it struggled with an infusion of dry air and ragged con…
It was Roanoke's warmest July on record without a single daily record high temperature.
View all