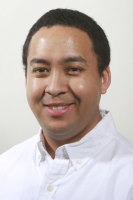 Yann Ranaivo
Bio

Yann Ranaivo covers local government and politics in the New River Valley, including Christiansburg, Blacksburg, Radford and Montgomery County.
The council will host a budget work session this Tuesday. Among the items is a discussion on whether the town should eliminate the tax.
He acknowledged that the past year, a period marked by the pandemic, hasn't been easy.
A certified public accountant, Hill most recently served as the director of finance and chief financial officer and retains the latter job title.
Effective March 8, Montgomery County Public Schools will move to what they formally call phase three, level three, which allows for full-day, in-person classes. In-person classes will still occur four days a week, with Wednesday remaining as an at-home learning day for students and planning day for teachers.
Dana Field and Jennifer Prevette launched the Burg Box this past fall. The online platform ships specially themed gift boxes made up of items from various New River Valley businesses and artisans.
The Blacksburg-based company that specializes in on-demand personalized greeting cards is collaborating with 1-800-FLOWERS.COM Inc., a leading provider of giftable items such as gourmet foods, gift baskets, floral products and personalized keepsake items.
Blacksburg High School reported this week alone the bulk of its COVID-19 cases for the school year with 19 positive tests, according to the la…
The board remains split on the issue.
Councilman Steve Huppert asked his colleagues Tuesday if they wanted to hear more from him in near future about suggestion to ban guns in town buildings. They expressed little to no support, with some raising concerns about such an ordinance infringing on Second Amendment rights.
Sugar Magnolia is expanding to Roanoke. The owners, couple Michelle Raub and Tom Raub, are targeting a May 1 opening date.
View all