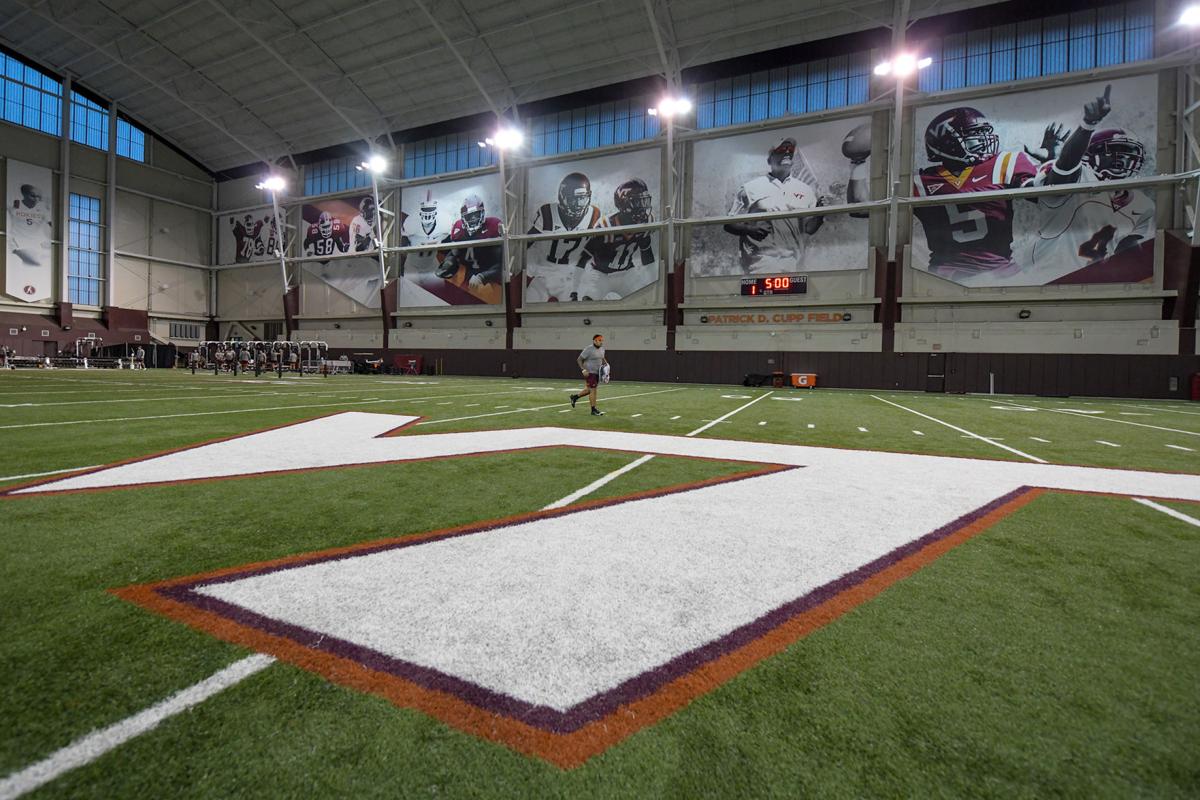 BLACKSBURG — Virginia Tech football will shift its fundraising efforts away from facilities in the coming months with an eye on additional staff members.
Construction is nearing completion on a pair of projects — the new student-athlete performance center and renovated weight rooms for the football team — thanks to the state of Virginia's decision to allow construction projects to continue through the COVID-19 pandemic.
Tech athletic director Whit Babcock wants to focus on the football team's "recruiting infrastructure" once those projects are up and running in October. He said a planned capital campaign for Cassell Coliseum that was supposed to launch in April has been pushed back for the time being.
"People can show [staffing] numbers in different ways, but we are a little behind Clemson and North Carolina, a few others, and we want to ramp up in that," Babcock said.
Virginia Tech coach Justin Fuente pushed for additional support staff in the year-end meeting the two had in January.
The athletic department received approval to add two staff members when the university instituted a hiring freeze in April. Tech alums Corey Fuller and Jeron Gouveia-Winslow filled those positions when they were announced as assistant directors of player personnel in July.
According to the job listings for the positions that were posted in June, their responsibilities will include identifying potential prospects, overseeing student workers and coordinating recruiting visits throughout the year.
Babcock envisions adding up to four more staff members if they can raise the funds. He didn't specify a specific monetary goal.
"We were at zero or one five or six years ago, got it up to three, five and seven now," Babcock said. "And I believe you'll see two to four more coming down the pike. But in this time of HR and money being so tight, we need to make sure the funding is in hand to cover it for multiple years to be able to justify doing it."
Tech's support staff includes director of player personnel Mark Diethorn, assistant director of player personnel Beau Davidson, recruiting director John Iezzi and creative media director Zach Lantz. Davidson moved to a player personnel role after spending his first two seasons with the program as an offensive quality control coach.
Agent zero
Virginia Tech running back Jalen Holston made his debut as the team's first No. 0 when the team opened camp on Friday.
The NCAA approved the No. 0 as a legal number back in April.
Tech upperclassmen can ask to change to an unused single-digit number in the offseason — last year Jarrod Hewitt went from No. 55 to No. 5 and Emmanuel Belmar went from No. 40 to No. 8 — and the coaching staff weighs each request.
Holston previously wore the No. 13.
He suffered a season-ending knee injury in last year's opener at Boston College. Holston had six carries for 19 yards in the 35-28 loss.
The 5-foot-11, 218-pounder has 526 career rushing yards (4.0) with five touchdowns. He's played in 25 career games and made two starts. His career best game came against Marshall in the 2018 season finale when he ran for 54 yards on four carries. He had a career-long 40-yard touchdown run in the 41-20 win.
The Georgia native is a former four-star signee out of Stockbridge High School where he rushed for over 4,000 career yards.
Holston is among 10 running backs competing for playing time when fall camp opens on Friday. Tech signed five running backs, including Kansas transfer Khalil Herbert and junior college transfer Marco Lee.
Tech hasn't announced the player that will wear No. 1 in 2020.
Fuente restricted the use of the No. 1 for a few years after Isaiah Ford left for the NFL in 2016. Reggie Floyd wore the number in 2019 after players established a tradition of giving the jersey to a player who best represents their team-first work ethic.
Be the first to know
Get local news delivered to your inbox!