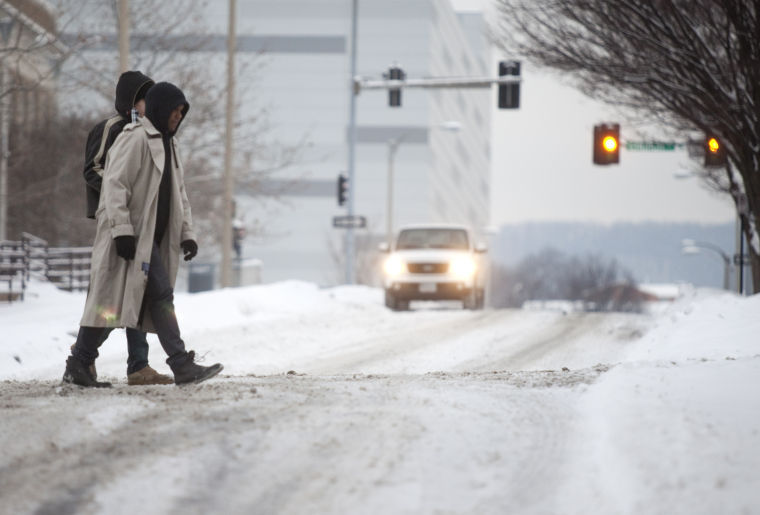 When it snows half a foot in the Roanoke Valley and less than an inch in much of Floyd County, you know it's an oddball winter storm.
Throw in avalanches, ice accumulating with air temperatures several degrees above freezing, flooding and roof collapses in the same county and a weird patchwork of precipitation types defying our geographical norms, and Saturday's winter storms stands out as a unique one for Southwest Virginia.
Saturday's storm was the ultimate boxing match between the irresistible force — a strong flow of warm, moist air from the Gulf of Mexico — and the immovable object — a record-setting Arctic air mass on top of snowpack.
Were it a typical winter setup without the extreme Arctic air mass, Saturday's setup probably would have been a few hours of wintry mix changing to warm rain, and Sunday would have been a sunny day in the 60s.
But the two forces battled to the meteorological equivalent of a 12-round split decision, and Western Virginia had some remarkable results.
As the fire hose of Gulf moisture sprayed into the Arctic air it couldn't fully dislodge, a heavy band of snow moved over the same area repeatedly for hours.
Roanoke and Blacksburg were near the southern part of the fire hose, and got about half a foot of snow. But that number increased dramatically just a few miles to the north, with some foot-deep and greater snows in Botetourt and Craig counties and northward.
And snow accumulation dropped just as dramatically to the south, where there was more sleet, temperatures rose above freezing more quickly and less overall precipitation fell.
Just across the Roanoke Valley, snowfall totals ranged from 4 inches at the south edge to near 10 inches at the north edge, with 6.25 inches the official total for Roanoke.
Floyd County, so often the epicenter of winter storm events in our region because of its elevation, got a quick brush of snow and sleet then warmed above freezing while it was still in the lower 20s in the Roanoke Valley, where Arctic air remained trapped.
Contrast that tight snowfall gradient to the Monday snowstorm before it, when a 60-mile-wide area got 8 inches, give or take an inch.
Even many of the areas that warmed above freezing experienced some winter trickery. Because temperatures just 36 hours before had been below zero in many areas, many ground surfaces and exposed objects remained cold enough for ice to form even when the thermometer measuring air temperature reached the mid to upper 30s.
So there was freezing rain that iced up roads and trees even when it was 35 to 39 degrees outside. There were even some places where the trees iced in the lower 6 to 10 feet, nearest the ground, but didn't higher up — opposite of what is more common.
There were avalanches — the highway departments involved preferred the term "snow slides" — that blocked roads in West Virginia and in the western fringe of Virginia, most notably U.S. 220 north between Iron Gate and Clifton Forge. Putting a foot and a half or so of wetter snow on top of a thick remaining covering of drier snow caused slumping snow piles that led to the slides.
The far southwest tip of Virginia got a foot or more of snow in both of last week's storms. Roof collapses occurred under the double dose of heavy snow. Warm air finally surged decisively into some of that region, as well, resulting in heavy rain with well above freezing temperatures into the deep snow. That caused some flooding. The National Guard was dispatched to Wise County to deal with the dual flooding/heavy snow disaster.
One blessing with Saturday's winter storm was that the freezing rain that followed the snow did not last quite long enough for widespread power outages. There were some, but not the kind of disastrous ice storm that could have easily happened with just a few more hours of freezing rain. Snowing so long was part of why there was less ice.
It's hard to think we were talking about a snow drought several days ago. That notion has been quickly buried. For the first time since 1987, Roanoke got two snows of 6 or more inches within six days. (They were within seven days in early 2010.) Some locations in far Southwest Virginia and areas north and west of Roanoke have had 20 to 30 inches of snow in less than two weeks.
It would be easy to say that Saturday's winter storm was a dramatic conclusion to a 10-day period that included two snowstorms, three rounds of convective snow squalls, and three consecutive days of record low temperatures.
But it may not be over. Southwest Virginia may see some more significant snowfall late Wednesday night and Thursday.
Weather Journal runs on Wednesdays.