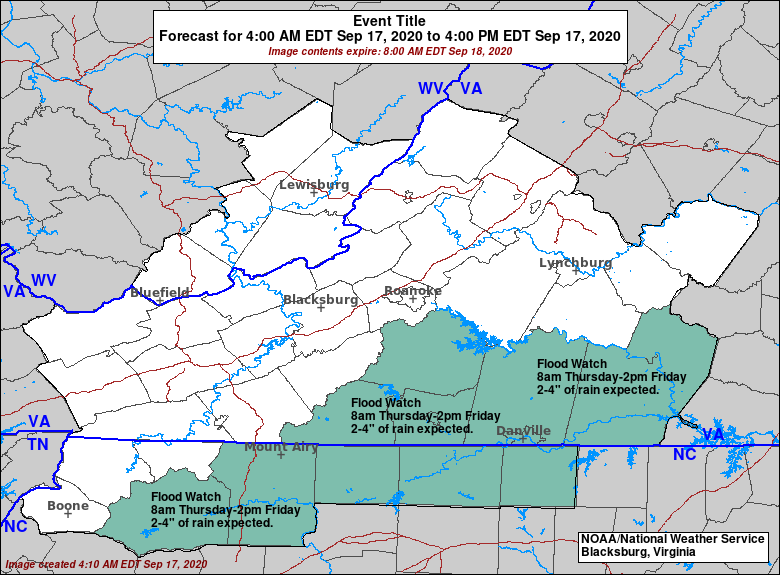 This is not going to seem much like a hurricane-induced rainfall for the Roanoke/New River valleys and much of Southwest Virginia on this Thursday. It will be slow -- light to moderate mostly -- and feel a bit chilly, with temperatures holding in the upper 50s and lower 60s, mostly.
And that's because, largely, it isn't anything special or different than what we often see in cooler months of year, as moisture is lifted over a cooler dome of air near the surface, something called an "overrunning" event, when a low-pressure system tracks south of us with cooler air firmly wedged against the mountains. It just so happens that the low-pressure system in question is the remnant circulation of what was a strong Category 2 hurricane that made landfall at Gulf Shores, Alabama, on Wednesday.
Widespread 1-2-inch rainfall amounts appear to be likely, maybe a little less or a little more in a few spots, along and north of the I-81 and U.S. 460 corridors (Bristol to Wytheville to Roanoke to Lynchburg). South and east of that corridor, enough of the heavier rain from the south may nudge in for some 2-4-inch amounts, which could spur localized flooding if it comes down pretty hard for a while on top of already soggy ground from so much previous light rain.
A major Canadian cold front blasts through on Friday, sweeping Sally's remnants aside, and initiating an autumnal period that will be sweater- and pumpkin spice-worthy. Weekend high temperatures will stay below 70, maybe even below 60 in some spots, and lows will fall into the 40s, with some typically chillier spots in rural valleys dipping into the mid to upper 30s. Do not rule out seeing patchy frost in the coldest spots.
It will only gradually warm up next week with no rain expected for several days. Additional cold fronts and, possibly, the counterclockwise flow of what is now Hurricane Teddy approaching the Maine-Nova Scotia are in some form will augment the fall cool next week. 
Be the first to know
Get local news delivered to your inbox!