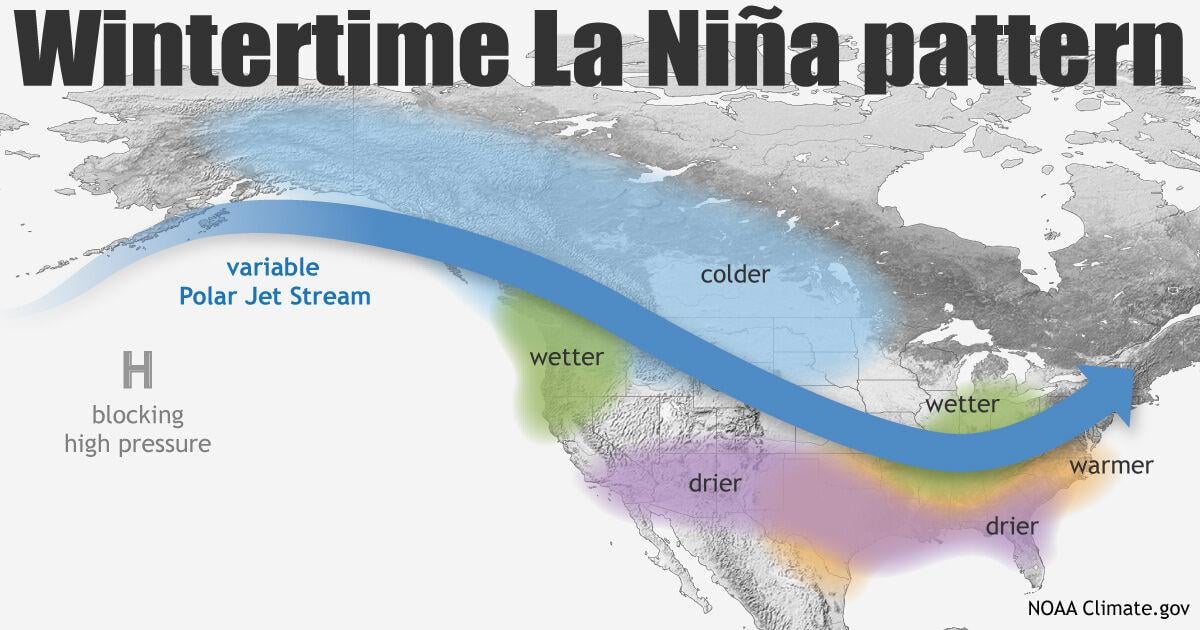 The Climate Prediction Center announced Thursday that La Nina conditions have developed in the equatorial Pacific Ocean and are likely to continue through the coming winter. La Nina refers to colder than normal sea-surface temperatures in a stripe of the Pacific just north of the equator, the opposite of the somewhat more well-known El Nino, a warming of the same strip of ocean waters that had been observed by Peruvian fishermen many centuries before it was scientifically observed and analyzed over the last century or so. 
El Nino and La Nina are linked to various climatic conditions around the world, as the domino effect of warmer/cooler atmosphere over the Pacific affects atmospheric flow and the placement of high/low pressure systems. It is always important to note, however, that the state of the El Nino Southern Oscillation, as the El Nino/La Nina/neutral cycle of the equatorial Pacific is known, is only a baseline for considering the likelihood of various conditions developing in different parts of the world, not a hard-edged determiner. Myriad other climatic oscillations -- Arctic Oscillation, North Atlantic Oscillation, etc. -- and just the day-to-day and week-to-week quirks in the atmospheric pattern have much to say about how La Nina's or El Nino's influence is expressed and modified in any given locality or region.
Focusing on the Roanoke/New River valleys, the first ongoing effect is that the Atlantic tropical season is typically busier than normal, which affects us in that there is a heightened chance of getting tropical remnants into our region for enhanced rainfall. Considering that the next named Atlantic tropical cyclone will be the "S" name barely past the peak of the season, this is very much in evidence. However, generally speaking, La Nina tilts us to a higher likelihood of drier conditions through the winter months. 
Speaking of winter, what most people seem to want to know about La Nina or El Nino is what effect it will have on our coming winter. There are indeed tendencies that favor milder, drier conditions with less chance of frequent or large snowfall amounts, but it's not as cut and dried as one might think. Below is a breakdown of data on previous La Nina winters based on Roanoke's observed weather -- originally printed in Weather Journal in October 2016, but updated with data from two La Nina winters that have occurred since then.  
Short summary: Snow lovers should be rooting for a weak La Nina, while snow haters should hope it is moderate to strong. 
Previous La Nina winters have produced the following results at Roanoke. (Note: Winter for temperature and total precipitation in data below is considered December 1 to February 28, but snowfall includes late fall to early spring totals).
• In 21 previous La Nina winters since 1950, rainfall (including melted snow) has been at least an inch below normal 11 times at Roanoke, within an inch of normal eight times, and above normal only two times, only once more than two inches above normal, and then just barely. Of the 11 weak La Nina winters, six have been near normal in rainfall, four have been below normal by at least an inch, and only one wetter than normal.
Conclusion: La Nina winters favor normal to below normal total precipitation for our region, with no previous examples of excessively above normal rainfall.
• In 21 previous La Nina winters since 1950, 10 have averaged 1 degree or more above normal in temperature at Roanoke, six have averaged 1 degree or more below normal, and five have been within a degree of normal. Narrowing it to the 11 weak La Nina winters shifts the trend to a tossup: Four have been colder than normal by at least a degree, four warmer than normal and three near normal.
Conclusion: While La Nina winters as a whole slightly favor warmer than normal winters for our region, weak La Nina winters are evenly distributed among cold, warm and normal winters in temperature.
• Among 21 previous La Nina winters, eight have had less than 10 total inches of snow at Roanoke, while seven have had between 10 and 20 inches. Three have had between 20 and 30 inches, two between 30 and 40 inches, and there is one high outlier, 1995-96, at 56 inches. Five of the six La Nina winters with 20 or more inches occurred with a weak La Nina, including 1995-96, while three were between 10 and 20 inches and three were 10 inches or under. Counting all winters with available statistics on snowfall, Roanoke has averaged about 18 inches of snow per winter (actually counting fall and spring snowfall) over the past century.
Conclusion: While La Nina winters as a whole favor near or below normal snowfall amounts, weak La Nina winters show more variability, with almost half of them having over 20 inches and one as high as 56 inches.
Be the first to know
Get local news delivered to your inbox!