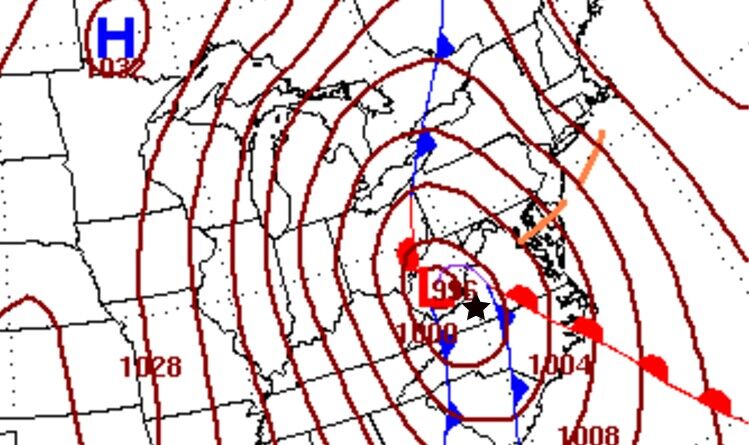 We're going to get a couple more days out of the sunny, dry weather that warmed our Thanksgiving, though it won't be quite as warm -- 60s highs on this Friday, cooling into mid 50s to lower 60s for Saturday and Sunday. But things will change fast overnight Sunday into Monday.
An intense low-pressure trough digging into the central and eastern U.S. will fire a strong surface low-pressure system that will track just west of our region early in the coming week. This is a track that favors another soaking rain for our region with 1-3 inches possible from late Sunday night through Tuesday, the bulk of it falling by noon Monday. This will be a strong boost to Roanoke's quest for the wettest year on record, currently at 57.91 inches, outpacing 2018's 56.03 inches through Nov. 27. That year finished with 62.45 inches -- 2020 could easily be above 60 inches by midday Monday.
As the low passes north of our latitude, it will sweep a strong cold front through, and blustery winds will turn around from the west and northwest. Snow showers will develop overnight Monday into Tuesday, blowing over the mountains. Even the Roanoke Valley and some locations east of the Blue Ridge will probably see some flakes flying as temperatures quickly drop into the 20s and lower 30s. The heaviest snow with this storm will be over the Ohio Valley extending into the mountains of West Virginia. Virginia locations west of I-77 and some areas, especially ridges, along the Virginia-West Virginia border likely end up whitened by this episode.
With the upper-level trough serving as a vortex of unseasonably cold air as it gradually lifts northward, the pattern will be favorable for a few days next week to support a wintry precipitation event in our region if a disturbance rounds the base of the trough at the right time and track. There is some chance of this toward the latter part of next week, though early projections are that the wave will be suppressed and stay south of our region. There may be another stronger low early the following week as well, though the pattern may have slipped by that time to the point that it follows a path similar to Monday's storm system. 
We do have a wavy, unsettled period ahead through the first half of December at least, with occasional bouts of colder air. If the colder air connects with the moisture from one of these storm systems, a winter storm will be possible in our region. No obvious contenders yet, but that can change quickly.
The middle to latter part of next week will feel like winter with 40s highs and 20s lows.