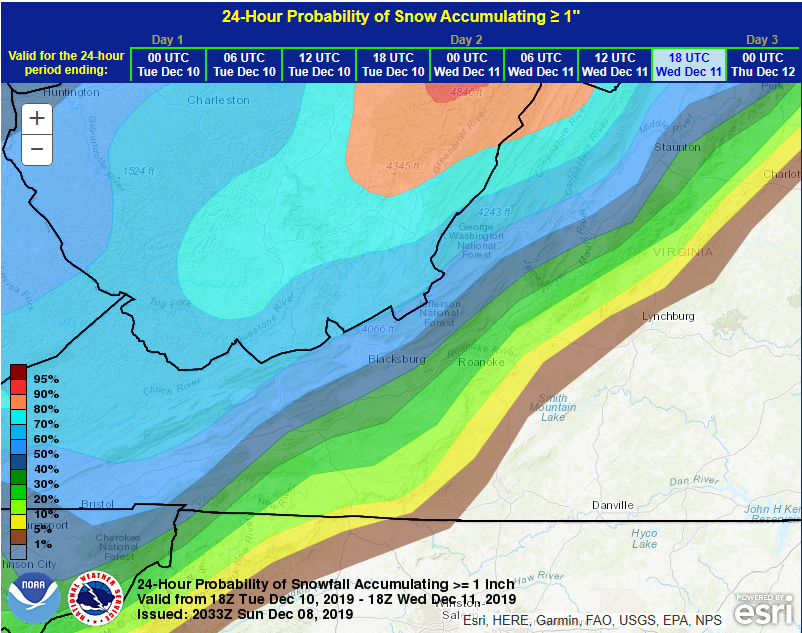 We'll start this work week with mainly 40s-50s temperatures (maybe even some lower 60s Tuesday afternoon)  and some periods of showers. But a taste of winter arrives by early Wednesday.  
By late Tuesday, a cold front will be moving through, with a wave of low pressure moving along that front. This will spread more rain across the region. As the cold air works in from the northwest, rain will change to snow from west to east Tuesday night into Wednesday morning. 
This is a bit unorthodox way to get a really substantial snow for the Roanoke Valley and east of the Blue Ridge and worthy of at least some skepticism, no matter what any particular forecast model shows. Cold air catching up to the back end of a rain shield often doesn't work where downslope flow starts being enough of a factor to dry up the precipitation. The key to the setup that might make it different is the wave of low pressure riding along the front, continuing to lift moisture as the cold air arrives. It is actually similar to the setup that gave us some conversational snow on the morning of Nov. 12 (a bit white at higher elevations), though perhaps a bit wetter and colder.
Temperatures will be marginal (near freezing) after being in the 50s and 60s the day before, the snow generally won't be heavy and it will only be here a few hours. So don't expect big amounts. At this stage, most locations appear likely to get minor amounts (zero to 2 inches) with perhaps a few spots, primarily to the west of Roanoke and in higher elevations, getting a little more. 
Cold air -- 20s lows, 30s highs -- sets in for late week. Wintry precipitation is also possible early Friday on the front end of the next storm system, that will likely take an inland track, leading to milder temperatures and rain by the weekend. We'll take it one wintry flirtation at a time.
Be the first to know
Get local news delivered to your inbox!