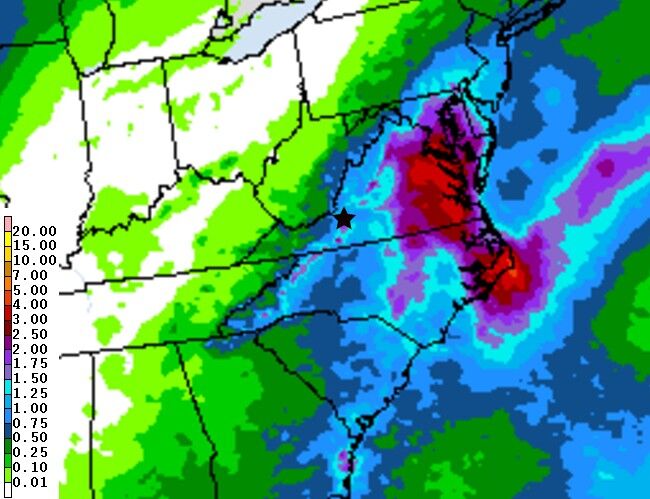 There are basically three kinds of weather common in our Septembers:  (1) Extended summer heat, (2) early taste of fall, and (3) tropical stickiness and showers.
We'll be back to Door Number 3 for the next several days.
But this system will be pushing tropical moisture inland, with showers and storms across the Carolinas and Virginia, already in evidence on this Wednesday morning in the eastern portion of these states. The eastern parts of the states will continue to have the highest chances of rain with likely larger amounts, but moisture will push back to the mountains as well, with periods of showers and a few thunderstorms possible the rest of this week and into the weekend, as the low presses closer.
Rainfall amounts will be streaky and spotty. Most locations near and east of the Blue Ridge will likely see 1/2 to 1 inch of rain total by Saturday, but some spots could get more in locally heavier storms or heavier showers or storms that move over the same location repeatedly. Rainfall chances and amounts will taper off to the west, with areas west of Interstate 77 less inclined to get much out of this episode, aside from the stray stronger storm.
A cold front will move through from the northwest late in the weekend or early next week, focusing the showers and storms ahead of it, but clearing out most of the moisture behind it, with a drop in temperatures and humidity for a few days. This will not be anything like the summer-to-winter plunge the Rockies and Plains just experienced, but we could move more back into No. 2 above for a little while, with some 50s lows and 70s highs kind of days, near mid-September norms.
Long-term indications do not suggest than any of the three September weather types will take hold for a long periods of time, but we may lean a little more toward tropical stickiness and showers as the active Atlantic will likely sooner or later produce another system that affects our region. 
Be the first to know
Get local news delivered to your inbox!