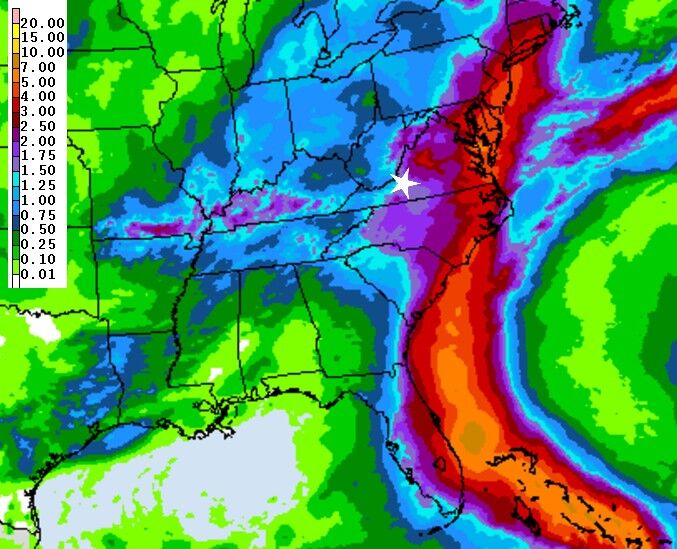 There is more rain where Thursday's came from. Unlike most of July, when the atmospheric pattern has been dominated by broad high pressure aloft, a trough of low-pressure is digging through the central and eastern U.S., scooping Gulf of Mexico moisture northward. There is also a stalled front just north of our region, and a series of disturbances moving in from the west. Those features, combined with normal daytime heating and terrain effects, will lead to periods of showers and thunderstorms each day through at least Tuesday, varying some in intensity and coverage day to day, tending to peak in the afternoon and early evening, with highs mostly in the 80s rather than the 90s that happened at Roanoke for a record 29 straight days ending Wednesday.
For the Roanoke and New River valleys and really all of the state along and west of the Blue Ridge, don't overly focus on Isaias. The path very near or parallel to the coast is not historically one that brings the greatest impacts of torrential rain and gusty winds to our region. This could change of course with a more inland track or what at this point would seem to be a highly unlikely left turn once it gets to the Carolinas, but the positioning of high pressure offshore and the low-pressure trough over the eastern half of the U.S. suggest strongly the near-coastal track will be what transpires.
Isaias may sweep in some Atlantic moisture on its counterclockwise easterly flow as it it to our southeast, passing Georgia and the Carolinas, that could bank against the mountains and get squeezed out by the stalled front and other disturbances. It is even possible there will be a "predecessor rain event" with Isaias near or over our region in the Sunday-Monday timeframe, something that often develops several hundred miles away from a hurricane but is influenced by its moist flow. 
There will be some flooding risk the next several days simply because some locations may get repeated downpours with daily thunderstorms. Other spots won't get as much rain, or downpours as intense or as often, but just about all of us will see more meaningful and mostly welcome rain over the next several days.
As the hurricane passes east of us, it will circulate some drier, cooler air around its backside, even pulling a cold front through by mid to late next week. That could give our region a relatively mild, dry break from recent hot stickiness late next week -- 60s lows/upper 70s-mid 80s highs being "mild" in this case. Again, no sweaters or pumpkin spice anything, just not 90 every single day.
Be the first to know
Get local news delivered to your inbox!