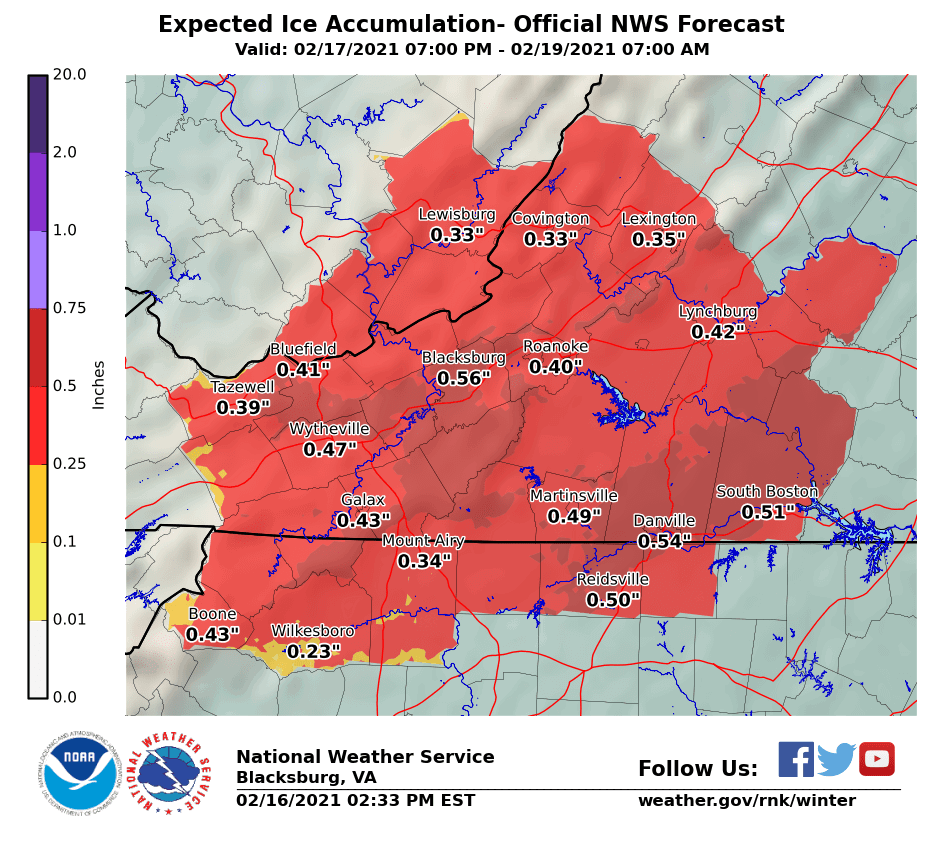 UPDATE 6PM, 2/16/2021: The National Weather Service posted a new map late this afternoon that may be the most threatening for widespread ice it has posted in recent times -- widespread 1/4 to 1/2 inch inch regionwide, with some locations over that. If that transpires, it will be a widespread damaging ice storm. More sleet and snow can reduce the amount of ice, but it does appear significant ice is likely on Thursday. Be prepared for slick roads and possible power outages. END UPDATE
After days of chilly gloom, the sun is burning through low clouds on this Tuesday morning and will likely brighten our lives for a while. But another round of wintry mayhem looms, and this one may be the region's most widespread, impactful storm of a busy 2020-21 winter season.
A piece of the Arctic air that has put the central U.S. in a historic deep freeze will slip around the Appalachians, pressed south and west by high pressure over eastern Canada. This cold air will be moving in as moisture begins streaming in from the southwest ahead of a low-pressure system of similar intensity and track to the last one that produced a major snowstorm from Texas to the Great Lakes and gave us a barely-above-freezing soaking on Monday.
As moisture arrives late Wednesday night and Thursday, a mixture of freezing rain, sleet and snow will develop. Early on, the precipitation will likely swing more toward snow and sleet, when the cold air is deepest. As warmth and moisture continue to stream over the cold dome, eroding it above the ground, the precipitation will mix with freezing rain, eventually becoming entirely freezing rain, and then later plain cold rain in some spots that can manage to get above freezing by Thursday afternoon. Some spots may not make it above freezing even into Thursday night.
The high-end potential for this storm is staggering, with many hours of freezing rain possible after 1-4 inches of snow/sleet mix. The National Weather Service posted an ice map this morning with widespread ice accretions of 1/3 of an inch -- and these maps are usually a little conservative and more smoothed out than what is likely, nearly 2 days in advance. The lower end potential would still be a significant ice storm with a few thousand power outages, or possibly a storm more dominated by snow and sleet with widespread travel difficulties.
The lowest elevations of the Roanoke Valley squeaked by with minor effects in the last ice storm, warming to 33 by mid-morning, but probably will not do so again, with temperatures likely starting in the upper 20s. Even if temperatures do get above 32 there ahead of almost everywhere else, it would likely only occur after early sleet/snow mix accumulation and a few hours of freezing rain -- maybe enough to stymie the urban heating process and allow the geographically driven cold pooling in valley areas to be more dominant. Always a difficult call for the sub-1200 foot elevations of the urban floor of the valley, but regardless, this winter storm will likely have at least significant impact in the city and potentially major impact all around.
Today and Wednesday will be relatively dry days in the region -- still cold with 30s-40s highs and teens-lower 20s lows for Wednesday morning. Be prepared for potential power outages and icy roads by Thursday.