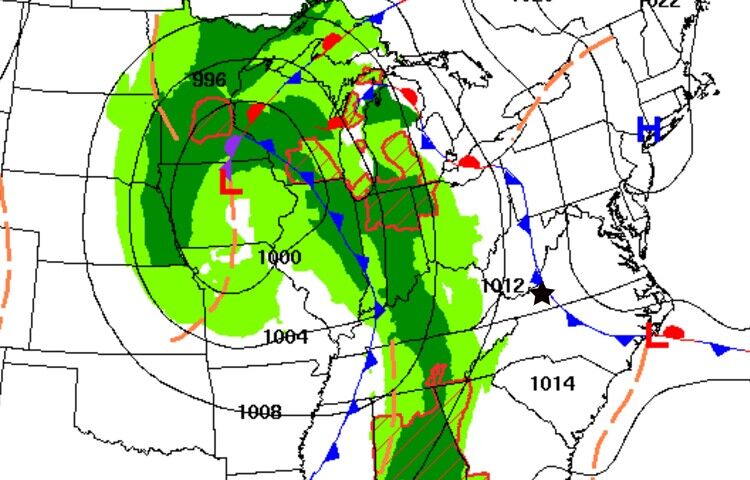 Wednesday's high of 85 in Roanoke was the warmest day since Sept. 11, and combined with Tuesday's 82 marked the first back-to-back days of 80-plus since three straight on Oct. 21-23. But don't think summer has sprung — there are signals of a winter relapse by late next week.
In the meantime, the recent warmth will be curbed somewhat over the next few days as a "backdoor cold front" slides southwest across the state. This will return temperatures to more normal 60s/70s for highs into the weekend.
While we're talking about the backdoor cold front, let's get the cat out of the bag that, yes, there was a backdoor cold front sliding across the state in a similar manner exactly 10 years ago on April 8, 2011, leading to the Pulaski tornado recalled in Wednesday's Weather Journal column, but any faint similarity to a repeat of that event appears highly unlikely.
In this case, it is possible there will be some showers and thunderstorms developing along the front Thursday afternoon and evening where somewhat cooler air bumps into warmer, more moist air, but the temperature/dew point contrasts along the front are not as extreme as 10 years ago and the atmosphere doesn't have as much total shear, or winds changing speed and direction with height. An isolated strong to severe storm can't entirely be ruled out, but it does not look a setup likely to produce high-end severe storms capable of spawning tornadoes as occurred 10 years ago on this date. So we'll leave the parallel comparisons there before they can get out of hand.
Moisture will continue to build through Friday and Saturday as a cold front approaches from the west, with periods of showers and some thunderstorms possible. The backdoor front will bring in more stable air, so the better chances of severe storms will west and south of our state. The greatest chance of rain will occur late Saturday.
The front will bring slightly cooler and much drier air back for Sunday into the early part of the coming week.
Not getting into this much for the moment, but long-range signals point to a displaced polar vortex and a return of colder than normal temperatures by late next week and beyond. Frost and freeze conditions would appear likely to develop for at least a morning or two, and snow isn't out of the question at least in higher elevations. At the least, if the cold ends up being modified substantially, we'll have more sweater weather rather than shorts and short sleeves.
Just don't get too attached to this recent warmth. It'll be summer soon enough, but not yet.