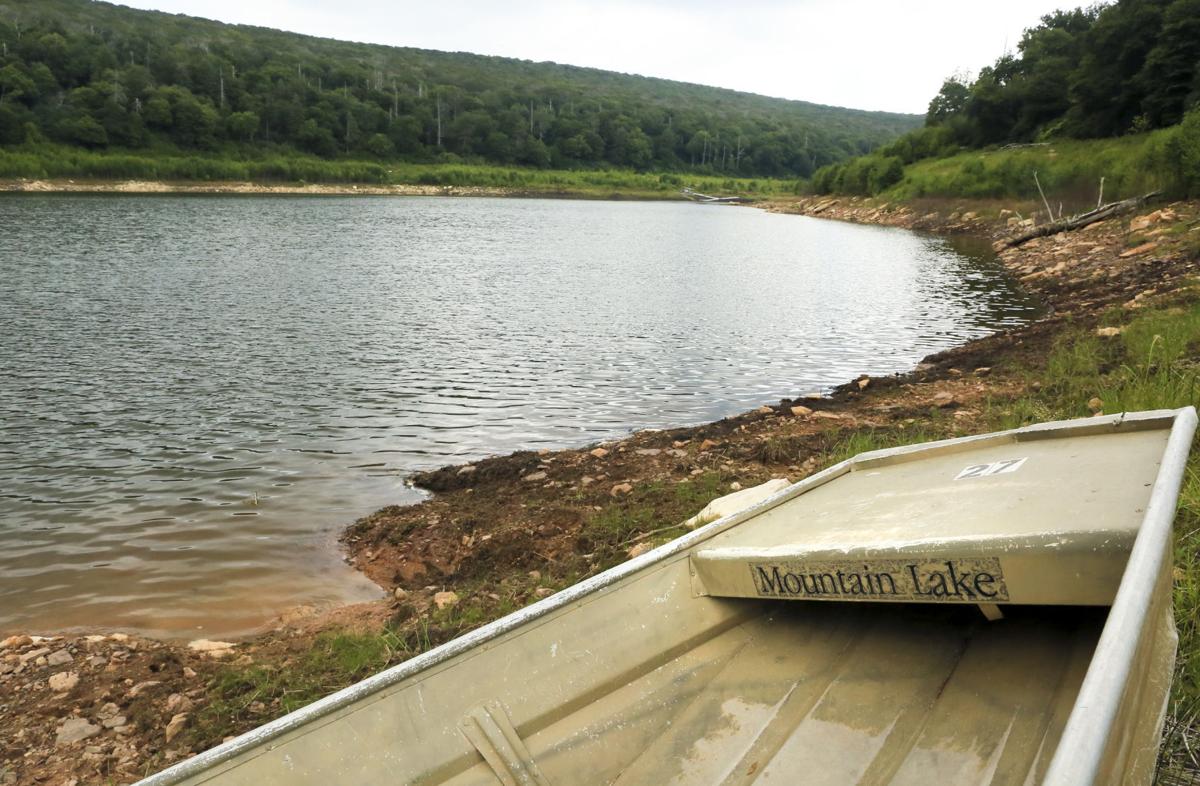 As a hiker and weather geek, I've found the saga of Mountain Lake to be a fascinating one in my almost 21 years living in this region.
The lake was dwindling as I first arrived just before the century turned, but then recovered by 2003 and seemed to be back to normal for a few years. Then, it lost water again, drying up completely for a brief time, and has not really recovered since, though it has come back some in recent months, triggering hopes that it might refill to the same glory as when Patrick Swayze held Jennifer Grey in a graceful pose in the 1987 movie "Dirty Dancing."
"More study is called for to compare annual precipitation through the decades to see if there's a correlation," Radford University geologist Skip Watts said, concluding that article.
And he is right, there should be such a study. (Attention graduate students in need of a thesis.) However, I would submit there is enough evidence at hand to strongly suggest that precipitation patterns are not a significant factor in the lake's dwindling away and inability to refill since 2006.
Developing a complete history of wet and dry cycles for Mountain Lake would be difficult, as there are no continuous rainfall records for the top of Salt Pond Mountain. The lodge site has rainfall records from 1911 to 1914 and again from 1935 to 1948 in the weather service's climate database, while the Mountain Lake Biological Station, operated by the University of Virginia down the road a few miles, has records from 1971 to 1998. Virginia Tech currently has a remote weather sensor on top of Bald Knob above the lodge, but that has been there just a few years.
Unless there are records somewhere that could connect the dots, there isn't a continuous record database close enough to Mountain Lake to readily chart rainfall on top of the mountain. It would have to be extrapolated from other regional weather stations.
However, it is my contention that the rain totals from regional sites since 2006 are sufficient to reasonably preclude precipitation patterns as a significant factor in the lake receding and not refilling to its previous level.
It is a simple premise: Our region has had some of its wettest years on record in the past dozen years, with no prolonged drought periods since 2008, and yet the lake has continued to dwindle without recovering significantly during historically wet periods.
The cycle of unfilling and re-filling in the late 1990s and early 2000s actually did seem to fit weather patterns. The region experienced several periods of drought 1999 to 2002 that brought reservoirs down to levels never before seen.
Roanokers probably remember the water restrictions when Carvins Cove dropped as far as 34 feet below the spillway by October 2002. 2001 was Roanoke's second driest year on record, dating to 1912, with only 24.94 inches of rain all year, about 17 inches below normal. The years 1999 and 2000 finished 5 to 10 inches below normal.
All of Virginia was in the three worst stages of drought — severe, extreme or exceptional — on Oct. 8, 2002, according to the U.S. Drought Monitor.
Not long after that, an El Nino pattern kicked in with frequent rain and snow during the fall through spring of 2002 and 2003, and both Carvins Cove and Mountain Lake completely refilled in 2003.
It seemed at that point that the draining of the natural Mountain Lake might have just been the same issue as that of manmade reservoirs in the region like Carvins Cove — prolonged drought.
But, from Moxley's article: "In 2006, the water level dropped again. For three days in 2008, the lake dried up completely. No living person had seen it disappear, although records from the 1700s describe a grassy meadow growing on at least part of the lake bed. It remained mostly empty from 2008 to 2012."
2007 and 2008 were dry years in the region, though not to the level of the 1999-2002 period. It made sense that the lake level would drop some, but just based on rainfall, it wouldn't have dropped off as far as it did with the extreme turn-of-the-century dry spell.
However, after that, we have had a decidedly wet turn.
Four of Roanoke's 10 wettest years on record, going back to 1912, have occurred since 2009. The years 2009, 2013 and 2015 had between 53 and 55 inches of rain at Roanoke, when about 42 is the norm, and then 2018 became the wettest year on record with more than 62 inches.
Closer to Mountain Lake, these same four years — 2009, 2013, 2015 and 2018 — rank from fourth- to 14th-wettest for Blacksburg, going all the way back to 1893, with 49 to 53 1/2 inches in each of them.
Closer yet to Mountain Lake, at a weather station 4 miles south-southeast of Pearisburg in Giles County, those same four years rank first (2018), third (2015), fifth (2013) and ninth (2009) since 1951 with 46.51 to 52.33 inches of rain.
And 2020 is on a pace to join those waterlogged years. It is one of only four years since 1912 to top 40 inches by Aug. 16 at Roanoke and one of only two years to do so since 1893 at Blacksburg. It is also the second-wettest year to date through Aug. 16 at that weather station near Pearisburg with 37.61 inches, trailing only 39.83 inches in 2003, the year that Mountain Lake filled back up.
There has been so much rainfall lately across our region that if it depended primarily on that, Mountain Lake should not only be full, but might even be higher than the resort owners would want.
Obviously, other factors are the primary ones for the lake drying up and not refilling in the past decade. Weather patterns alone would dictate an opposite outcome.
Weather Journal appears on Wednesdays.
Be the first to know
Get local news delivered to your inbox!