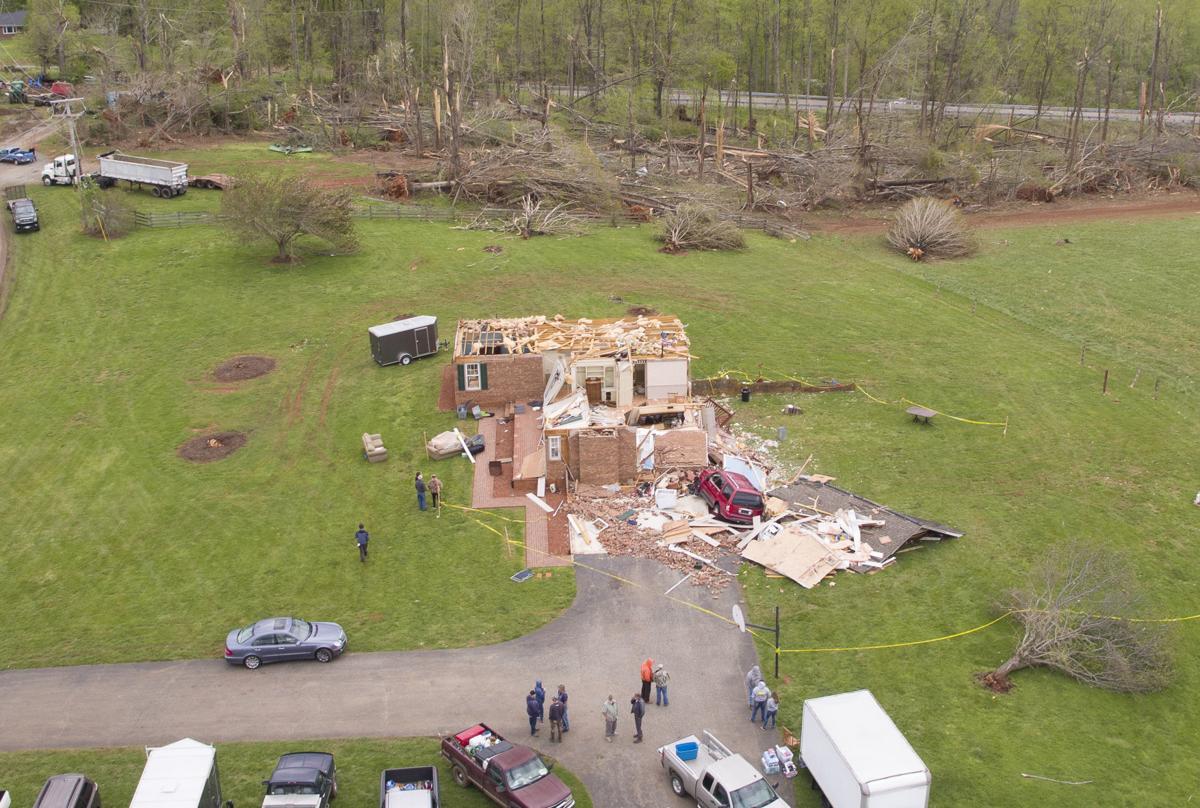 Since 1950, there have been at least 36 tornadoes in Virginia rated EF3/F3 or higher, but only one of them has occurred in our backyard.
Friday's tornado in southern Franklin County, surveyed as an EF3 on the Enhanced Fujita Scale with maximum winds of 159 mph, is apparently the strongest tornado on record, dating to 1950, within The Roanoke Times modern circulation area. That includes a region from Lexington south to Henry County, from Wytheville and Giles County east to Smith Mountain Lake and Bedford County.
The EF3 rating was based largely on the outer walls being ripped from the foundation on a well-built brick home on Windy Ridge Road, said Phil Hysell, warning coordination meteorologist at the National Weather Service office in Blacksburg.
That home, owned by Larry and Delores Anderson, whose story has been told in previous issues of this newspaper, and an unoccupied rental home were destroyed in Friday's tornado. Fortunately, there were no deaths and only two minor injuries, despite the tornado crossing busy U.S. 220 and blowing numerous trees across the highway. Another EF1 tornado was confirmed near Thaxton in Bedford County.
There were EF3 tornadoes (136-165 mph winds) just east of our newspaper's circulation area in Amherst County last April and in Appomattox County in February 2016, meaning three have occurred within 80 miles in four years in a region where none had previously been reported. Another occurred just to the southwest at Glade Spring in Washington County in 2011, part of a much larger outbreak that ravaged the South.
But for the cluster of counties centering on Roanoke where this newspaper circulates, there hasn't been another EF3/F3 tornado in the past 69 years of official records. The 2011 tornado that heavily damaged parts of Pulaski and the 1974 tornado that cut across northwest Roanoke are among a handful of local tornadoes rated at EF2/F2.
Historical tornado data always has to be taken with some caveats.
Standards of tornado evaluation have changed greatly over the years. The same level of post-storm surveys that the National Weather Service undertakes today did not occur a few decades ago, and the Fujita Scale itself was changed to an "enhanced" one in 2007 with slightly different wind-speed categories and more markers considered for various damage levels. (References such as "EF2/F2" in this article account for the adjustment of the damage scale in 2007.)
And of course there is all that history prior to 1950, when records about tornadoes are sparse and not nearly as detailed, derived primarily from historical accounts and often-sketchy newspaper reports of the time rather than scientific surveys. It is possible, for instance, that the 1896 tornado that killed three people in Salem may have been rated EF3 had it occurred today, based on the level of destruction reported in newspapers of the time.
Still, having three EF3 tornadoes in a four-year period within 80 miles of each other in a region that had not had any officially reported in the past seven decades raises the question of whether something new is happening, and, if so, exactly what.
It is especially puzzling considering that this recent local trend toward stronger tornadoes flies in the face of what has been happening nationally, where recent trends have been toward fewer tornadoes overall and less frequent strong to violent tornadoes.
The Lee County, Alabama, EF4 tornado on March 3 that killed 23 people snapped an unprecedented 22-month streak in which there had not been any EF4 or EF5 tornadoes anywhere in the United States.
Five of the past seven years have come in with fewer than 1,000 total tornadoes nationally in the Storm Prediction Center's annual adjusted inventory, and only one of those seven years has been close to the 1,300 tornadoes considered to be the annual norm.
There is no simple formula that can be applied to explain numbers and intensity of tornadoes, which can occur either in large outbreaks or in isolated storms, and arise from a complex overlay of factors still not perfectly understood.
Warmer temperatures, for instance, do not by themselves cause tornadoes. If this were the case, we would see a peak of tornadoes nationally in July and August, when instead, midsummer normally provides a lull in activity nationally, as stagnant upper-level air patterns not conducive for tornadoes typically overtake much of the nation.
The three recent occurrences of EF3 tornadoes in our general region do share one commonality, and that's an extremely deep upper-level low-pressure system that approached the region from the west. These storm systems generated strong atmospheric shear that overcame rather limited instability, spinning thunderstorms cells that remained discrete from the larger cluster, leading to tight circulations that produced strong tornadoes in a few cases.
From a climate-change perspective, there are some studies that suggest that these kind of deep low-pressure systems are becoming more common with a warming global climate, as deep dips in the jet stream become trapped between large ridges of warm high pressure. Other studies point to a possible eastward shift of the nation's prime tornado region — Oklahoma has had historically sparse tornado activity even as Virginia's has ramped up — and perhaps a tendency for fewer big tornado outbreaks occurring, but those outbreaks being more extreme when they do happen.
None of these hypotheses specific to tornadoes rises to the level of widely accepted science yet, largely because the time scale is too narrow and the available data on tornadoes too limited for broad conclusions.
So, for now, the three EF3 tornadoes within 80 miles of each other over four years are merely a statistical aberration. It is possible this frequency of strong tornadoes locally will wither with time, as did the constant deep snows of the 1960s and the frequent 100-degree temperatures of the 1930s, but it is also possible that it will continue or even be enhanced with additional episodes in years to come, clearly illustrating a new trend. Only time will tell.
Either way, we should all take the watches and warnings that are issued seriously. It has been painfully proven that tornadoes capable of destroying homes are not always somebody else's problem, somewhere else.