2011 was a horrifying year for tornadoes in the United States.
Tuscaloosa. Joplin. 553 killed nationally, the most in any calendar year since 1927 and almost 200 more than have been killed by tornadoes in the all the years since 2011 combined.
In Virginia, three died at Glade Spring as a tornado shredded a 20-mile-long path in Smyth and Washington counties on April 27, one of 362 tornadoes in four days during the 2011 Super Outbreak.
Before any of those monsters 10 years ago, there was Pulaski.
On April 8, 2011, about 7:30 p.m., the most destructive tornado in the history of the New River Valley descended on the southwest part of the town of Pulaski, damaging nearly 300 homes, causing more than $5 million in property damage and injuring eight people.
A short time later, another tornado touched down just southeast at Draper, wiping out a gas station along Interstate 81 and overturning a mobile home.
Blessedly, no one was killed. But any presupposition that Western Virginia's mountains were an impenetrable barrier to tornadoes capable of wrecking neighborhoods was shattered.
"For storm preparedness in the New River Valley, I refer to these tornadoes as the 'mythbuster' tornadoes," said Phil Hysell, warning coordination meteorologist at the National Weather Service's office in Blacksburg since 2005, by email. "For years, I heard people say 'We don't have to prepare for tornadoes, because the mountains protect us.' Anecdotally, I have heard this less since this tornado."
The Pulaski tornado was rated EF-2 for intensity on the 0 to 5 Enhanced Fujita Scale with top winds up to 125 mph. Many roofs were removed from homes, only a few walls. Some 31 homes were considered destroyed, another 25 with "major damage."
"The number of homes damaged was astonishing," said Hysell. He and science operations officer Steve Keighton, also still at the weather service's Blacksburg office, conducted a survey of the storm the day after it struck.
"For the Pulaski tornado, while an EF-3 rating was discussed, the survey team agreed that the construction quality of many of the homes damaged necessitated an EF-2 rating."
On April 8, 2011, a cold front had moved south and southwest across Virginia, becoming stalled near Interstate 77. Cooler, drier air had filtered into most of the state behind this "backdoor cold front," called such because of moving in from the north and northeast rather than the typical west or northwest, but the far southwest corner of the state remained in warm, sticky air.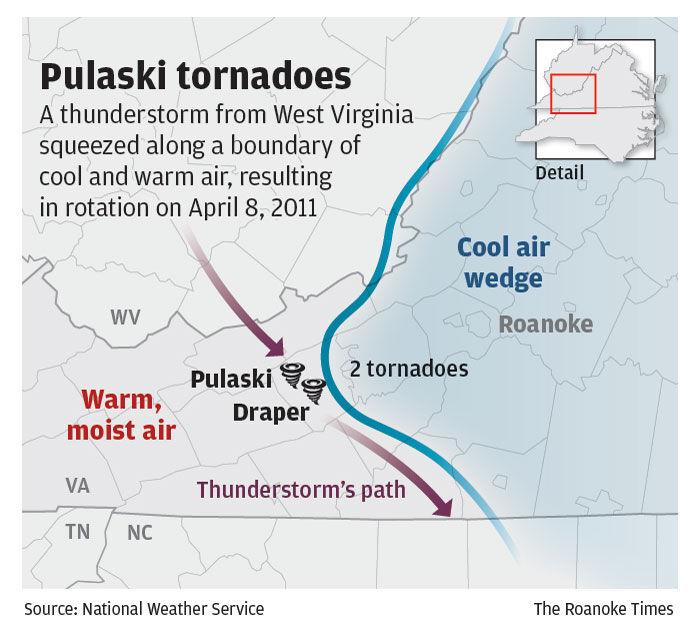 There is often a push and pull battle between air masses when cooler air becomes wedged against the Appalachians. We see it in winter with uncertain precipitation forecasts toggling between cold rain, wet snow and ice. We see it in summer when a drizzly day in the 60s won't break for highs that might reach the 90s otherwise.
On that April day 10 years ago, sunshine, warmth and humidity made some ground east and northeast against the cooler air, with high temperatures pushing into the 70s in southern parts of the New River Valley while Roanoke was stuck in the 50s most of the day.
"This front marked a significant change in the moisture with dew points in the 40s to the north of the boundary and dew points in the 60s to the south," Hysell said.
Along such a sharp boundary, air aloft tends to start rotating horizontally. This rotation can become vertical if thunderstorm updrafts develop to tilt it.
An upper-level impulse, a swirl of colder air high in the atmosphere, approaching from the west helped fire thunderstorms over West Virginia as colder air moved over warm, moist air at the surface.
One storm moving along that boundary between warm and cool developed extreme rotation, tightening and reaching the surface in Pulaski and Draper. The tight rotation was noticed on Doppler radar, and a tornado warning was issued just before the tornado touched down.
"While we were eating dinner I got the alert for a severe thunderstorm and I pulled the radar app up on my phone and seeing a supercell headed right for us," recalled Beth DeHart, a Pulaski resident who witnessed powerful central U.S. storms on two storm chase trips with Virginia Tech. "Within what seemed like minutes it got extremely dark out. I mean, eerily dark. Then the lightning and thunder started. It was hailing like crazy and that's when I got the text alert for tornado warning and I ran to the doors of the restaurant and that's when I caught a glimpse of it go right over the mountain."
The powerful supercell thunderstorm continued southeast across Floyd, Carroll and Patrick counties, with additional reports of wind damage and large hail, but apparently no additional tornadoes.
The grain of truth in the myth that mountains stop tornadoes in Western Virginia is that the southwest-to-northeast alignment of the Appalachians often traps cooler, more stable air to the east, sapping instability from storms approaching from the west. Maps of historic tornado tracks show a noticeable lack of them — though not entirely absent — over Western Virginia.
That very thing happened April 8, 2011, as most of Virginia to the north and east was in that trapped cooler air.
But on a more local scale, it may well be that changes in terrain actually enhance the strength of rotating updrafts in supercell thunderstorms capable of spawning tornadoes.
"From a science perspective, it was interesting to note the initial touchdown occurred just downstream from a tall hill, which anecdotally supports research (including research conducted by Kathryn Prociv) that rotating storms that descend from mountains can stretch that rotation toward the ground, helping to spawn a tornado," Hysell said.
Prociv is a meteorologist and producer for NBC News in New York and also executive vice president of Monarch Weather Consulting. A decade ago, as a graduate student at Virginia Tech, she focused her thesis on a topic that suddenly became timely — tornadoes in mountainous areas.
Though the terrain also drops down from ridges to the west into the New River Valley at Pulaski, her research focused more on the second tornado at Draper, which intensified dropping off Draper Mountain toward I-81, broader rotation become tighter and faster as it did.
"The storm exhibited a likely case of vorticity stretching as the southeast moving storm intensified as it dropped off Draper Mountain," Prociv said. She compared it to an ice skater pulling her arms in, speeding her rotation. "That's what happened when the rotating thunderstorm encountered the drop in elevation on the leeside of Draper Mountain."
So the mountains may sometimes make tornadoes worse, as may have happened on both sides of Pulaski on April 8, 2011.
Houses can be rebuilt, but loved ones can't be replaced. Fortunately, this was not something the residents of Pulaski had to face in the aftermath of the 2011 tornado, as no one died in it.
"I would like to think the severe thunderstorm watch that was issued more than 90 minutes in advance of the tornado and our severe thunderstorm and tornado warnings issued in advance of the severe weather helped motivate people in the watch and warning areas to take the appropriate precautions, or least raise awareness, that severe weather was approaching," Hysell said.
"Frankly, I think luck played a role as well."
April 8 was a Friday evening, and many people were away from their homes, shopping, dining or being entertained. The tornado hit mainly residential areas, not commercial ones.
"Had I been home I could've seen it right outside my kitchen window," DeHart said.
"I recall witnessing a mobile home that was completely destroyed in Draper during our survey and learned the owners were not in the home during the tornado," Hysell said.
But in another sense, the Pulaski tornado is remembered a decade later because people in its path were unlucky. This tornado just happened to move through a densely populated residential area.
A stronger EF-3 tornado cut a longer path across southern Franklin County in April 2019 and only hit two houses. Hundreds of people saw and photographed a tornado west of Fincastle in Botetourt County last August, but it only hit trees — no buildings, not even a power line.
Eight years after Pulaski and Draper were hit, a very similar atmospheric setup to April 2011 spawned a tornado just to the north of town in August 2019 — briefer, weaker, in a more sparsely populated area.
Tornadoes will happen, mountains or not. They get remembered not simply for strength of winds or length of path, but for what and who they hit. Pulaski will always remember April 8, 2011, recalling the destruction that happened and thankful there was no loss of life.