If the skies have looked a little bluer and the distant mountains a little crisper on the Roanoke Valley's hottest days this summer than you remember 15 or 20 years ago, it's not just your hazy memory.
The haze you remember is lacking, especially that related to ozone pollution.
The objective data backing up the subjective idea that visibility has improved in the Roanoke Valley on the summer's hottest days is stark. The reasons for it likely are related to stiffer fuel standards, auto emissions improvements and a steep drop in the number of coal-fired power plants to our west.
In 1998, the Roanoke Valley had 57 days when ozone exceeded 70 parts per billion, set as the exceedance level for a bad air day by the federal government. Every year but one from 1991 to 2002 had at least 18 such days, and there were 14 high-ozone days as late as 2006.
But the numbers dwindle after that, then dive off a cliff.
The first year with zero ozone exceedance days was 2009, according to Virginia Department of Environmental Quality data that starts in 1990.
After a single such day of ozone topping 70 parts per billion in 2011 and three in 2012, there has not been another such day in the seven years since. Not one.
National Weather Service statistics on haze tell a similar story. From 1997 to 2003, Roanoke's official weather station at what is now called the Roanoke-Blacksburg Regional Airport recorded two to nine days each year when temperatures exceeded 90 degrees and haze cut visibility under 7 miles. In the 16 years since, there have only been a total of five such days, and none after 2010.
This year has provided many hot days when, historically, we would have expected haze-choked visibility with milky skies and grayed-out ridgelines. Roanoke has had 52 days with high temperatures reaching at least 90 degrees. Only 13 years since 1912 have we had more 90-degree days, and, despite a recent downturn of temperatures, there is yet time to add more.
It's not just our vision that has benefited, but our lungs as well, especially those particularly sensitive to ozone pollution — including children, the elderly, people with existing lung or cardiovascular diseases, and those who work outside extensively, groups particularly at risk according to the American Lung Association.
"I cannot think of any significant tendencies in overall patterns in the summer over the past 10-20 years that would favor less haze," said Stephen Keighton, science operations officer at the National Weather Service office in Blacksburg, said in an e-mail. Such conditions would include, according to Keighton, "less stagnant air (more wind), lower temperatures, lower humidity, or also potentially cool temperatures above ridge top level but still warm at the ground."
So if it's not the weather patterns, it must be what's being put into the air — or rather, what's not being put into the air — by humans.
"My sense is that the air is generally cleaner," said Sean Sublette, a former television meteorologist for WSLS (Channel 10) and WSET (Channel 13) in the Roanoke-Lynchburg market who is now a meteorologist for Climate Central, a Princeton, New Jersey-based nonprofit that publishes multimedia information on various aspects of climate. Sublette noted that ozone pollution has been reduced at many locations in the U.S. compared to three or four decades ago.
The term "haze" can, itself, be a little hazy. There is no single source of what we call haze.
Some haze is natural, caused when light reacts with organic molecules given off by trees. Geographical terms like "Blue Ridge" and "Smoky Mountains" reflect the existence of this kind of haze.
But haze also includes various particles and pollutants, including smoke and dust, that can obscure visibility and cause breathing difficulties.
"To get haze, there needs to be fine particulate matter in the atmosphere — even at relatively lower concentrations, high humidity can lead to tiny water droplets forming on the particulates — and when taken together, form the haze we see in the summer," Sublette said via email.
Hot days enhance the potential of haze, both for the abundant sunlight that can interact with various chemicals in the atmosphere and for the stagnant air often present under high-pressure systems that bring the heat.
Ozone, a molecule made of three oxygen atoms, forms from the reaction of sunlight on hydrocarbons and nitrogen oxides in the air, which are intensified in the exhaust of automobiles, certain industries and some utilities.
Some factors cited by experts for the reduction of ozone as a near-surface pollutant in the Roanoke Valley:
Federal mandates for ultra low sulfur gasoline and diesel fuel.
More stringent fuel economy standards on gasoline and diesel vehicles.
The closure or conversion of many coal-fired power plants upwind from our region in the Ohio Valley.
"As much as some people don't want to hear it, the regulations put in place to clean the air worked as designed, " Sublette said.
Urban traffic is often a contributor to ozone problems in metropolitan areas like the Roanoke Valley and more so in much larger ones. Locally, Interstate 81 has also been a large source of automobile and diesel truck exhaust for chemicals that can react with sunlight and create obscuring, lung-burning ozone. Fuel standards have apparently reduced that problem over the past two decades.
Pollutants blowing in from elsewhere, even hundreds of miles away, can also have a big impact on local pollution.
American Electric Power has reduced its number of coal-burning plants from 19 in 2009 to six today in its eastern service area, which includes Virginia, West Virginia, Tennessee, Kentucky, Indiana, Michigan and Ohio.
Appalachian Power Co., AEP's subsidiary that serves customers in Virginia, West Virginia and Tennessee, has three coal-fired power plants remaining in West Virginia, but has closed two in Southwest Virginia. The Glen Lyn Power Plant in Giles County, which had generated electricity for nearly a century, was shut down in 2015. The following year, a second facility in Russell County, the Clinch River Power Plant, was converted to burn natural gas.
Coal currently accounts for 45 percent of AEP's generating capacity, down from 70 percent in 2005, according to Appalachian spokesman John Shepelwich.
A combination of federal regulations, aging infrastructure, technology changes and economic viability are often cited by industry experts for the closure and conversion of coal-fired power plants. Natural gas is generally both cheaper and cleaner to burn than coal, and power companies are less inclined to invest in the millions of dollars and multiple years necessary to build new coal-fired power plants that likely wouldn't be economically or politically viable for much of their expected life span of several decades.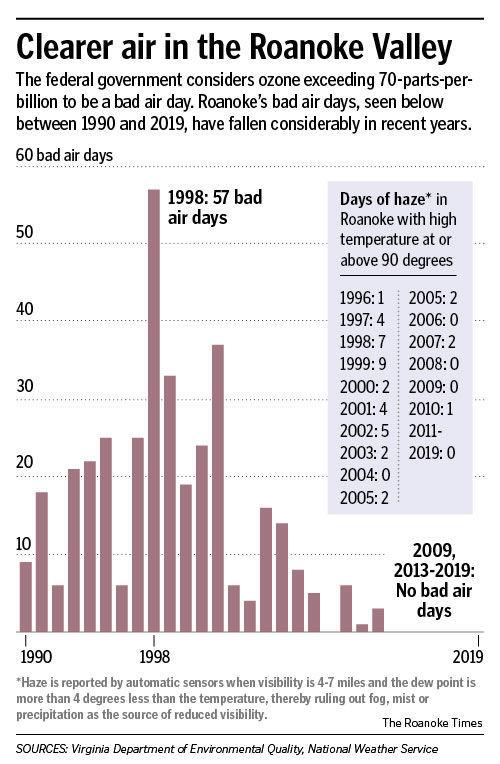 Not everyone will agree on the economic costs of clearer summer skies, and not everything is perfect with summer visibility in our region.
"We just finished a Visual Resource Assessment for National Park Service on the McAfee Knob section, and could not even make out the rocks on Tinker Cliffs from the Knob," said Diana Christopulos, a Salem resident who has served various functions in the local environmental community, including former president of Roanoke Appalachian Trail Club and the Greater Roanoke Valley Asthma and Air Quality Coalition. McAfee Knob and Tinker Cliffs are separated by just 5 miles on the Appalachian Trail.
Christopulos notes that while ozone concentrations are way down, small-particle pollution known as PM 2.5 can still often be problematic, and the tendency for warmer, more humid nights in recent years often leaves lingering haze in the mountains following morning fog.
Our region can also occasionally be affected by more distant sources of particles, such as western U.S. or Canadian wildfires, or even dust from Africa's Sahara Desert, carried across the Atlantic Ocean during certain summer easterly wind patterns.
But Christopulos and Sublette each find hope in the reduction of ozone levels for other pollution issues, including tackling carbon emissions linked to global warming.
"When we put our minds to it, we can do a lot," Christopulos said. "As with wearing seat belts, in my opinion, change requires mandates, and they are definitely worth it. I am one of those people who never used a seat belt until it became a legal requirement. Now it just seems normal. I am perfectly happy using low sulfur, lead-free gasoline and am glad we made these changes."
Sublette looked back on what was once another pressing environmental issue involving ozone, protecting the high-atmosphere ozone layer, essential for filtering out harmful solar radiation. It was once threatened by the use of chlorofluorocarbons, which nations agreed to stop using in the 1987 Montreal Protocol. The ozone layer has since largely recovered.
"So if humanity decides to do something, we can do it," Sublette said. "We just need to decide how important it is to us."
Staff writer Laurence Hammack contributed to this report.