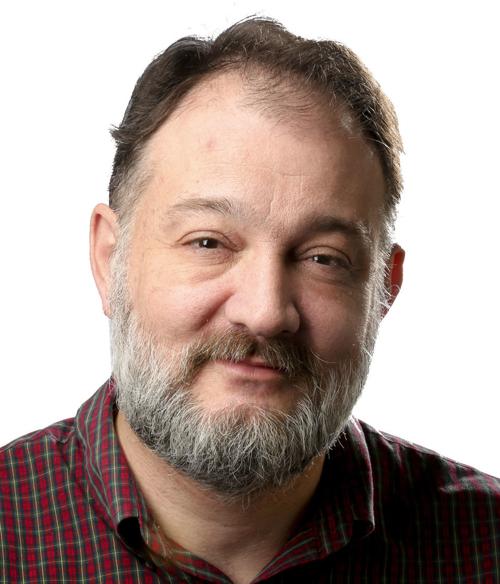 There is no "Z" name in the Atlantic hurricane name list, but 2020 still managed to produce a Z-named hurricane anyway.
Zeta, having scraped across the northern Yucatan Peninsula of Mexico as a hurricane on Monday before weakening to a tropical storm, is likely to regain hurricane strength in the Gulf of Mexico and is poised to make landfall on the Gulf Coast of Louisiana and Mississippi on Wednesday.
After landfall, Zeta's circulation and moisture will be pulled rapidly northeastward by an upper-level trough and ahead of a strong cold front. This will likely bring another dousing of 1-3 inches of rain on Southwest Virginia for Thursday and Friday, similar to what we've gotten three times previously this fall from remnants of Sally, Beta and Delta, storms that along with Hurricane Laura have battered the Gulf Coast repeatedly this season.
Zeta is the sixth of 18 letters of the Greek alphabet, applied to hurricanes once the alphabetical name list runs out. The original name list skips five letters — Q, U, X, Y and Z. This is done because there is not perceived to be enough names with those letters to cover rotating lists in multiple ocean basins — the eastern Pacific does use X, Y and Z — and the Atlantic hurricane season infrequently reaches that deep in the alphabet.
This is only the second time the Greek alphabet has had to be used for tropical systems. 2005 also reached Zeta, but that didn't happen until late December. So there is still time to dig deeper than ever before into the Greek alphabet.
Zeta's rapid movement and interaction with an upper-level trough and cold front may mean that more wind carries inland with it than most previous tropical remnants this year. Some gusts could pick up over 30 mph Thursday and Friday, perhaps higher in some areas, and there is at least a slight chance of tornadoes developing in some of Zeta's rain bands, though this is more likely to our southeast where instability will be greater.
The heavy rain and gusty breezes will start pulling off the leaves of trees that are near or past peak for autumn color, though enough are just starting to turn in lower elevations that fall colors may continue deep into November in the Roanoke Valley and points east and south.
More significantly, there is at least some risk of flash flooding and mudslides with Zeta's heavy rainfall, especially if it moves toward the top end or a little beyond current rainfall expectations. Just enough leaves have fallen that runoff through forested hillsides will be greater than from a similar summer storm system.
While our region has a deep history of deadly and destructive flooding induced by tropical systems, widespread flooding is something we have managed to avoid in six previous tropical entanglements this year spanning from May to October.
Previous rainfall in inches from remnant tropical systems at Roanoke this year have included 0.71 with Tropical Storm Bertha in late May, 0.28 with Hurricane Isaias in early August, 0.08 with Hurricane Laura in late August, 2.12 with Hurricane Sally and 1.69 with Tropical Storm Beta eight days apart in September, and 1.82 with Hurricane Delta earlier this month.
The last three on the list have been soakers, but hardly torrential, with only sporadic and fairly minor flooding reported. Zeta's rapid movement gives us considerable hope that it will follow suit with this trend.
These tropical rains have actually been more beneficial than problematic for our region, making up more than 70% of the 7.72 inches of rain that has fallen at Roanoke since the start of September. Without the tropical rain events, it would be a pretty dry fall with fewer pretty leaves and much more fire danger.
Rain from Zeta will likely get this year to date back in the lead for greatest rainfall on record at Roanoke.
Through Tuesday, Roanoke has had exactly 51 inches of rain in 2020, trailing only 2018 with 51.30 inches of rain through the same date, Oct. 27. 2018, boosted by Hurricane Matthew's mid-month downpours, had 51.43 inches of rain by the end of October, on its way to a record 62.45 inches for the entire year.
It appears very likely that 2020 to date will move over 52 or 53 inches by Halloween with the rain expected from Zeta.
Once Zeta and the trailing cold front push through, more typically crisp late October weather will return to our region for Halloween weekend, with lows in the 30s and lower 40s and highs in the 50s and 60s.
The approaching cold front has provided an extreme early-season blast of Arctic air to the central U.S., with temperatures below minus-20 in Montana and snow and ice all the way across west Texas to the Rio Grande.
It may be unprecedented to have a winter storm in the southern Plains concurrent with a hurricane approaching the Gulf Coast.
The tropics and tundra continue their autumn battle for control of the skies over North America.
Weather Journal appears on Wednesdays.
Local Weather
Get the daily forecast and severe weather alerts in your inbox!