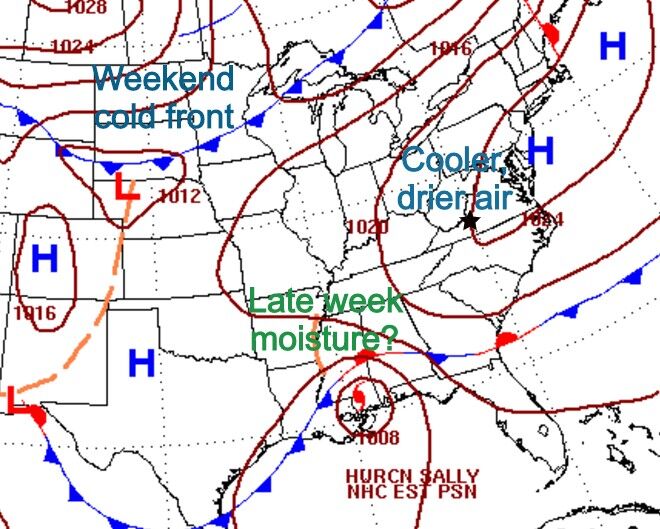 The defining fall atmospheric battle of the tropics vs. tundra will be in full swing this week for Southwest Virginia, with alternating effects of tropical moisture and Canadian cold fronts.
Entering the week we are still dealing with lingering moisture that initially arrived with a diffuse tropical system during the middle of last week, wedged against the mountains by high pressure to the northeast. Some sun will pop out on this Sunday, with a warm, sticky afternoon, but an approaching cold front lifting that moisture will trigger showers and thunderstorms this Sunday evening and into early Monday. Not a soaking rain for everyone, but some locally heavy downpours in the stronger storms.
That front will sweep the moisture out nicely for what looks to be "Chamber of Commerce weather" on Tuesday, with sunny skies, 70s highs, 50s lows (some 40s possible in outlying areas) and low humidity. Wednesday will be similar, with perhaps even a cooler start, but a slightly warmer afternoon. It starts getting warmer and stickier again on Thursday.
The Roanoke area has been very blessed so far with tropical remnants this year, getting lesser-than-expected scrapes from Tropical Storm Bertha in May (a little more potent along/west of I-77), and both Hurricane Isaias (edged east of us) and Laura (mostly lost its punch before arriving) over the past several weeks. Early indications are that Sally will dump most of its moisture south of us, with some showers and storms possible as some of its moisture interacts with cold front by Friday and Saturday, so this may be the fourth minor scrape with a tropical system we've had this year. 
Very unlike 2019 with its extended summer heat, and perhaps somewhat off-brand for a troubling 2020, autumn appears to be unfolding more or less on time in our neck of the woods.
Be the first to know
Get local news delivered to your inbox!