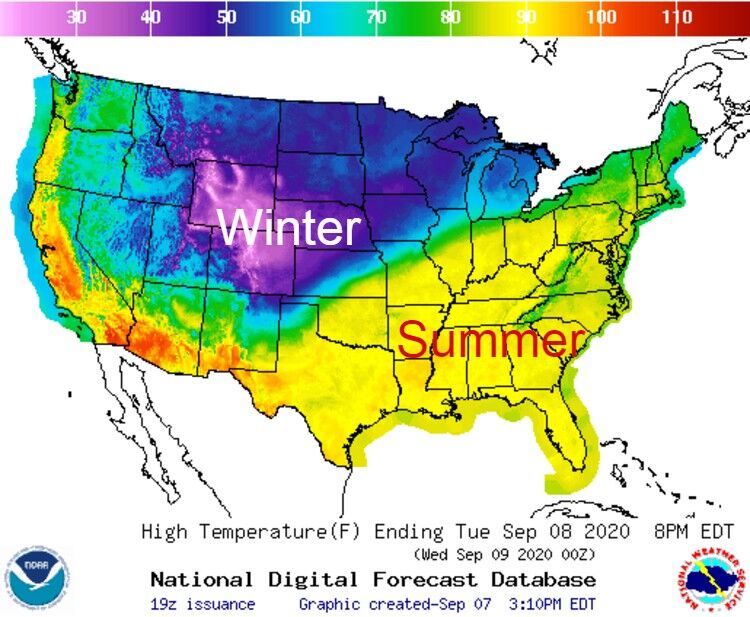 People in almost every state like to post memes or make declarations about how uniquely changeable they think their state's weather is. Virginians do it too. But the area that really has the best claim to having the most extreme changes in weather in the U.S. is probably the High Plains just east of the Rockies from the Dakotas and eastern Montana south toward central and eastern Colorado and the Texas-Oklahoma panhandle region. That region is about to make a literal summer-to-winter shift overnight, from near-record heat to snow. Denver hit 101 degrees on Saturday and is in the 90s on this Labor Day, but will likely get about a half-foot of snow on Tuesday.
Unfortunately for those seeking prolonged fall-like weather in Southwest Virginia, and who have probably greatly enjoyed the taste of it we got this Labor Day weekend with cool mornings and low-humidity afternoons, this cold surge isn't going to spread eastward this week as appeared likely a week ago. Rather, the Arctic surge will dip down the Rockies and western Plains region, with the jet stream trough bringing it down likely to cut off from the main body of the jet stream and circle in place. Remember the cut-off lows we experienced in May and June with repeating rain and unseasonably cool temperatures? The same thing will be happening over the southern Rockies with freezing cold and piling up some snow in the mountains. 
Over time in the next couple weeks, we may see some oozing of this cooler air mass eastward, though not with the same intensity. In the short term, however, high pressure centered south of us will return humidity as our temperatures get back to the 80s highs/60s lows scenario, with periods of showers and storms. Rain chances will increase some toward the weekend as a cold front approaches, but it does not appear this front will have anything close to the temperature contrast along it that the one slicing through the Rockies and Plains will on this Monday evening and Tuesday.
Be the first to know
Get local news delivered to your inbox!