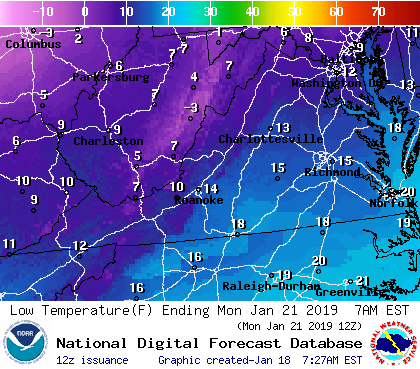 The way you perceived Thursday's brush of snow depended on your elevation and whether one of the somewhat heavier bands went over your location. While light to moderate snow, with very brief heavy bursts, was fairly widespread across the Roanoke and New River valleys and nearby areas during the afternoon and evening, accumulations with borderline surface temperatures near 32 degrees varied from trace amounts amid the concrete and asphalt at the lowest elevations of the Roanoke Valley to some 2-4-inch amounts in rural areas several miles to the north. The scene on my drive home from downtown to a higher elevation south of the city late last night went from barely anything on the grass to a winter wonderland of an inch-plus covering the ground and lacing every tree limb.
Light snow accumulation is quickly melting in most areas on this Friday morning, with highs headed well into the 40s to possibly lower 50s by afternoon, with some sun peeking through.
On to the weekend storm system, which is an important one in the big picture more so than the details of what will occur here, even though there will be some very noticeable effects.
The two biggest hazards with the weekend storm in our region will be strong winds with gusts possibly exceeding 50 or even 60 mph late Sunday into early Monday and very cold low temperatures in the single digits to lower teens by Monday morning.
This weekend is NOT a snowstorm for our region. The low-pressure system will be tracking from central Tennessee to somewhere near the Delmarva Peninsula area, pretty much right overhead. This is simply not a viable track for a significant winter storm in our region -- that will be happening from the Ohio Valley to the Interior Northeast. We will be firmly in the warm sector with rain on Saturday -- about an inch of it. At most, there might be some pockets of sleet or freezing rain mixed in with the rain at the outset early Saturday, more likely north and west of Roanoke, for a few hours at the start. (UPDATE 3:50 PM, 1/18/2019: A winter weather advisory has been issued for localities north of Roanoke -- including Craig, Botetourt, Rockbridge, Amherst, Bath and northward -- for the potential of patches of freezing rain and sleet within the rain during the day Saturday, mainly in higher elevations. So use caution if traveling north. END UPDATE)
There has been some speculation about cold air catching the rain on the back side of the storm, changing rain to snow, on Sunday. This is possible for the part of Southwest Virginia west of I-77 on Sunday, but it very likely won't happen to any appreciable degree in the Roanoke/New River valleys. Cold air advection from the west and northwest catching up to the back side of a rain shield is something that almost never happens here to any large degree – I can't think of any similar instance in my two decades here and don't readily know of a solid historical example. We do have rain-changing-to-snow episodes, sometimes, with cold air sliding in from the north and northeast with cold-air damming, or from dynamic cooling as the freezing level drops with a deepening coastal surface low, or with evaporational cooling as precipitation falls into a drier air mass that cools below freezing. There are also often upslope-induced snow showers and squalls that often set up after a low-pressure system has passed, with stiff northwest winds blowing up and over the Appalachians and condensing moisture, and this may indeed occur again late Sunday several hours after the rain shield has passed. But with Arctic air chasing the back side of a large rain shield from the west, the west and northwest winds behind a departing low dry out as they blow down the Appalachian slopes into western Virginia, often curtailing the rainfall. So we rarely continue seeing rain circulate through the area long enough for a trailing Arctic air mass to catch up to it.
The term "flash freeze" has gotten a lot of play this week. I appreciate the message this phrase is trying to convey – that there may be some water ponding on roadways when temperatures rapidly fall on during the day Sunday into Sunday evening, and some of that water may freeze into ice. I'm not quite sure this is what would truly qualify as a "flash freeze" with probably some hours of drying northwest winds between the end of the continuous rain and the onset of much-below-freezing temperatures – ice doesn't instantly form on asphalt and concrete roadways right when it hits 32. There may even be some sunshine during the day Sunday. But if it will get folks to use some caution driving Sunday afternoon and evening with possible icy patches about, let's go with it.
While this storm system won't be a snowstorm locally, it is important for the developing colder weather pattern in at least two ways. The first is obvious, helping to propel a shot of Arctic air that will take us into the 5-15 degree range by Monday and Tuesday mornings, the coldest temperatures we have seen so far in 2018-19. Secondly, it will be laying down deep snowpack to our north and northwest, areas that actually haven't had much snow this winter, certainly not much lasting snowpack. This is important for future transport and retention of cold air masses at the surface.
The developing weather pattern, at least at first, will NOT involve a lengthy period of time of bitterly cold temperatures. After a sub-freezing Monday, we will rebound into the 40s by midweek. It also does not mean that EVERY storm system from now deep into February will be snow or ice. There will be a heightened chance that at least some of them will be substantial wintry precipitation events, but some or even several could still take tracks that favor cold rain in our region, depending on other atmospheric details. The next storm system about the middle of next week probably goes to our northwest and rains on us again, though there is some chance of a secondary wave developing on the front and bringing wintry precipitation in the latter part of the week. We'll leave that as an open question for now.
The point is that there will be repeated pushes of Arctic air, and substantial though not absolutely certain signals that the large-scale pattern will rearrange into one highly conducive for winter storm events in the next couple of weeks extending to Valentine's Day or beyond. We are not starting a new Ice Age on Monday (as far as I know) but neither will this winter continue as it has with somewhat milder than normal temperatures on the whole punctuated by just a couple of winter events.
I'm not entirely sure how much snow the next 3-5 weeks or so will dump on us, but I think there will be several potential winter storm windows in the weeks ahead. My prediction at the start of the year was 10-20 inches for Roanoke the remainder of the winter, and that still seems pretty good middle ground to me, with a couple of inches already down. If we get another foot-plus storm in there or 3 or 4 medium-sized snows it could easily go over this -- or on the flip side, if it's one of those winter patterns that is often cold but seems to have a screw or two loose and we seem to fall on the rain or ice side of a lot of storms, it could come in something under this. I do think there will be at least some icy muck in our future too – it probably won't all be fluffy snow or soaking rain.
From a meteorological standpoint, it will be interesting to see how the coming days and weeks unfold. From a preparation standpoint, just be ready for a few bouts of extreme cold and maybe a larger snowstorm or ice storm sometime in the next few weeks -- many locations in our region have already had one of each of those. It is winter after all -- and every day that passes, we also move closer to spring.