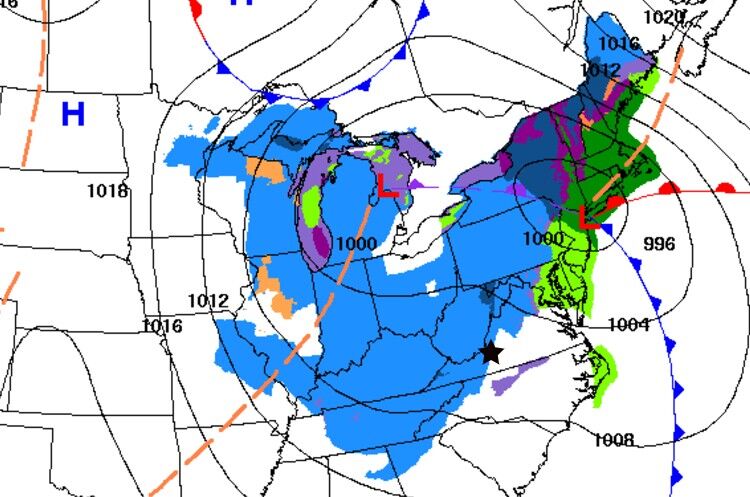 The winter's persistent oscillation between "a little mild" and "a little cold" with no harsh extremes either way will continue, though the wind gusts propelling the next batch of cold will make it feel more than just "a little cold." 
First, one more day of "a little mild" on this Thursday, with highs in the 50s. 
Moisture ahead of an approaching cold front on Thursday will kick up some rain showers, possibly starting as sleet or snow in some places, but this won't amount to too much, most amounts a tenth of an inch or less. Behind the front, blustery west to northwest winds will kick in, propelling the next batch of modified Arctic air -- we're still not dealing with the deep core of it, and though a piece of it is still likely to break off into the U.S. late this month or in early February, it's still uncertain where it will drop. 
Windy, cold conditions with temperatures mostly in the 30s will set up for Saturday, with persistent upslope snow showers forming in the mountains of West Virginia bleeding into western Virginia as those stiff westerly to northwesterly winds lift Great Lakes moisture up and over the Appalachians. This is the typical upslope snow machine we see develop at least half a dozen times most winters, even much milder winters than this one. Some locations in West Virginia's high country will total 6 or more inches over the weekend. Many spots as far east as the higher terrain of the western fringe of Virginia could get an inch or two. 
Eastward, perhaps even as far as the Roanoke Valley or even beyond, there will be periods of snow showers on Saturday, possibly getting a boost from convection as "warmer" temperature near ground level rise into extremely cold air aloft -- not unlike what happens in the summer when hot air at the surface lifts into cold air aloft to produce scattered thunderstorms. Accumulations will be streaky and minor, mainly higher elevations, but don't be surprised if at some point Saturday there is a brief burst of whiteout from passing snow squalls, and off and on flurries and snow showers are likely.
The upslope snow machine over the mountains may last into Monday, enhanced late Sunday by a passing Alberta clipper system that might again be able to spread snow showers into the areas of the higher mountains.
Temperatures will not be extreme with this cold front, mostly in the 20s and 30s, possibly some teens lows in spots late in the weekend and early next week, with some highs in the 40s where sun can pop out Roanoke and eastward. Temperatures gradually moderate next week back to near normal -- 40s to near 50 highs, 20s-lower 30s lows -- before a precipitation system develops late next week. What kind of precipitation and how much, it's just too far out to say.