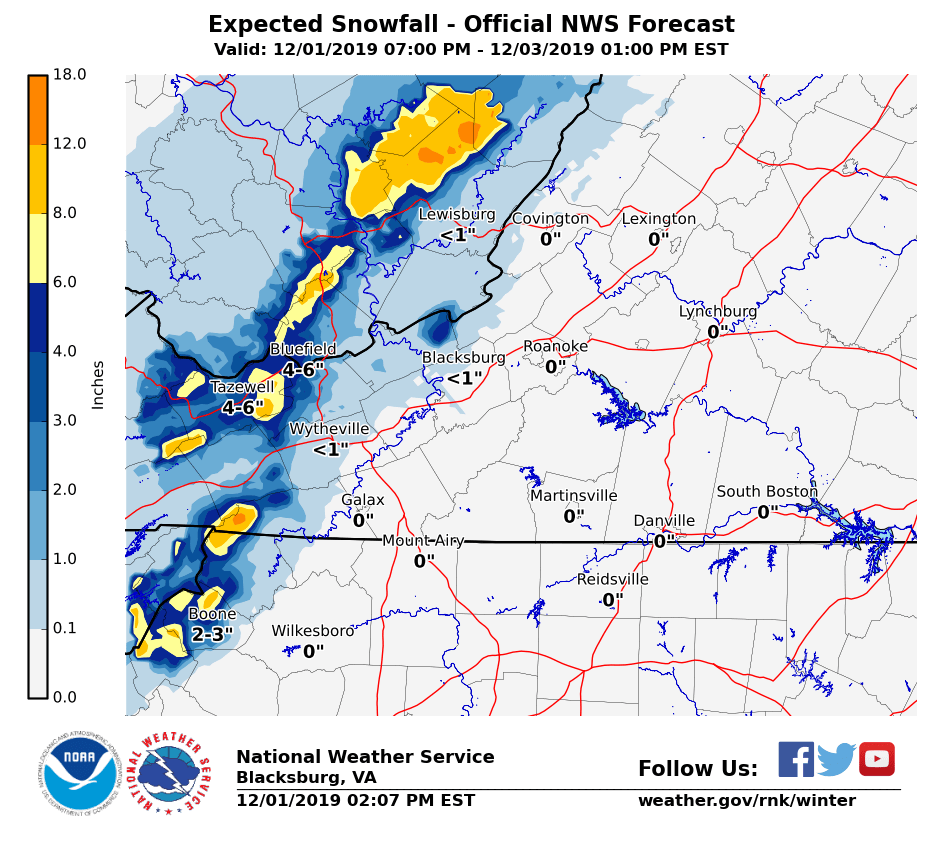 While the calendar still has nearly three more weeks before it flips to winter, meteorologists start winter with the first day of December. December's second day will offer considerable evidence that it is indeed winter.
Farther east, in the drying downslope flow, some brief snow squalls may make it into the New River Valley or the higher elevations along the Blue Ridge, with some flurries possible in the Roanoke Valley and possibly in some of the lower elevations of the Piedmont to the east.
For those who have not lived here long and may not be familiar with our local geographical weather quirks, this is a pretty common occurrence, with the northwest winds behind a cold front being lifted and having moisture primarily from the Great Lakes condensed into snow showers and snow squalls as they pass over the Appalachians. The downslope flow east of the spine of Appalachians near the Virginia-West Virginia state line dries out the breezes, but a few snow showers may continue eastward some distance. This is a pattern we typically see half a dozen or more times most winters. If you look at radar, you may see the parallel snow bands appearing as if they are coming right at Roanoke, and then dwindling out approaching the valley. (There are some cases where instability or an upper-level disturbance can continue the snow farther eastward with some vigor -- this does not look to be one of those cases.)
Breezes and snow showers will continue into Monday night, gradually diminishing into Tuesday morning. The rest of the week looks dry, with 40s highs/20s lows gradually warming into 50s highs/30s lows late in the week, fairly close to seasonal norms.
With the North Atlantic and Arctic oscillations currently in positive phases, meaning little or no blocking high pressure over Greenland or the Arctic Circle, there doesn't appear any likelihood of sufficient cold air becoming parked for more widespread winter storms in our region, probably through at the least the first half of December. This is in contrast to a year ago, which started quite cold leading up to the Dec. 9 snowstorm that dumped 12-18 inches across much of our region with some amounts up to 2 feet. 
Be the first to know
Get local news delivered to your inbox!